A Christmas Story Christmas' First Trailer Has Old Fans Hating Its Cynical New Tone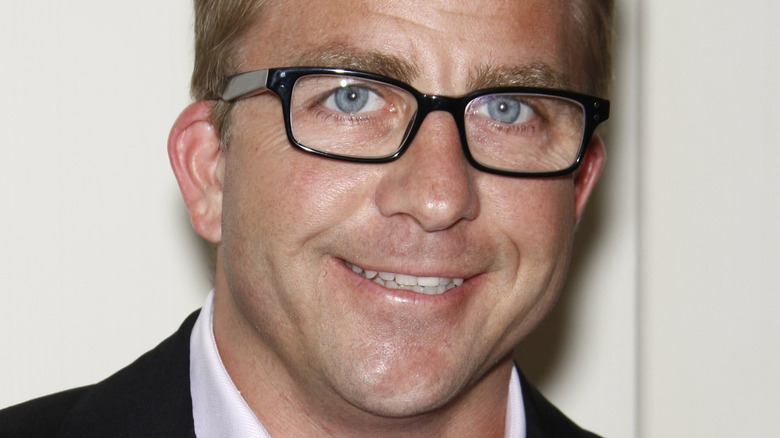 Joe Seer/Shutterstock
The original "A Christmas Story" is a timeless classic. Focusing on several stories from Ralphie Parker (Peter Billingsley), "A Christmas Story" has become part of the cultural Christmas zeitgeist. It is almost impossible to avoid the film during the festive season, mainly because some channels will play the movie over and over again. That way, if one has missed it the first time, there will be plenty more chances to watch it or maybe watch it several times in a row. Joking aside, "A Christmas Story" is definitely the source of many holiday-based quotes.
Just think about how many times one may have heard the word fragile pronounced "fra-gilley," or how one might shoot their own eye out when it comes to the handling of BB guns, or even the seldom invoked double and triple dog dares. Needless to say, "A Christmas Story" holds a very vaunted position in the minds of many, so any attempts at a sequel will be held to a very lofty standard. Now that the official trailer has dropped for the sequel called "A Christmas Story Christmas," fans are already casting a leery eye toward this new movie and have taken to social media to express their concerns.
Fans aren't liking the seemingly cynical tone of A Christmas Story Christmas
The trailer for "A Christmas Story Christmas" shows off several of the original cast, with Peter Billingsley reprising his role as a now adult Ralphie Parker. Joined by his childhood friends Flick (Scott Schwartz) and Schwartz (R. D. Robb), Ralphie is tasked with making a memorable Christmas in honor of his late father, which sees several generations of the Parkers under one roof. As the trailer plays, many of the original scenes are recreated, as well as many references to the original film, though in a slightly different tone than "A Christmas Story." It is this tonal shift that some fans have taken issue with.
Assembling on Twitter, @Nick422 said, "It just feels like it's filmed in the modern style of cynical and sarcasm. And I like formula, don't get me wrong. But it's not the formula of A Christmas Story." They added, "The thing that works about A Christmas Story is that it's an old fashioned look at the formally typical Christmas through the innocent and grandiose eyes of a child. This is now sarcastic, cynical and seen through the eyes of an adult. It's a pass from me, dawg." This caused @Apomov to reply, "I hope that's just the formula of the trailer. Hopefully it's more about empathy than cynicism for sure."
Peter Billingsley has stated that they want to get the tone right for the sequel to A Christmas Story
Others were also apprehensive about this new "A Christmas Story" sequel, with @bensmarigold posting the trailer, and saying, "WHAAAT i love a christmas story but idk how to feel about this." @ThatRetro had a strong reaction to the trailer and stated, "If ANYTHING, at least this one feels more like a Christmas Story sequel than the other attempts. Unnecessary, but still more of an attempt." @SiperlyWhenWet said that when they watched the trailer, they became immediately concerned about this upcoming release and that they are scared of what the results may look like, concluding that they are still thankful for the original "A Christmas Story."
The burden of landing this sequel has not been lost on main star Peter Billingsley, who told People, "The one word we used a lot was 'tone.' The first [movie] has such an interesting, unique tone. It's not the perfect family. They're hostile at times, they're loving and then there's this interesting voiceover and this reverence and some pretty adult things that Ralphie's having to go through." He continued and explained that "A Christmas Story" felt very real to audiences and that the sequel's creators want that authenticity to continue. Hopefully, "A Christmas Story Christmas" will be able to deliver on this promise because some fans are expressing concern after getting their first look.