The Serpent Queen Fans Could Expect To See Nostradamus In Future Seasons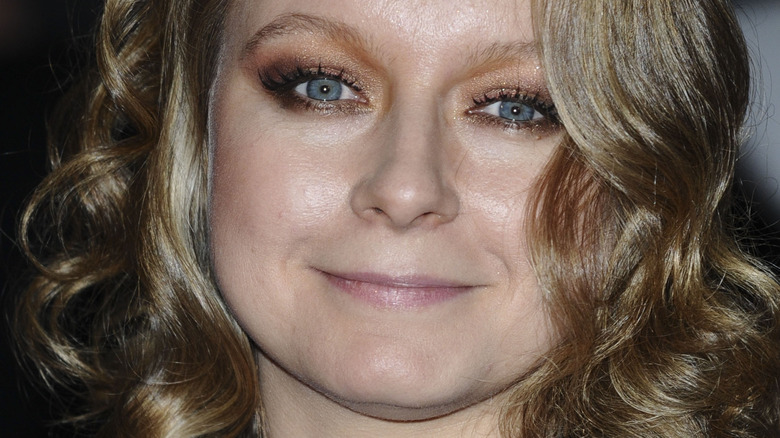 Featureflash Photo Agency/Shutterstock
When adapting real historical figures for the screen, many creators may want to lean into portraying their characters with 100% accuracy. But for anyone who has seen the recent Starz series "The Serpent Queen," Justin Haythe doesn't seem to have that problem. The notorious queen of France Catherine de' Medici (Samantha Morton) consistently breaks the fourth wall while other characters are an invention for the series. And this all contributes to the strength of the series. The aesthetics of "The Serpent Queen" stands out from other historical dramas of its kind, and as Haythe told IndieWire, his main concern is portraying vibrant characters.
"Anything is fair game if the character is right," Haythe explained. "All those people exist in history, the kings and the queens. The people who serve them, the people who brought them their horses, or share their lives most intimately, are nonexistent in history, so you can invent those people." This gives him the ability to invite diversity into the series, which is not always the case in historical dramas. But for those history buffs well versed in the era, famous figures of history are not off the table. The Serpent Queen's affection for dark magic was well known, which may invite one of history's most famous astrologers into Season 2.
There battle between the mystics may be coming
Almost as famous as the name of Catherine de' Medici is the name Nostradamus. A practicing physician, the astrologer became well-known throughout all of Europe for reported psychic abilities. This specifically caught Catherine's attention, who herself dabbled in magic and eventually invited him to court (via Biography.com). Other shows like CW's "Reign" are quick to pair the two together, and many may wonder if "The Serpent Queen" Season 2 will introduce the historical figure. Justin Haythe teased Decider that there may be room for Nostradamus in the future. But the slot of Catherine's resident magic user is currently filled by Ruggieri (Enzo Cilenti). A combination of two real-life figures, Ruggieri is a user of the dark arts who Catherine kept close for nefarious purposes. Nostradamus filled a slightly different role but may have use going forward.
"[Nostradamus] didn't reside in the court for any amount of time, but [Catherine] had a fascination with him because I believe, like her, she believed she could see the future and was very interested in anybody else who could," Haythe told the publication. "And so I like the idea of Nostradamus crossing her path and then the question would be, you know, who's the real deal?" With Haythe hard at work on Season 2 of "The Serpent Queen," we will just have to wait patiently for the answer to this question.