George Lopez Fans Are Divided Over His New Lopez Vs. Lopez Comedy Series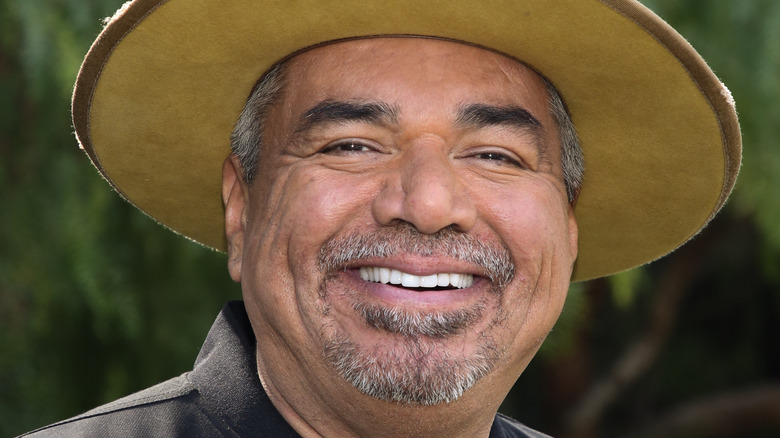 Paul Archuleta/Getty Images
George Lopez is an iconic figure in the entertainment industry and has been ever since he started his stand-up career. After scattered appearances in other films and television series like "Fatal Instinct" and "The Brothers Garcia" during the 1990s and into the 2000s (via IMDb), Lopez would get the opportunity to star in his self-titled television series, "George Lopez," in 2002. The series became considerably popular amongst audiences (via Rotten Tomatoes), lasting for six seasons and about 120 episodes. Throughout the rest of the mid-2000s and into the 2010s, Lopez would continue to work in some features, including "Beverly Hills Chihuahua" and voice acting for animated movies like "Rio" and "The Smurfs." However, it wouldn't be until 2014 that Lopez again had the opportunity to star in his series, "Saint George."
This time, it only lasted about ten episodes on FX before being canceled after one season, after it garnered considerable disapproval from fans and critics, with some noting that it lacked the same quality as the original "George Lopez" series. A few years later, in 2016, Lopez would try another approach for a self-titled series on TVLand. This time around, "Lopez" focused on a semi-autobiographical but mostly fictional retelling of the actor's life, focusing specifically on the struggle he faced between his celebrity status and roots as a Mexican-American. This time, Lopez once more had a hit show.
Now, the trailer has been revealed for the comedian's fourth self-titled series, "Lopez vs. Lopez," and fans aren't really sure how they feel.
Fans are debating if Lopez vs. Lopez will make them laugh
"Lopez vs. Lopez" is a new pilot from NBC coming on Friday, November 4 that will follow a fictional story between George Lopez and his daughter, Mayan. The two have reconnected after having a strained relationship for years in the show, and George will be living in the same house with them. The series will apparently pit father and daughter against one another as they try to make amends. However, fans on Twitter are a little torn as to how they feel about the upcoming pilot.
@YuGiOhFan2023 posted on their feed that they thought the trailer foreshadows great things. "DAAAAAAAAAAAANG!!! If this trailer was anything to go by, #LopezVsLopez is sure to be [fire]," they said. Other fans felt the same. @oaks_sun explained that Lopez is part of their childhood. "Look at that @georgelopez has a new show out that's similar but NOT a reboot. And since he's an OG of my 2am childhood. Damn right in tuning in." However, some don't share the same positive feelings about the trailer. @e_joe10 said, "Note to @NBC : if you are gonna preview a new comedy it would help to show clips that are funny." @los37los50 had strong feelings about the apparent nepotism that they feel the series represents. "#LopezVsLopez worst nepotism in TV history," they noted.
Fans in the comments for NBC's official trailer release on YouTube were also divided. Only time will tell if this series lasts like the original.