Here's How Madelaine Petsch's Riverdale Character Is An Inspiration For LGBTQ+ Fans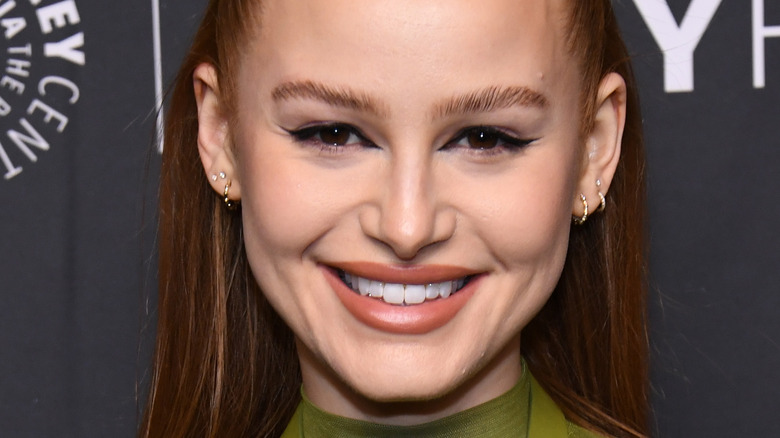 Jon Kopaloff/Getty Images
The teen supernatural drama "Riverdale" — based on the characters of Archie Comics and developed for television by Roberto Aguirre-Sacasa — follows a group of teenagers as they deal with various supernatural mysteries and evils going on in the seemingly normal titular town. These teens include former high school football player Archie Andrews (KJ Apa), Archie's outcast best friend Jughead Jones (Cole Sprouse), academic Betty Cooper (Lili Reinhart), and new girl in town Veronica Lodge (Camila Mendes).
Additionally, there's Cheryl Blossom (Madelaine Petsch), the most popular girl in school. While being entitled and manipulative, due to her family's wealth, Cheryl is also struggling with the grief of her twin brother's recent death and emotional abuse from her parents.
Cheryl is also a lesbian and has faced ups and downs because of her sexuality. Most notably, in a controversial plot line, Cheryl's mother sends her to conversion therapy after finding out that Cheryl is a lesbian. However, Cheryl escapes with the help of her girlfriend Toni (Vanessa Morgan), and the two of them have a happy relationship while they're together — though they break up in Season 5.
It's a big deal to have a lesbian main character in a popular show, as LGBTQ+ representation continues to be supremely important. And Petsch, for her part, has been on the receiving end of seeing how her character has been an inspiration for the show's LGBTQ+ fans.
Fans have been inspired to come out because of Cheryl
In late 2021, Petsch appeared on The Drew Barrymore Show, during which they discussed the impact that Cheryl has had on many LGBTQ+ "Riverdale" fans.
Petsch explained, "I think that's the coolest thing I've gotten to do as an actor so far is have my art touch somebody's life like that. I've had a couple of fans come up and say that it's been a huge inspiration for them to come out, which has been incredible." Barrymore responded by emphasizing how important it is for young queer fans to see somebody like Cheryl appear in the shows that they watch, to which Petsch wholeheartedly agreed.
The actor also discussed the fact that she could tell from reading the pilot that Cheryl was a lesbian and approached showrunner Roberto Aguirre-Sacasa on the subject. When asked how she knew that vital detail about her character, Petsch responded, "I don't know how to explain it, I just knew in my gut. She had to kiss a guy in Season 1 and that was the confirmation for me, like, she's for sure not into men."
There was some discussion over Cheryl's sexuality behind the scenes at the start of the show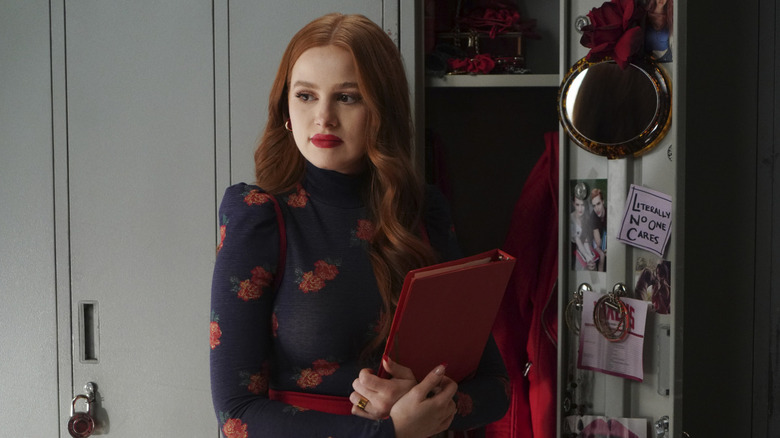 The CW
Despite the fact that Petsch knew from the get-go that Cheryl is a lesbian, it wasn't a quick, definitive decision behind the scenes at first. In a November 2021 interview with Elle, Petsch is asked if Cheryl may be bisexual instead of a lesbian (a reason is not given in the context of the question, but Cheryl does kiss Archie in Season 1 so that may be a contributing factor to the curiosity).
Petsch confirms that Cheryl is a lesbian, but explains that there was some discussion over the matter at the start of the series. The actor said, "We were struggling with her sexual identity which is ironic, for a while, and we had a long conversation about it and we just agreed that she's a lesbian." She also elaborated on the conversation she had with Aguirre-Sacasa after reading the pilot, noting that he was surprised by her instinct that Cheryl is a lesbian, but was open to the conversation and came to agree with Petsch.
In an April 2018 interview with Nylon, before Cheryl's sexuality was defined on the show yet, she even discussed being proud about playing a bisexual character. However, in November 2018, Petsch definitively confirmed that Cheryl is indeed a lesbian and not bisexual. In a Youtube video, the actor said, "I've actually been talking to Roberto [Aguirre-Sacasa] about it a lot and I think we've kind of figured out that Cheryl is a lesbian. Like, this is definitely who she is as a person. In the first two seasons, she was just figuring herself out and exploring her sexuality as we do as humans. And I think she's figured it out" (via PopBuzz).