SNL Fans Are Loving Tom Hanks' Return As David S. Pumpkins Despite The Recycled Jokes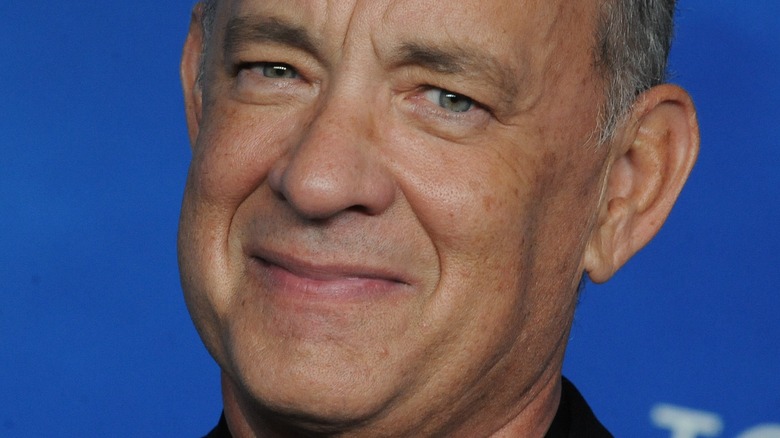 Tinseltown/Shutterstock
David S. Pumpkins is one of the most surprising cultural phenomena to come out of "Saturday Night Live." In the hilarious original sketch, known simply as "Haunted Elevator," an unsuspecting couple boards a Tower of Terror-type ride at an amusement park full of scary creatures on each floor, but one floor inexplicably has a man named David S. Pumpkins (Tom Hanks) in a suit covered with pumpkins break dancing with his friends in skeleton costumes. The couple begs for answers about why David S. Pumpkins is supposed to be scary, but no real explanation ever arrives. Pumpkins returned for an animated Halloween special and a sketch called "Rap Song" where he appeared as his rap alter-ego, David S. Pimpkins.
In an interview with Access Hollywood shortly after the original sketch aired, Hanks mentioned that he didn't understand the appeal of the character he portrayed. "I don't exactly understand it. I mean, literally on Friday–actually, Saturday morning–the name David S. Pumpkins meant absolutely nothing to anybody." In an interview on "Late Night with Seth Meyers," former SNL cast member Bobby Moynihan, who co-wrote the sketch, explained how reluctant Hanks was to do the sketch, to the point where he even wanted to pass it off to the next week's host. "​​Tom Hanks, in between dress and air — not a fan of the sketch," Moynihan said. "He thought it was very bizarre and was like, 'Hey, I think Chris Hemsworth [the following week's host] would make a great David Pumpkins.' But now he is very happy with it" (via THR).
Hanks certainly does seem to have embraced the character, as David S. Pumpkins made his triumphant return to SNL this past Saturday, and fans were elated.
Fans don't mind the recycled jokes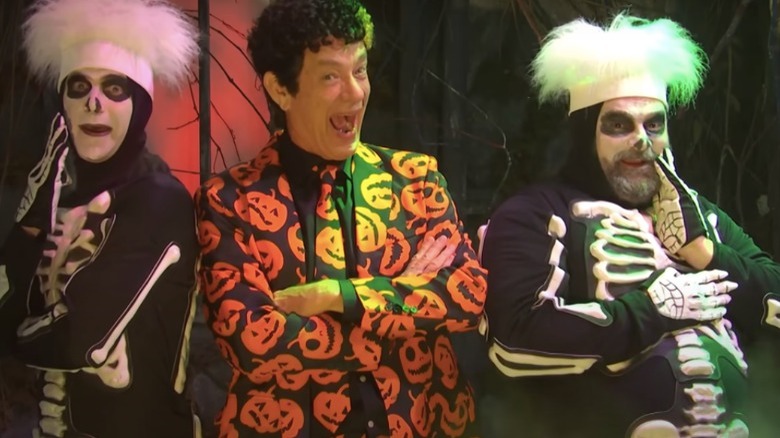 YouTube/NBC
Six years after the character's debut, Tom Hanks appeared in a new sketch called "David Pumpkins Returns," which is almost identical to the original sketch. Once again, unsuspecting amusement park patrons board a ride that promises to take them through all of the scariest characters from horror movies, only to find the inscrutable David S. Pumpkins back with his break-dancing skeleton partners. And, just like in the original sketch, the sketch ends with Pumpkins finding a way to sneak up behind the parkgoers and actually scare them. The only real change from the original sketch is that, of the three patrons, only one of them finds David S. Pumpkins to be out of place on the ride.
Fans were so excited to see Hanks return as Pumpkins that they were willing to forgive the fact that the sketch basically recycled the premise of Pumpkins' first appearance. "Even though this sketch probably took 15 minutes to adjust from the original, it's so great to see it," wrote Jake Kayden in response to the YouTube video of the sketch. "They could do the exact same plot, jokes, and punchline for this and I'd still watch it every single year," wrote Boston Spartan. Another YouTube user named Rock M. pointed out the similarities to the original but still praised the cast for their performances. "Essentially identical sketch as 6 yrs ago and still perfection. Kenan and his smirk (in almost every sketch) is as necessary as Mikey, Bobby, and Tom." If SNL can get this much of a positive reaction for revisiting a six-year-old sketch without changing much about it, it seems likely that this won't be the last we see of David S. Pumpkins on SNL.