Before Young Sheldon, Iain Armitage Gained Fame As A 6-Year-Old Theater Critic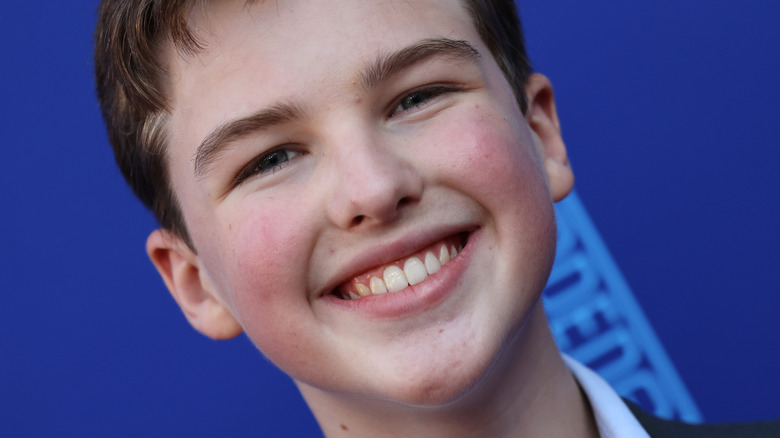 David Livingston/Getty Images
"The Big Bang Theory" is kind of a big deal in the world of sitcoms, and even for its detractors, Chuck Lorre and Bill Prady's CBS sitcom's 12-season run acts as pretty solid proof that there are plenty of people who love the show. Because of "The Big Bang Theory's" immense success, filling the show's central character's shoes might be a daunting task for anyone who might have to do so in a spin-off.
Despite this, Iain Armitage has managed to portray Jim Parsons' iconic Sheldon Cooper for six seasons, further establishing the character as a truly viable sitcom centerpiece. Armitage, of course, was already a seasoned performer before joining the show, having starred in "Big Little Lies" as Ziggy Chapman.
All of this is worth tipping a hat at the young actor, but it turns out that Armitage was well-known in certain cultural corners even before he became a notorious actor. In fact, before "Young Sheldon," Iain Armitage gained fame as a 6-year-old theater critic.
Iain Armitage's first career as a viral YouTube theater critic
Yes, young Iain Armitage liked theater, and liked reviewing it as well. His YouTube channel, the incredibly aptly titled Iain Armitage: Iain Loves Theatre, featured the future sitcom superstar's reviews of various theater performances – often major Broadway and West End productions. In 2011, soon after posting a video about going to his first musical (via YouTube) – "Hairspray" at Signature Theatre for those keeping count – he posted a YouTube review of said musical ... and the rest is history.
Armitage's enthusiastic, yet thoughtful reviews were eventually featured on Playbill, and at least as importantly to the young content creator's overall notoriety, his YouTube clips were going viral (per DC Theatre Scene). Armitage's most viewed review clip (via YouTube) stands at around 57,000 views, so he wasn't exactly breaking bank by today's YouTube star standards, but it's certainly not bad for a kid who reviewed theater in 2014.
Armitage comes from a theater family, so his interest in the subject at a young age isn't exactly shocking ... and judging by his eventual success as an actor, his tenure as a YouTuber certainly didn't hurt his on-camera presence.