Elizabeth Debicki Speaks To The Crown Crew's Extensive Research To Prepare For Princess Diana's Storyline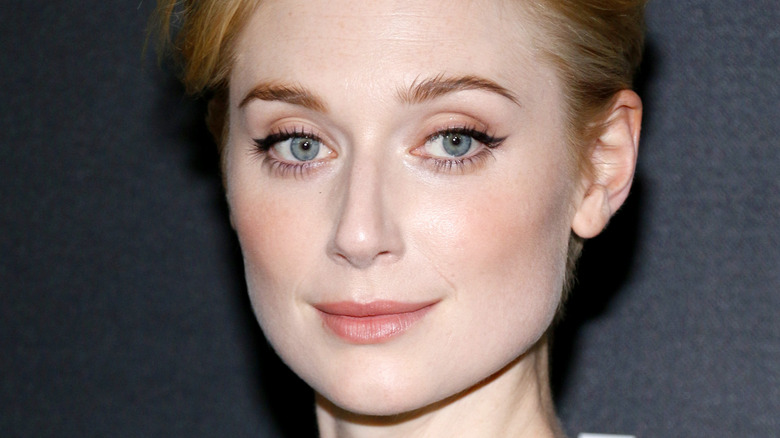 Tinseltown/Shutterstock
Netflix's "The Crown" is easily one of the most popular and critically acclaimed television dramas of recent years. Created by Peter Morgan, the series follows the personal life and reign of Queen Elizabeth II; the series opens with her marriage to Prince Philip, followed shortly by her coronation, and is making its way to modern day. Claire Foy portrays Queen Elizabeth in the earlier years of her reign for Seasons 1 and 2, Olivia Colman takes over for Seasons 3 and 4, and, finally, Imelda Staunton will see the role to its conclusion for Seasons 5 and 6.
While Queen Elizabeth may be at the center of the narrative, there is one character who came into the picture in Season 4 and gained a lot of attention: Princess Diana. Emma Corrin portrayed the late princess through the show's fourth season, which showcases her meeting and marrying Prince Charles (Josh O'Connor) as well as their subsequent marital issues. The season ended with Diana feeling isolated from the rest of the royal family — but beloved in the public eye.
To continue the story of the tumultuous marriage, Elizabeth Debicki and Dominic West take over the roles of Diana and Charles in Season 5. Debicki certainly had large shoes to fill on multiple fronts, seeing as not only is Diana one of the most beloved public figures of all time, but Corrin won a Golden Globe for their portrayal in Season 4. But, according to Debicki, her job was made easier by the crew's extensive research of Diana, which helped her prepare to portray her.
Debicki praised Morgan and crew for their sensitivity and care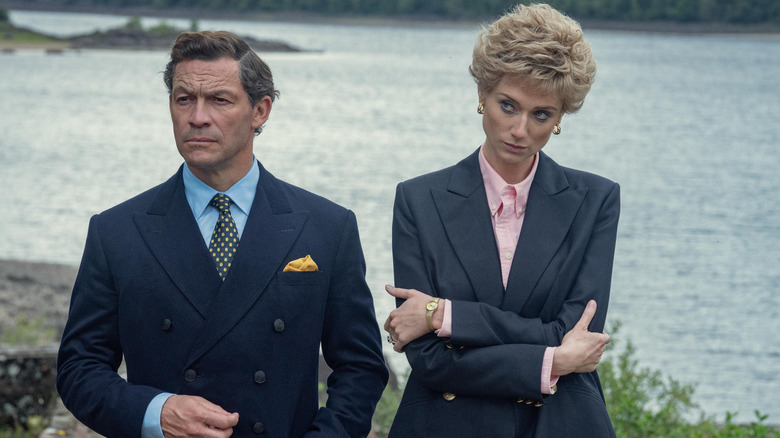 Netflix
Elizabeth Debicki recently spoke with Entertainment Weekly to discuss playing Princess Diana on screen in "The Crown." Specifically, she talked about handling the sensitive subject of Diana's death, which will be depicted in Season 5 of the series. Interviewer Clark Collis brought up concerns that the late princess's death will not be handled sensitively — for example, a friend of Princess Diana spoke with The Sun in October 2022 criticizing "The Crown," while some fans have expressed skepticism over the series keeping its Season 5 release date of November 2022 when it's so soon after the Queen's death. Debicki revealed that she had not heard these concerns, but was quick to defend creator Peter Morgan and all those involved behind the scenes.
Debicki said, "I'll say that Peter and the entire crew of this job do their utmost to really handle everything with such sensitivity and truth and complexity, as do actors. The amount of research and care and conversations and dialogue that happen over, from a viewer's perspective, something probably that you would never ever notice is just immense." The actor added that she knew immediately upon meeting Morgan that challenging subject matter would be taken seriously and in a caring way.
Debicki was overwhelmed but excited to play Diana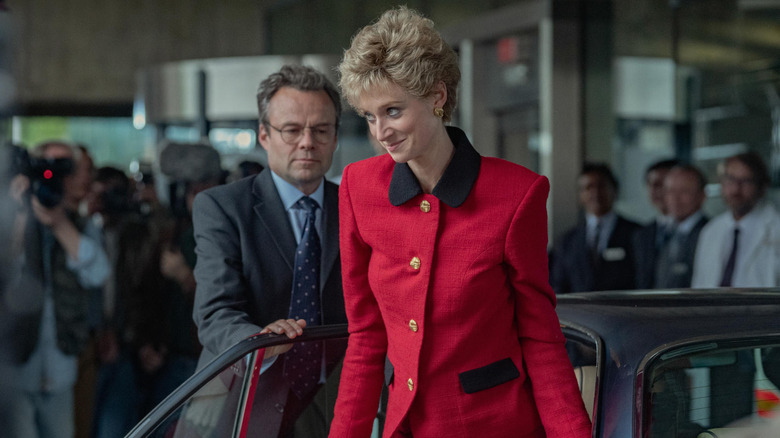 Netflix
In September 2020, after the news of her casting was announced, Debicki spoke with Good Morning America about her decision to take on the role. The actor said, "When Peter Morgan asked me to do it I was quite overwhelmed, but I've had a little bit of time to process it now. I think that I'm actually just incredibly excited to do it, and she's such an incredibly important figure."
For Morgan's part, he told Entertainment Weekly in October of 2022 that Debicki, who he has nothing but praise for as an actor, was his only choice to take over the role of Diana from Emma Corrin. He added, "Had she said no, I might have had to reconceive the entire show."
In the same interview with EW, Debicki had the opportunity to speak about the experience of playing Diana again, but this time having already filmed Season 5. One of the details that she loved most about playing Diana in "The Crown" was the opportunity to portray her over the course of multiple years so that the audience can see an evolution in the character. She concluded, "For me, it's a journey into a human finding a part of themselves that is profoundly strong — there's a piece that has survived so much and can flourish."
"The Crown" Season 5 is available to stream on Netflix starting November 9, 2022.