Black Panther: Wakanda Forever's Letitia Wright Discusses The Joy Of Shuri's Relationship With Riri Williams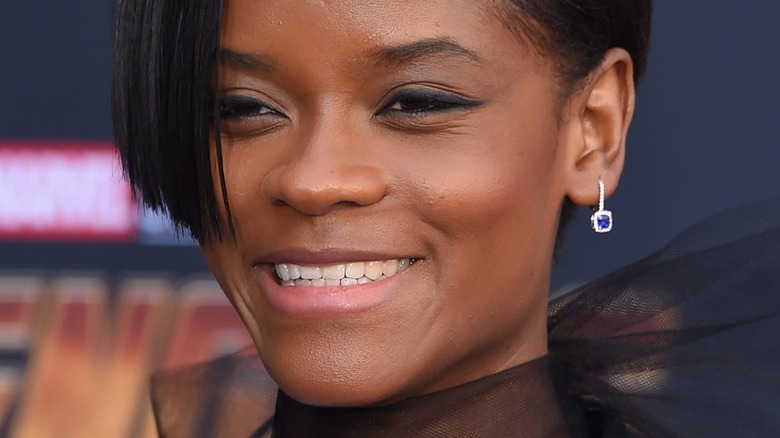 DFree/Shutterstock
It is hard to imagine the return to 2018's "Black Panther" without the late, great Chadwick Boseman in the title role, but the cast of "Black Panther: Wakanda Forever" is certainly prepared to rise to the challenge. The sequel will feature a headlining roster of characters from the first movie, all of which happen to be female. Letitia Wright, Lupita Nyong'o, Danai Gurira, and Angela Bassett all return as Shuri, Nakai, Okoye, and Queen Mother Ramonda respectively. They will be joined by "I May Destroy You" star Michaela Coel, with Winston Duke and Martin Freeman also coming back as M'Baku and Everett K. Ross as well.
But by far one of the most surprising additions to the follow-up movie is Ironheart, also known as Riri Williams, who will be played by Dominique Thorne. Ironheart is one of the newest characters in the Marvel comics canon, and Thorne will also get to headline the character in a Disney+ series slated for release in 2023 (per The Hollywood Reporter). But fans will first get to see Riri interact with fellow tech-savvy student Shuri in "Black Panther: Wakanda Forever." Letitia Wright has spoken about this unique relationship and what audiences can expect to see between the two fiercely independent and powerful women.
Letitia Wright says she is excited for audiences to see Dominique Thorne's performance as Riri Williams
At a "Black Panther: Wakanda Forever" press event attended by Looper, Letitia Wright was asked what excited her about Shuri and Riri's relationship, and the actress replied, "It was so much fun. I am really excited for Dominique, and the performance you guys are about to see, she is incredible..." Based on what Thorne has said about the character, Wright's sentiments seem to be spot on considering how the actress approached playing the role of Ironheart.
In an interview with Variety, Thorne was asked what it is about Riri Williams she would like people to know, to which she replied, "I want people to know that Riri Williams, Miss Riri Ironheart Williams, is her own person. She is coming in as a full-bodied individual and that whatever happens next, will be a lot about defining that understanding..." She then added how the character's goal in realizing this vision will be a journey we all get to go on together. 
It will be interesting to watch both Shuri and Ironheart share the screen due to their similarities in age and intellect, both of which Letitia Wright highlighted. 
Wright says Riri Williams is a cool connection to Shuri as another genius young Black girl
Since "Black Panther: Wakanda Forever" will be introducing Ironheart into the Marvel Cinematic Universe, it is perhaps only natural the character will be compared to Shuri since both young women share similar interests. In the same press event Looper attended, Letitia Wright added, "I just love the fact that we get people watching to see another Black young girl just be a genius and just be at school doing her thing and inspiring so many. That was a cool connection." She finished by stating how the two actresses had fun bouncing off one another's energies.
There has long been speculation on how exactly Ironheart would find her way to Wakanda, with many wondering if Shuri's outreach center is what brings her over. In an interview with IGN, Thorne was asked this very question and answered, "Hmm...how do I answer this question? I'll say that the scientific process that exists in Wakanda is most certainly in line with Riri and her genius, and I think that the combination of the two is what makes the second iteration of this movie additionally exciting." She then finished by saying that the first iteration of the movie would be a coming back into the world of Wakanda and being reminded of the power of the previous film.