10 Breakup Movies That Will Help Mend Your Broken Heart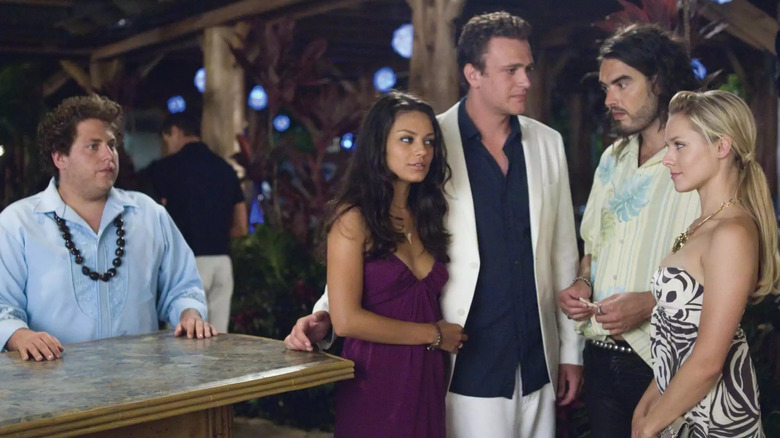 Universal Pictures
Getting through a breakup is hard, so it's no wonder that so many of us turn to entertainment to help us survive the crushing experience of heartbreak. Some might turn on our favorite sad music or breakup album to get us through those feelings, but once we've managed to open our eyes and get out of bed (if only to grab the remote), it's time to turn on a good breakup movie. 
These 10 breakup movies will help mend your broken heart. We try to stick with some positive movies here, like comedy or touching drama, though some are definitely breakup movies that wallow in the sads or dive right into downright horror. We're still trying to lift you up with this list, so if you find yourself on the receiving end of a breakup, here are 10 films that just might help renew your spirit and put some wind back into your sails. 
Eternal Sunshine of the Spotless Mind (2004)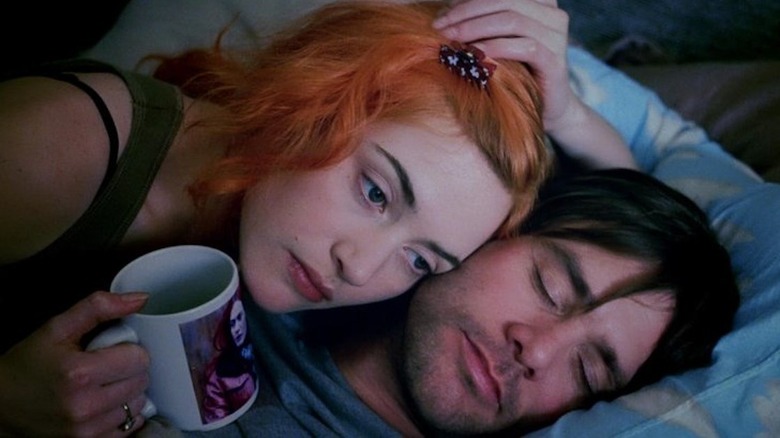 Focus Features
If you could forget the person who broke your heart, would you? As in literally have them erased from your memory? The only problem is that you also forget all the times they made you laugh, smile, or feel hopelessly in love. That's the premise behind director Michel Gondry's elaborate romantic drama "Eternal Sunshine of the Spotless Mind." In a present setting with a slightly futuristic twist, this semi-sci-fi film tells the story of a broken-up couple who use a brain-wiping technology to have their memories of each other erased. When Joel (Jim Carrey) finds out that his ex-girlfriend Clementine (Kate Winslet) has had him erased from her memory, he sets out to have the same done for his memories of her. 
Unfortunately, regret strikes in mid-process, and what follows is a twisty dream-like adventure through Joel's memory and mind. In the end, Joel and Clementine have forgotten one another ... or have they? A simultaneous storyline of Joel and Clementine's first meeting seems set in the past, but is it? This time-twisting dreamscape of a film will leave you feeling melancholy yet renewed, ready for your next love adventure.
Eat Pray Love (2010)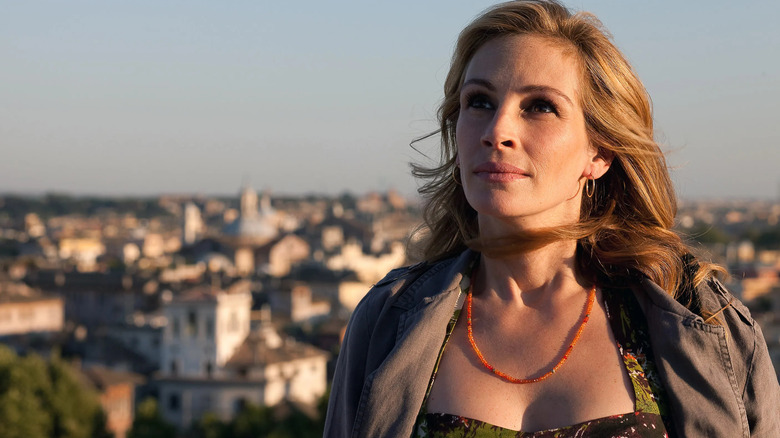 Columbia Pictures
Julia Roberts stars in this 2010 adaptation of Elizabeth Gilbert's best-selling 2006 novel of the same name. After deciding to divorce her husband, Elizabeth is broke and reeling from a rebound relationship with a younger man, so she leaves everything behind to go on a year-long world journey. In Italy, she eats. The pasta and pizza she consumes fill her belly and her soul, where she'd been lacking nourishment and starving both literally and figuratively. 
In India, she prays. She joins a yoga commune run by a guru who teaches her how to quiet her mind and find whatever spirituality resides inside her. Finally, in Indonesia, she falls in love again. Javier Bardem plays Felipe, the Brazilian who eventually finds his way into Elizabeth's heart after she's had time to find her own again. Roberts is totally charming here, and Ryan Murphy's direction manages to take what was a pseudo-self-help memoir and transform it into a comforting film. 
500 Days of Summer (2009)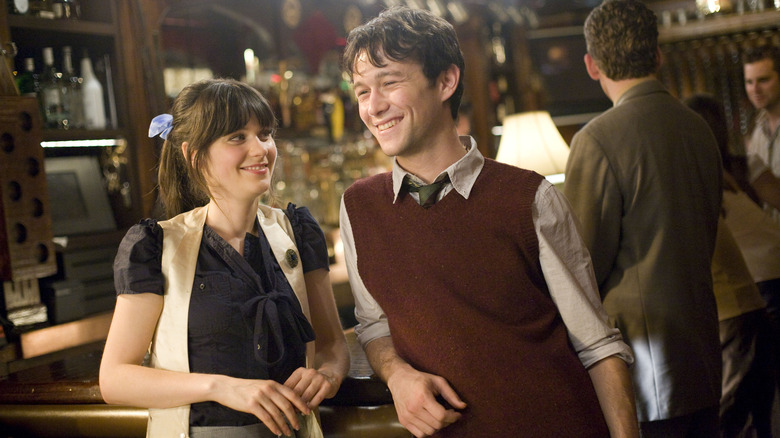 Fox Searchlight
The quirky romantic comedy "500 Days of Summer" stars Joseph Gordon-Levitt as Tom and Zooey Deschanel as Summer. The two meet at work and have — you guessed it — a 500-day relationship. The film is split into two parts and told non-linearly, which makes it a bit more interesting than your average rom-com. Each scene has a little number at the bottom of the screen indicating which of the 500 days we're seeing. Earlier days are full of love and hope, while higher numbers indicate breakup is looming. 
That setup allows the audience to live in Tom's heartbreak when the relationship doesn't work out while also understanding Summer's perspective as well. The story allows Tom a lot of time to wallow in what could have been, which is helpful if that's what you need after your breakup, but it also helps us understand that even though Tom saw Summer as "the one," she didn't necessarily see the same thing. It's a hard reality for Tom (or the viewer) to grasp, but in the end is actually for the best. 
La La Land (2016)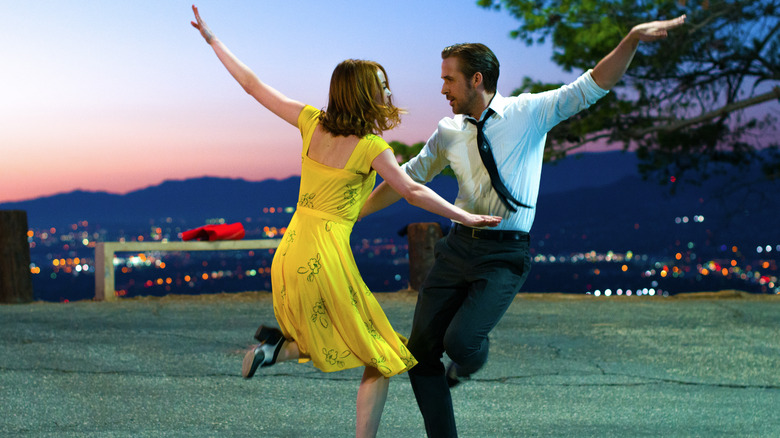 Lionsgate
Damien Chazelle's 2016 musical "La La Land" might be more well known for its catchy songs, fun musical numbers set in Los Angeles, or for almost winning Best Picture that one time, but it doesn't usually come to people's minds as a breakup movie when it really should. The film stars Emma Stone as Mia, an aspiring actor, and Ryan Gosling as Sebastian, a jazz musician who dreams of opening his own jazz club. 
Their relationship features the usual ups and downs as the two struggle to move beyond the initial infatuation phase and make it work, all the while making their careers happen. In the end, it's the relationship part that doesn't work out, though Mia and Sebastian both achieve their dreams. This just goes to show that perhaps a relationship you're trying so hard to save is really the one keeping you from blossoming in another part of your life.
How Stella Got Her Groove Back (1998)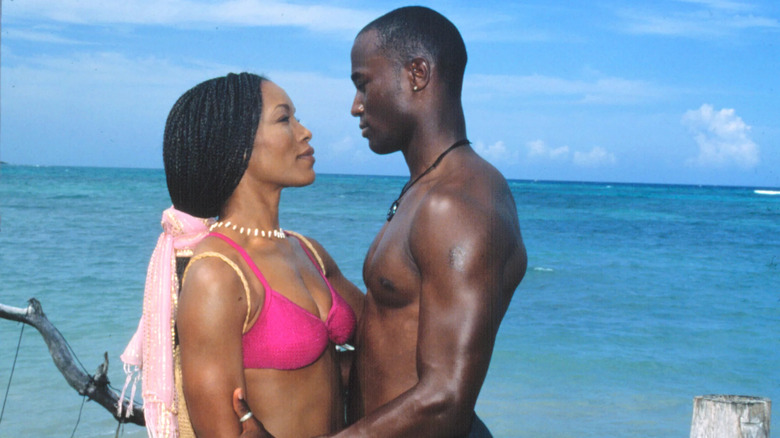 20th Century Fox
This one is a late-'90s rom-com classic. The movie stars Angela Bassett as Stella Payne, a successful businesswoman who has a lovely 11-year-old child named Quincy (Michael J. Pagan) but whose love life has been dead for years. She decides to take a trip to Jamaica with her best friend Delilah, played by the always hilarious Whoopi Goldberg. On the white sand beaches next to the turquoise blue water of the tropical island, Stella meets Winston Shakespeare (Taye Diggs in his film debut), a stunningly handsome man 20 years younger than she. 
It is via Winston that Stella "gets her groove back." Gang, this movie is sexy! Though Stella has a lot of other stuff to work out, like her boring job, her best friend's health, and her own dreams, her dalliance with Winston is exactly what she needs to burst out of a funk and into the world of determination. Let Stella and Winston's steamy stares and saucy entanglement inspire you to look elsewhere.
Under the Tuscan Sun (2003)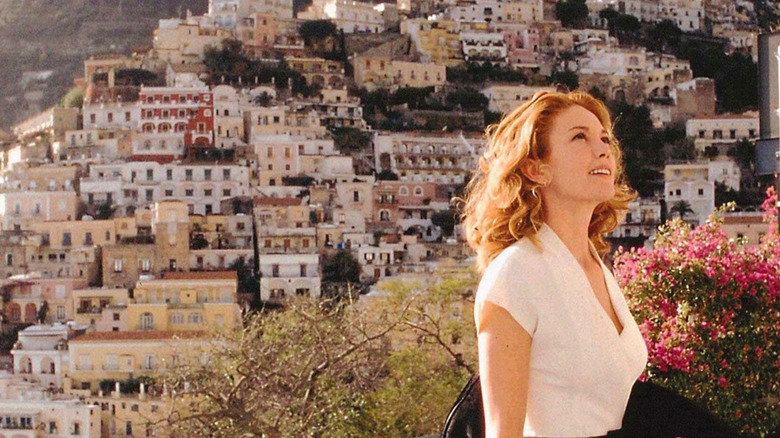 Touchstone Pictures
When you've been dumped or broken up with, a great place to go is either somewhere sunny and warm (like Stella), or somewhere with great food (as Elizabeth Gilbert did), which is what another author-turned-movie-character did: Frances Mayes. Based on Mayes' 1996 memoir of the same name, the 2003 film stars Diane Lane as Frances, a recently divorced woman who sets off on a vacation to Tuscany. Instead of going home, however, Frances decides to buy an old dilapidated villa and hires a team of Polish immigrants to help her refurbish it. 
In the meantime, Frances learns Italian, cooks spectacular meals, makes friends, and becomes just another member of the little Italian community she has come to call home. Oh, and she has a spectacular affair with a sexy Italian named Marcello. Sandra Oh co-stars here as Frances' best friend Patti, who is expecting a baby after her wife left her. "Under the Tuscan Sun" will help you get over a bad breakup but it will also make you super hungry, so have some pasta ready.
Forgetting Sarah Marshall (2008)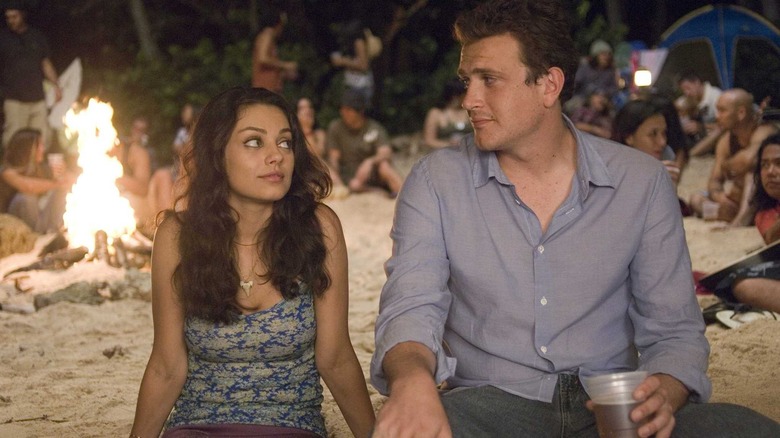 Universal Pictures
If you want some of that signature Judd Apatow-style raunchy comedy along with your breakup movie, check out 2008's "Forgetting Sarah Marshall." This funny film stars Jason Segel as Peter Bretter, a TV composer with dreams of making weird vampire puppet shows, which in the end are hilarious in their own right. After his famous actress girlfriend Sarah Marshall (Kristen Bell) dumps him unexpectedly, he flees town on a trip to Hawaii. The problem is, Sarah has landed at the exact same resort and is accompanied by her new rock star boyfriend, Aldous Snow (Russell Brand). 
Peter winds up using the trip not as a moment to confront Sarah, but rather to get to know hotel employee Rachel (Mila Kunis) a little better. Their relationship blossoms while Aldous and Sarah fall apart, but the dramatics are balanced with wacky misunderstandings, hilarious lines, and ridiculous scenarios typical of the Apatow brand. (Apatow produced.) Jonah Hill, Bill Hader, and Paul Rudd offer up some really funny supporting characters, and the movie ends on a sweet note, even if everything doesn't work out as we think it will.
Someone Great (2019)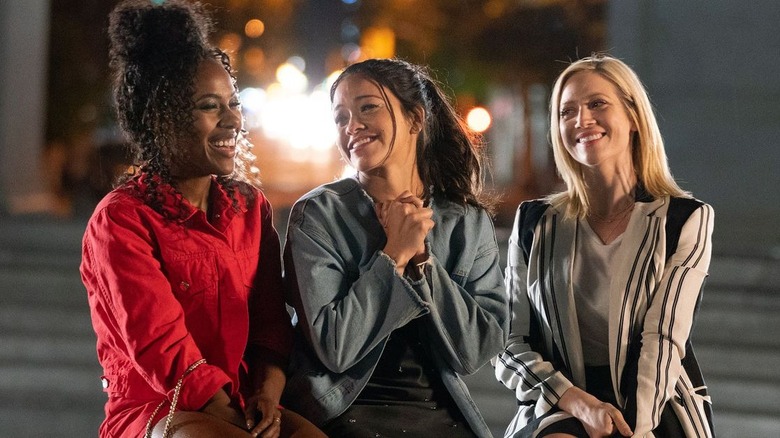 Netflix
Sometimes you need to get over a breakup with a rebound relationship or find a new partner, and sometimes you just need to spend time with your friends. That's the premise of "Someone Great," a Netflix comedy film starring Gina Rodriguez as Jenny. After spending nine years in New York with her boyfriend Nate (LaKeith Stanfield), Jenny lands her dream job writing for Rolling Stone. The only catch is the job is in San Fransisco, and Nate doesn't want to leave NYC. He breaks up with her instead of trying the long-distance thing, and Jenny begs her two best friends Blair (Brittany Snow) and Erin (DeWanda Wise) to call out of work and spend the day with her. 
The trio attempts to score tickets to an in-demand concert for that evening, and the shenanigans that occur between the best friends make Jenny unsure of how to leave Nate and New York City behind. Naturally, time with her besties offers up some clarity, and Jenny is able to move on. It's a fun romp that you should totally watch with a bunch of girlfriends and a box of good wine.
The Broken Hearts Gallery (2020)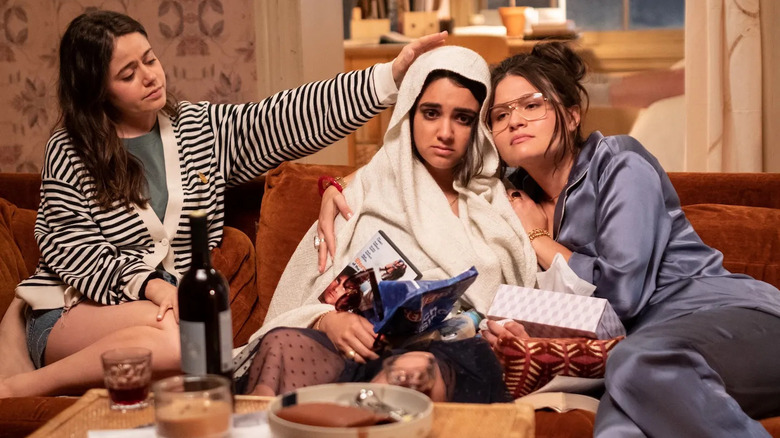 TriStar Pictures
Some folks need a creative outlet after they've been dumped or experienced a breakup. That's what Lucy (Geraldine Viswanathan) needs after losing yet another boyfriend in "The Broken Hearts Gallery." Instead of pouring herself into work or friends, she turns to art. As an assistant in a posh gallery, Lucy understands what drives talk in the art world, and her collection of trinkets from past beaus makes for an interesting gallery piece. 
Her pop-up gallery hits big on social media, and those with broken hearts from all over the city come to leave their own objects and stories, offering comfort and catharsis to everyone with a broken beater. All the while, Lucy's been curating a new relationship with Nick (Dacre Montgomery), who dreams of opening up his own boutique hotel and gives Lucy the space for her exhibit. The movie explores just how much heartbreak is universal. We've all been heartbroken, and maybe we've all hung on to a little piece of that lost relationship ... maybe it's time to let those trinkets go.
Legally Blonde (2001)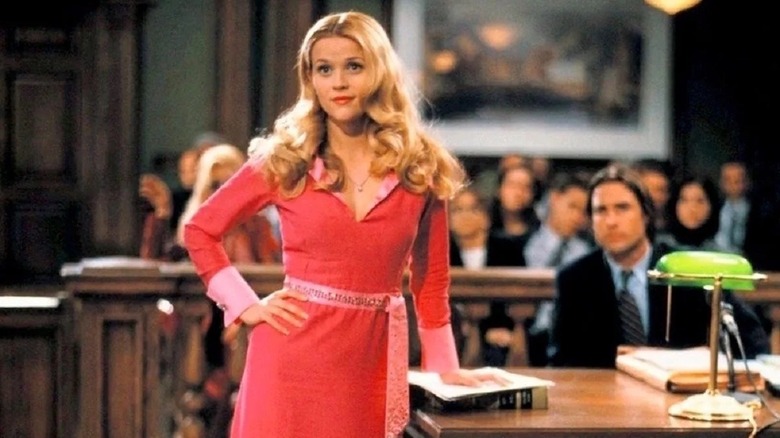 MGM
This is the powerhouse of breakup movies. Who uses the end of a relationship to completely shift life goals and get into Harvard Law and kick total butt while doing so? Elle Woods does, that's who. The 2001 comedy stars Reese Witherspoon as Elle, a Southern California fashionista who dreams of marrying her boyfriend Warner (Matthew Davis). When Warner reveals that he's going to Harvard Law school and breaking up with her, Elle gets an idea: She drops everything and devotes herself to getting into the same school so that she can win him back. 
Her quest changes directions after she arrives, though. Laughed at by the other students and not taken seriously, Elle dives into her schoolwork hard and learns that she can actually be a great lawyer and grow on her own without Warner. Yes, there's a love side plot involving another junior lawyer named Emmett (Luke Wilson), but the real oomph here comes from Witherspoon's chipper yet confidant performance and the film's powerful message.