NCIS' Pauley Perrette's Iconic Jet Black Hair Is All Fake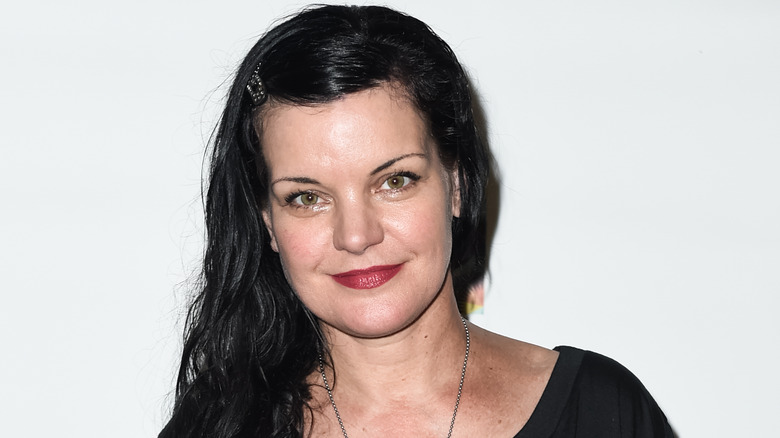 Emma Mcintyre/Getty Images
Abby Sciuto's (Pauley Perrette) style, as featured on "NCIS" from Season 1 to Season 15, may seem to clash with her chipper personality. But the forensic scientist is ultimately a goth at heart. Abby loves not just death but the supernatural, tattoos, and black clothes and jewelry. Agent Tony DiNozzo (Michael Weatherly) even implies in one episode that she sleeps in a coffin, something that doesn't seem out of character for the morbid NCIS employee. Nevertheless, she became a fan favorite in short order, which is exactly what the minds behind the character were aiming for.
Part of executive producer Donald Bellisario's intent with Abby was to create a positive depiction of a person with tattoos and piercings. Perrette commented, "I think, after all these years, an older generation might look at someone with tattoos, and instead of thinking they're a thug, they maybe think they're a scientist" (via CBS). She also remarked about how many girls followed in her character's footsteps, taking up math and science courses in college because of how Abby made these topics fun. Outside of work, Abby has "weird" tastes, but she's also a competent, plucky, and kind-hearted human being.
Part of Abby's now-iconic ensemble is her striking black hair, which she'd typically fashion into pigtails with bangs. However, that hair color isn't the shade Pauley Perrette was born with.
In fact, she's a natural blonde
Pauley Perrette's jet black locks may have become one of the trademarks of Abby Sciuto on "NCIS," but the actress' hair is actually blonde. To pull off her Abby look in front of the camera, Perrette regularly dyed it black with the help of hair and make-up assistants, who also gave her a hand applying Abby's neck tattoo before filming began each day. While working on the series, she noted to CBS Sunday Morning, "I end up with blonde roots."
The actress tweeted in 2013, "I dye my own hair black at home for #NCIS with store bought dye. I'm absolutely NOT a salon girl!" However, Perrette revealed on "The Queen Latifah Show" that this has led to health complications. She developed a PPD allergy, a condition that can happen when you've been dyeing your hair black for a long time. During filming on "NCIS," she woke up with her head swelling and had to be rushed to the hospital. Afterward, the actress only used black hairspray — as she admitted on "The Queen Latifah Show" — until she left "NCIS" during its 15th season.
Perrette has taken her hair color in a bold new direction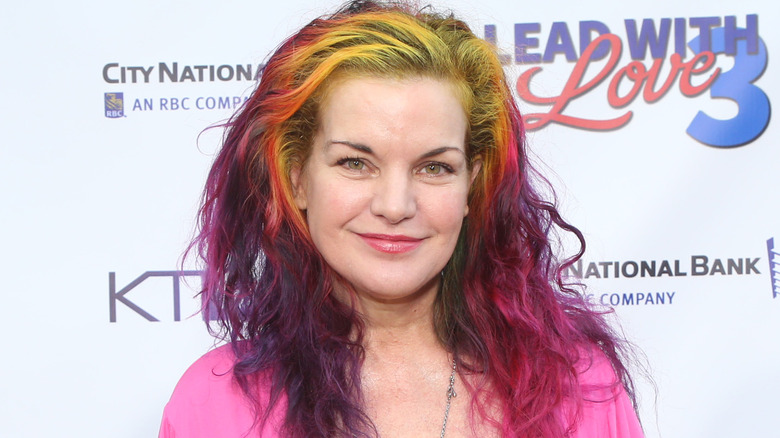 Phillip Faraone/Getty Images
Evidently, dyeing her hair black wasn't the best move for Pauley Perrette, but that's not to say that dyeing her hair other colors is out of the question. With "NCIS" and therefore Abby Sciuto behind her in 2021, she made the bold choice to try out a brand new look. Instead of choosing just one hair color, though, she chose multiple, revealing a vibrant rainbow hairstyle in November of that year.
"I'm a rainbow!!!" Perrette wrote in a Twitter post, showing off her new, colorful appearance for the world to see. In the time since debuting this bright hairdo, she seems to have kept up with it, as evidenced by social media posts after the fact. With that, it doesn't look like she has any intention of returning to the black-haired Abby any time soon on "NCIS." Besides, between her serious PPD allergy and the dehumanizing nature of the fame that came with the show, why would she?
It seems that Pauley Perrette is doing just fine away from "NCIS" and the Abby Sciuto role. Maybe someday she'll give both another go, but for the time being, she seems to be enjoying the freedom to do whatever she'd like with her hair.