Young Royals' Malte Gårdinger Talks Drama, Deceit, And Romance In Season 2 - Exclusive Interview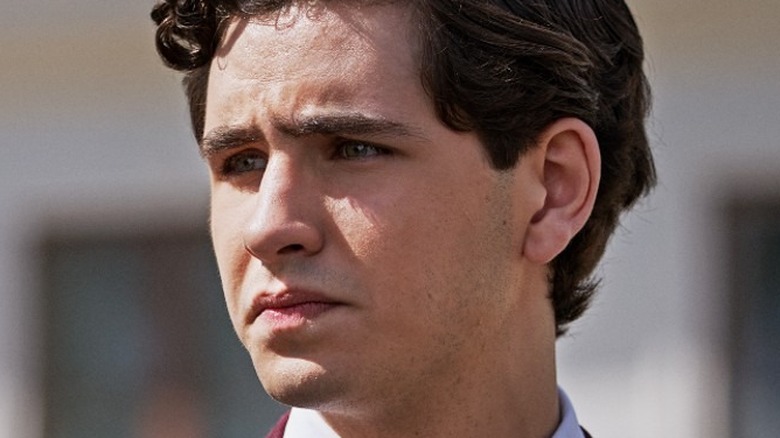 Johan Paulin/Netflix
Swedish actor Malte Gårdinger is no stranger to the screen. Over the past several years, the 22-year-old has appeared in the short film "#will," which earned him a best actor nomination at the Hamilton Film Festival, and a slew of other projects. But in 2021, Gårdinger's name became recognized on a larger scale thanks to his portrayal of August in the hit Netflix series "Young Royals."
Premiering in July 2021, the teen drama shows Gårdinger's character welcome his cousin, Prince Wilhelm (Edvin Ryding), to the elite boarding school Hillerska. Despite assuring the royal family that he'll watch out for Wilhelm, it quickly becomes evident that August isn't exactly the most caring relative. As Wilhelm explores a secret romance with Simon (Omar Rudberg), star of the Hillerska choir, August sneakily captures a video of the pair enjoying an intimate moment. Rather than keep it to himself, he ensures that the video goes viral. 
With his self-centered, pompous demeanor, August is the character that fans love to hate. Now, with "Young Royals" Season 2 set to premiere on November 1, they can't wait to see the full impact of his actions. Will Simon and Wilhelm be able to rekindle the flame? Does August feel any type of shame for his conniving ways? 
Ahead of the season's release, Looper sat down for an exclusive interview with Gårdinger, who discussed the motivation behind August's video scandal, the surprising arc viewers will see him experience, and more.
Continuing the troubled story of August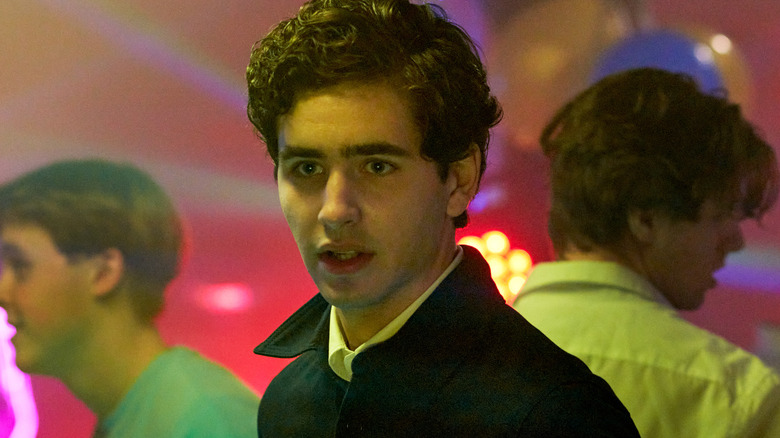 Johan Paulin/Netflix
When did you learn that the show was coming back [for Season 2]? How did you feel to know you'd get to continue the story of August?
We found out pretty early. It was maybe two or three weeks after the premiere of the first one, so it was quite early. But we didn't know when we were going to shoot it until a month before or something, so it was pretty hectic that month, but I'm super happy that we got another season.
I feel like you want to root for the villains sometimes, but what August did in Season 1 was so horrible. What was the fan reaction to your character? Did they like you, or were you getting a lot of hate on social media?
I think my character was pretty universally hated, [and] I don't blame anyone for hating him. But people have been pretty nice to me overall as a person. They've been pretty good at separating me from the character.
To go back to Season 1, with August sharing the video of Wilhelm and Simon, why do you think he did that? What was his motivation?
I think it was just in the moment. He got overwhelmed with all of this information, and he was hurt and angry and frustrated, and he didn't think it through; he just went for it. I think he regretted it the minute he pressed that button, but he did do it.
The fallout of August's actions in Season 2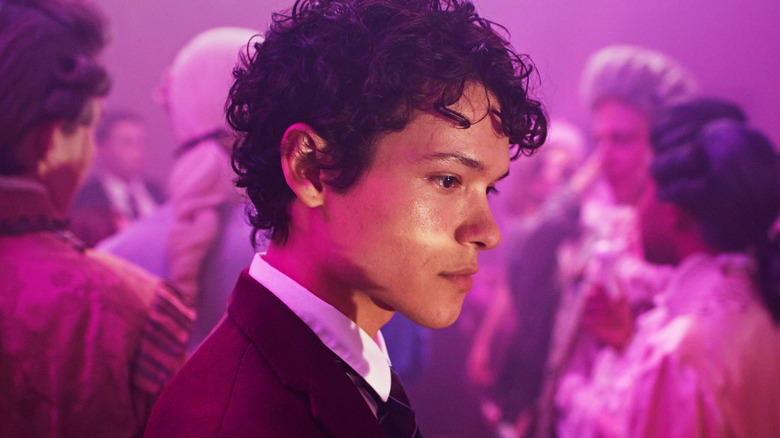 Johan Paulin/Netflix
When we enter the new season, where would you say August is mentally [and] emotionally right after all of this?
He knows that Wilhelm knows. He wants to either use that information or maybe try to befriend him or try to fix that relationship. I think he felt pretty bad. They've also gone on this Christmas break, so he has had time to reflect a bit.
Do you think there's any way for Wilhelm and Simon to get past that and actually be friends with him?
Who knows? Personally, I would not befriend him after that. But who knows? They're pretty forgiving people, so maybe. Maybe not.
Without giving too much away, August goes through quite a roller coaster in Season 2. We see in the trailer a bit of a surprise romance for him. What were your thoughts when you read all of that in the script? How do you think fans will react?
I think they will be shocked by all of the twists and turns and hopefully get a new perspective [on] August as a human being. He may do stupid s*** sometimes, and he messes up and he's a bit of an a**hole, but he's also human, which this season really emphasizes, which I like. When I read it, I was so pumped, super, super pumped.
How did your co-stars react to everything?
I think [they reacted] the same [way]. Every single character has gotten these new layers to them in this new season. I'm looking forward to the reaction [to] that. [The cast] was pretty pumped because everybody got to see different sides to their character.
Malte Gårdinger didn't expect Young Royals to resonate with fans so much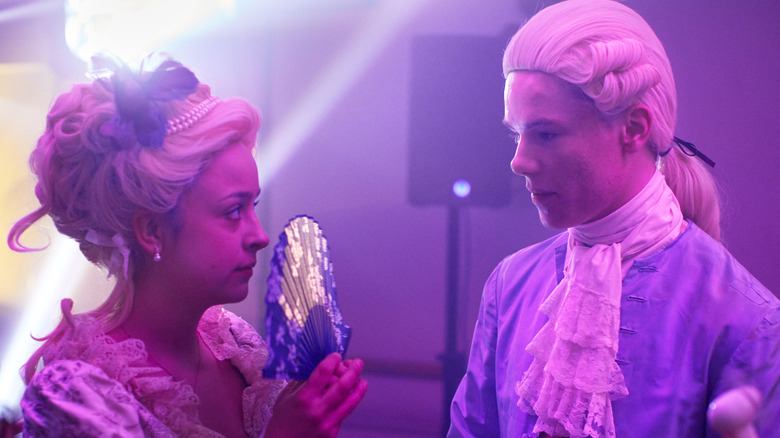 Johan Paulin/Netflix
Fans are already reacting very strongly to the new season after the trailer came out. So many people were saying how they were crying watching it. They were so emotional and excited. How does that feel from your end as an actor to be able to evoke that kind of emotion in viewers?
Incredible. It's hard to grasp the wideness of it, the impact. I still think I haven't really grasped it yet. But it's great. It's amazing to be able to convey or get people so involved and have them react in that emotional way. It's incredible.
Viewers of "Young Royals" span the entire globe. In Season 2, they'll get to see a costume party at Hillerska and a bit more of the school traditions. For those outside of Sweden, are these kinds of things common for schools in your country? Or is it over the top for television?
Personally, I haven't gone to any of those super masquerade-y things in Sweden. But who knows? Maybe they occur somewhere. I don't think it's that common. I don't think it's a tradition here. It's more of a cinematic, looks-dope, cool segment.
What is it like filming those types of large-scale scenes with the whole cast? I feel like it's rare that you're all together.
It was great. As you said, we're always moving around and there's maybe someone sitting and waiting for their scene, but it's very rare that we're together in that way, which was very fun to have everyone in the same place with all the wigs and all the crazy outfits. It was a great couple of days.
The impact of Young Royals on Malte Gårdinger's life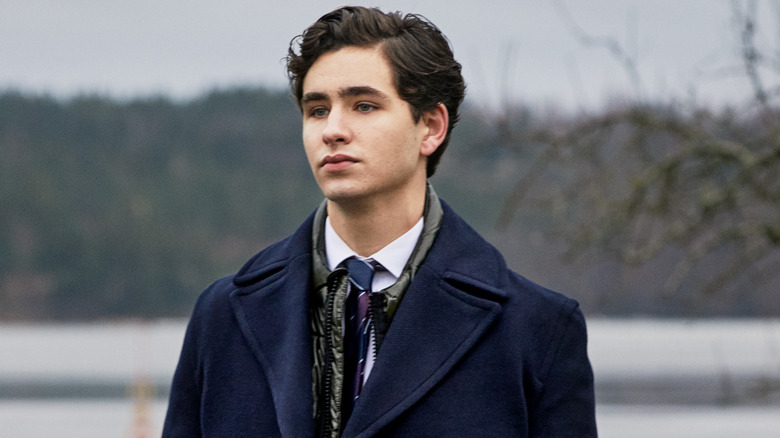 Johan Paulin/Netflix
I saw that you've been able to do some really cool things. You were on the cover of Vogue Scandinavia recently. Could you talk about how your life has changed since this show started and other experiences you've gotten from it?
It's a bunch. I feel like, as a person, I haven't changed that much. But the things I've gotten to experience [are] new — the level of things to experience and the people to meet and all that good stuff. But overall, I'm pretty much the same.
Are there any other upcoming projects for you besides "Young Royals"?
I have some secret stuff coming up, which is super exciting. Look out for that.
Hypothetically, if there was to be a "Young Royals" Season 3, would you want August to stay on this trajectory and keep playing the bad guy? Or would you want to see him make amends with everybody?
That's a good question. I love playing the a**hole, straight up, but I feel like I would like an ending to his arc which is positive. I would like a happy ending for him.
Do you have any final words on why people should watch the new season?
It's a roller coaster of emotions, and [it has] the twists and turns, the relationships, the drama, being young, having responsibilities, being betrayed, and everything. If you enjoy that stuff, check it out. If not, check it out. You're going to like it.
Season 2 of "Young Royals" premieres on Netflix on November 1.
This interview has been edited for clarity.