Sam & Kate - Everything You Need To Know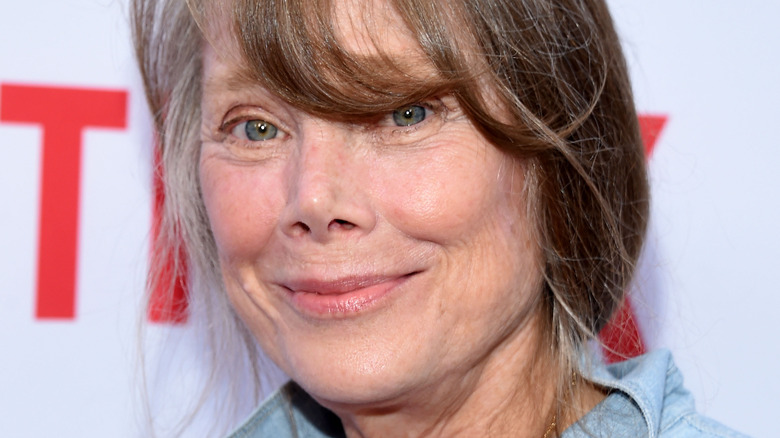 DFree/Shutterstock
We may receive a commission on purchases made from links.
The year 2022 was a big one for romantic movies. Julia Roberts and George Clooney resumed the throne as queen and king of the rom-com in "Ticket to Paradise." Joe Wright gave us a lavish adaptation of a classic with "Cyrano," and Billy Eichner made history with the first gay rom-com to be released theatrically by a major studio, "Bros." There was the bittersweet "Hello, Goodbye, and Everything in Between," the sexually frank "Good Luck to You, Leo Grande," and titles like "Father of the Bride," "Persuasion," "My Policeman," and "Cha Cha Real Smooth." 
And in that mix of romance, there's "Sam & Kate," a dramedy about a father-son duo meeting a mother-daughter duo and all the sparks that fly and complications that arise as a result. With Sissy Spacek and Dustin Hoffman at the helm, the dramedy made its theatrical release on November 11. And now that it's out, we're going to dive into this unique romance that has a fun twist on family, both on the screen and in real life. Read on for everything you need to know about "Sam & Kate."
What is the plot of Sam & Kate?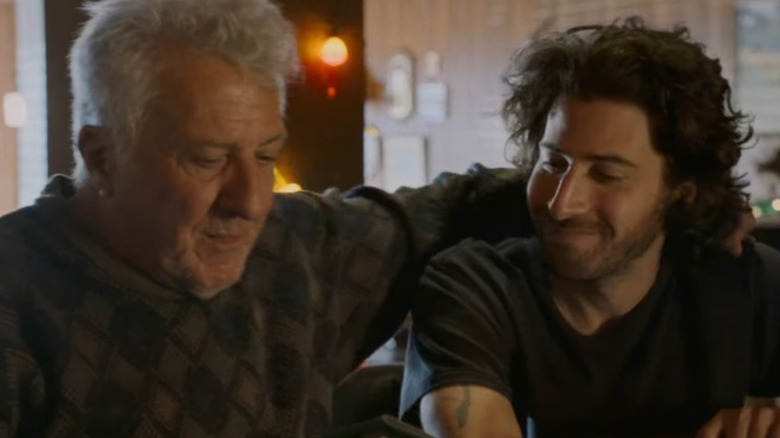 Vertical Entertainment
Set in a small American town, "Sam & Kate" starts off with one-half of the titular duo — Sam and his grouchy dad, Bill. Sam has moved back home to take care of his aging, ailing father, although he finds himself pretty miserable working at the local chocolate factory. Still, despite his dad's cantankerous nature, the two do love each other, and Sam likes to spend his time drawing — a skill he's pretty good at — although he isn't exactly sure which direction his life needs to go.
Eventually, Sam crosses paths with bookstore owner Kate, and while he wants to take her out, Kate doesn't feel like dating anyone right now. That starts to change one Christmas, when Sam and Bill bump into Kate and her mom, Tina, in a church parking lot. Tina's car has broken down, and Bill offers to give the two a ride, which starts the relationship ball rolling between not just Sam and Kate but also Bill and Tina. As a result, the foursome must deal with their romantic entanglements, troubled pasts, and uncertain futures, including something about Tina that we won't spoil here.
Who stars in Sam & Kate?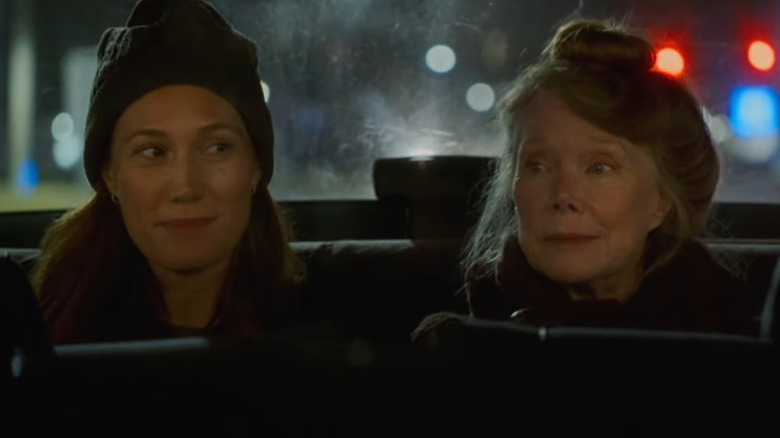 Vertical Entertainment
Perhaps the biggest selling point of "Sam & Kate" is the film's all-in-the-family casting, with two huge stars at the helm. Dustin Hoffman and Sissy Spacek play Bill and Tina, and they barely need an introduction. Between the two of them, they have three Academy Awards – Hoffman for "Kramer vs. Kramer" and "Rain Man" and Spacek for "Coal Miner's Daughter" — and 10 more nominations.
Hoffman and Spacek's real-life children play their on-screen kids — Jake Hoffman and Schuyler Fisk as the titular Sam and Kate. It's not the first time that the actors have collaborated with their parents. Jake acted alongside the elder Hoffman in "Rain Man," "Hook," and "I Heart Huckabees," and is known for his roles in "Click" and "The Wolf of Wall Street." Spacek and Fisk can be seen together in "Castle Rock," "The Long Walk Home," "Trading Mom," and "Hard Promises."
In addition to the main four, the film also stars Henry Thomas. He's best known for playing Elliott in "E.T. the Extra-Terrestrial," but since then, he's made quite a name for himself teaming up with director Mike Flanagan in works like "The Haunting of Hill House," "Doctor Sleep," "Midnight Mass," and "The Midnight Club." Other members of the cast Elizabeth Ludlow ("Peacemaker"), Tyler Labine ("Tucker and Dale vs. Evil"), Dylan McNamara ("First Kill"), and Elizabeth Becka ("She-Hulk").
Who directed and produced Sam & Kate?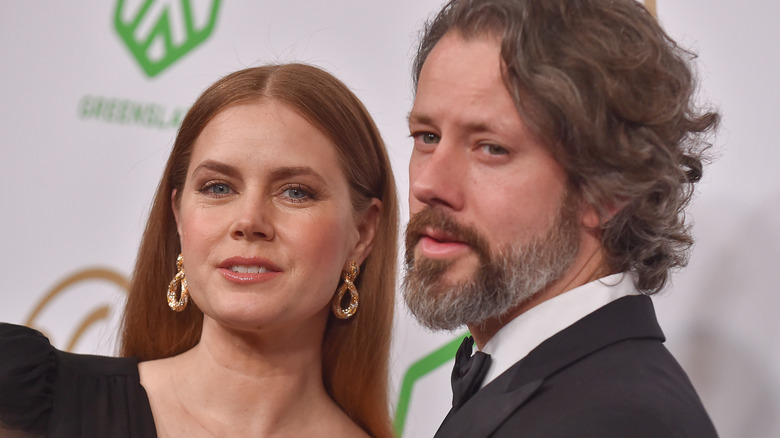 DFree/Shutterstock
"Sam & Kate" is directed, written, and co-produced by Darren Le Gallo. The romantic dramedy marks Le Gallo's directorial debut, and his credits as an actor include "Date Night" and "The Master." His other pursuits include music and painting, and he's also credited for working in the art department in "Imposter" and "The Matrix Reloaded." 
Le Gallo's wife, Amy Adams, serves as executive producer on "Sam & Kate" with Stacy O'Neil under their Bond Group Entertainment banner. Speaking with People, Le Gallo gave Adams a ton of credit for helping to inspire the film. "I had a different project that I was trying to get off the ground," he explained, "and, honestly, it was my wife that was like, 'You need to write your next thing.' So I had started to assemble the characters and such for this, some of it being lifted from my childhood growing up in the Bible Belt in Texas. Over time it started to come together."
Robert Yeoman serves as cinematographer. Yeoman is perhaps best known for his work with Wes Anderson and was nominated for an Academy Award for his work on "The Grand Budapest Hotel." "I am thrilled and humbled to have the incredible cast and Oscar-nominated cinematographer Robert Yeoman to be a part of bringing this story into a reality," said Le Gallo in a statement (via Deadline).
What is Sam & Kate rated?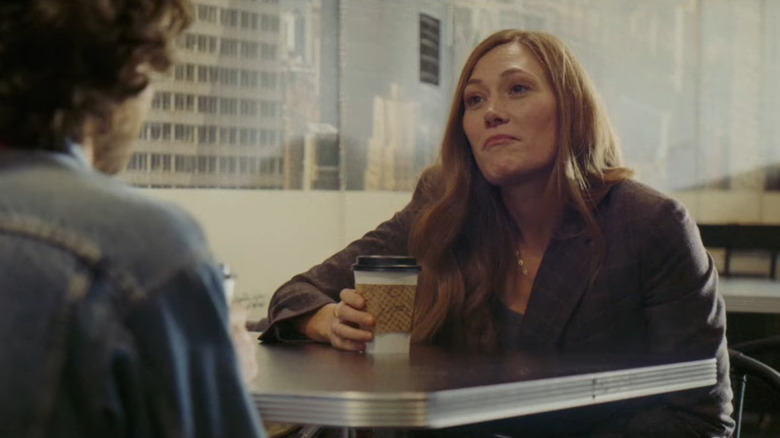 Vertical Entertainment
Rather than being a raunchy rom-com for teens, "Sam & Kate" is more of an adult-friedly dramedy. As a result, it should come as little surprise that the film is rated R for "some drug use and language." Marijuana is almost a character in the film, contributing to the drug use that earned the film its R. There's also a bit of cursing, including the dreaded F-bomb (via Common Sense Media). However, as far as the R-rating goes, this one is pretty light, and there isn't any explicit sexual content or nudity. After all, with Dustin Hoffman and Sissy Spacek in leading roles, it's a film geared toward older audiences, with a mature take on romance.
How are critics and audiences responding to Sam & Kate?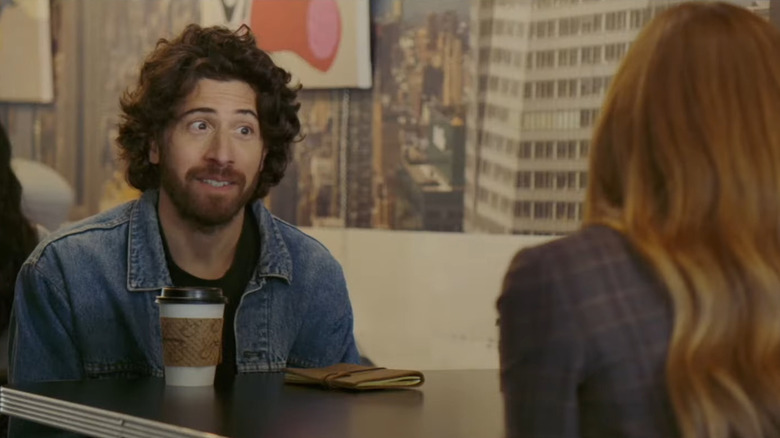 Vertical Entertainment
By and large, critics and audiences seem to feel basically the same way about "Sam and Kate," with the overall takeaway being, "It's pretty good!" At the time of this writing, the Dustin Hoffman/Sissy Spacek romance has 25 critical reviews on Rotten Tomatoes, giving it a score of 68%. Rich Cline of Shadows on the Wall summed up the vibe nicely, writing, "There's nothing terribly original going on here, but writer-director Darren Le Gallo and his ace cast infuse the film with the charm of a comfy armchair by a cracking fireplace." Audiences seem to feel the same way. With fewer than 50 reviews on the site, the audience score is sitting comfortably at 64%.
Where to watch Sam & Kate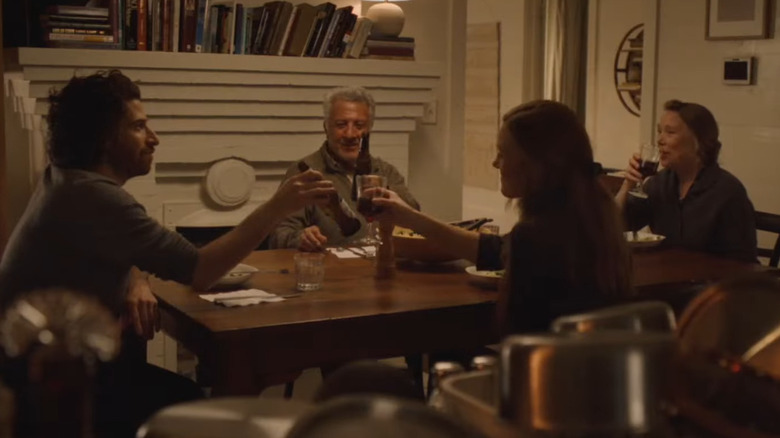 Vertical Entertainment
The Darren Le Gallo-directed romance hit theaters on November 11, but it's now online if you want to watch this cozy film in the comfort of your own home. "Sam & Kate" is available to rent for $6.99 on Amazon Video, Vudu, and Redbox. Or — if you just want to spend a few extra bucks and own the Jake Hoffman/Schuyler Fisk film — you can buy "Sam & Kate" for $9.99 on those exact same sites.