Fans Can't Get Over The Wholesome Sissy Spacek Mother-Daughter Storyline In Sam & Kate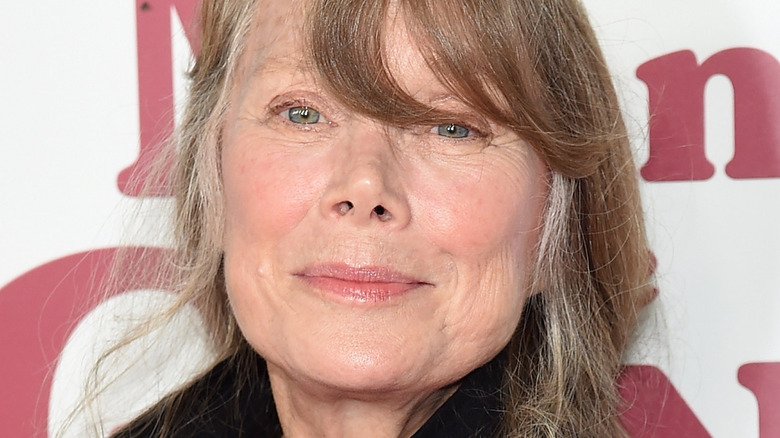 Jamie Mccarthy/Getty Images
There aren't many actors who have received more acclaim or attention than Dustin Hoffman and Sissy Spacek. Over the course of their careers, Spacek and Hoffman have each starred in some of the most beloved films ever made. For his part, Hoffman has, notably, won two best actor Oscars (via IMDb) and has been nominated for the same award five other times. Spacek, meanwhile, has one Oscar under her belt along with five other Academy Award nominations (via IMDb). Additionally, even though Spacek and Hoffman aren't nearly as prolific nowadays as they used to be, they're still turning in memorable screen performances on a fairly regular basis.
All of this is, of course, to say that Spacek and Hoffman teaming up to appear in a new film together would be something worth celebrating regardless of who else starred in it. In the days since the first trailer for Hoffman and Spacek's new film, "Sam & Kate," was released, viewers have certainly expressed their excitement online over getting to see the two legends on-screen again, too. However, online users have also latched onto the fact that "Sam & Kate" doesn't just star Hoffman and Spacek, but also two of their real-life children, Jake Hoffman and Schuyler Fisk.
Fans love getting to see Schuyler Fisk and Sissy Spacek act together in Sam & Kate
"Sam & Kate" follows Tina (Sissy Spacek) and her daughter, Kate (Schuyler Fisk), as they find themselves growing increasingly attached to Bill (Dustin Hoffman) and Sam (Jake Hoffman), a father-son duo who they happen to cross paths with one fateful night. The film, in other words, sees Spacek and Hoffman playing the parents of characters portrayed by their real-life kids. In the case of Spacek's Tina, the trailer for "Sam & Kate" suggests that the film will follow her as she learns to let go of some of her hoarding habits with the help of Bill, Sam, and Fisk's Kate.
Unsurprisingly, based on early reactions to the trailer, it seems safe to say that viewers are already quite charmed by the way "Sam & Kate" promises to touch on the real-life parent-child dynamics that exist between its cast members. In fact, in the YouTube comments section for the "Sam & Kate" trailer, one user wrote, "This should be the most naturally acted film of all time." On the same page, another viewer noted, "OMG that is soooo adorable that real-life parents and [their kids] are starring in a movie like this!" Elsewhere, a different user shared their response to the trailer, writing, "[It] looks like a very sweet movie, I'm craving for something like that [right now]."
In other words, while it remains to be seen how well both critics and viewers alike receive "Sam & Kate," it looks like the film's behind-the-scenes gimmick has already paid off. Only time will tell, of course, whether or not the film itself is deserving of the charming responses it's received up to this point.