Sam & Kate Features Family Connections Both In Front Of And Behind The Camera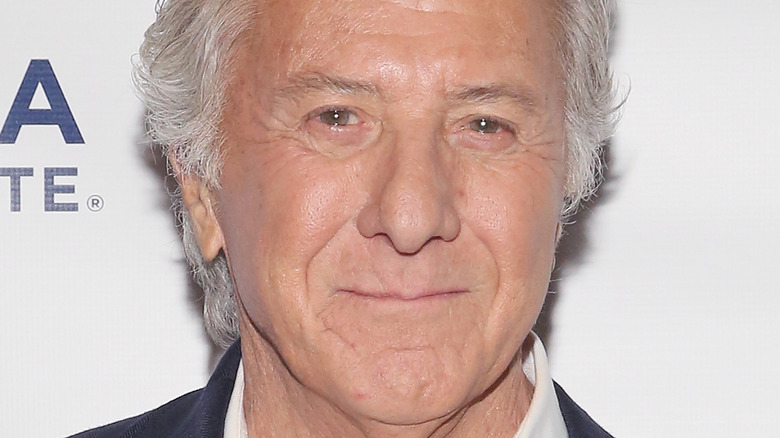 Mireya Acierto/Getty Images
Dustin Hoffman and Sissy Spacek star in the upcoming family dramedy "Sam & Kate" as two single seniors with somewhat complicated relationships with their children. The movie takes place in a small town in Middle America and follows Hoffman's character, Bill, as his son, Sam (Jake Hoffman), moves in to help with his failing health. While the father and son are trying to figure out how to live with one another again, Sam takes a liking to a local girl named Kate (Schuyler Fisk), while his father starts a relationship with her mother, Tina (Spacek).
The family awkwardness between Kate and her mother and between Sam and his father is visibly palpable, even in the "Sam & Kate" trailer. That authentic look of awkwardness between the parents and their children isn't necessarily because of the actors' talent, however. Both pairs of actors actually have those same relationships in real life.
Sam & Kate is truly a family affair
"Sam & Kate" is full of family, both on-screen and off. Dustin Hoffman and co-star Sissy Spacek have the unusual opportunity of playing parents to their real-life children, Jake Hoffman and Schuyler Fisk, respectively.
This isn't the first time that Dustin and Jake have been in the same film together, with Jake getting his start as an actor playing "Boy at Pancake Counter" in his father's famous film "Rain Man." Jake also acted alongside his father in the 1991 movie "Hook" and the 1994 movie "I Heart Huckabees." They even played the roles of father and son previously in the 2010 movie "Barney's Version."
Spacek and her daughter, Fisk, are no strangers to working on the same set either, having appeared in several projects together. In the '90s, the two both had roles in "The Long Walk Home," "Hard Promises," and "Trading Mom." And while never having played mother and daughter on-screen, the two played younger and older versions of the same character in the Hulu series "Castle Rock."
And the familial relationships don't end on-screen: The film's writer and director, Darren Le Gallo, has the pleasure of working with his wife, Amy Adams, one of its executive producers. "Sam & Kate" is out in theaters on November 11.