Sam & Kate's Official Trailer Has Fans Waiting With Anticipation For Dustin Hoffman's Performance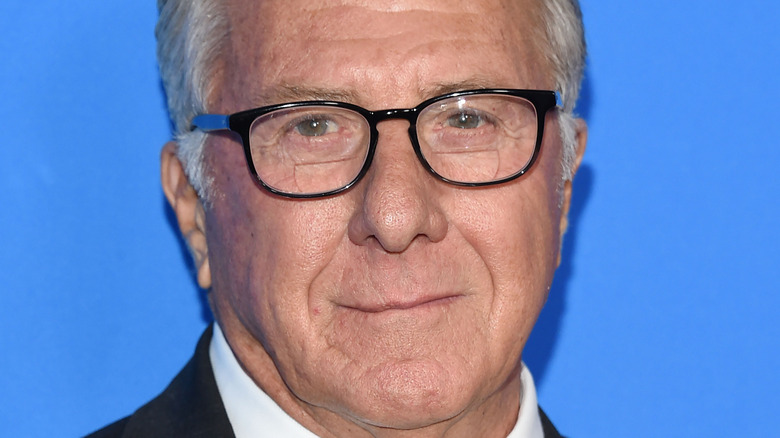 DFree/Shutterstock
The upcoming romantic comedy-drama "Sam & Kate" brings together two movie legends working together for the very first time. Sissy Spacek and Dustin Hoffman (who in 2007 said he still regrets turning down a role with filmmaker Martin Scorsese) play two small-town senior citizens who find love after their children (played by the actors' respective real-life kids Schuyler Fisk and Jake Hoffman) fall in love with each other. The film appears to be a gentle and sweet-natured piece of entertainment, and the prospect of seeing both Spacek and Hoffman act on-screen with both each other and Spacek's daughter and Hoffman's son is an enticing one, and now an official trailer for the movie has given fans even more to look forward to.
Hoffman, in particular, seems to be drawing a lot of anticipation from fans who see the trailer. He seems to have the flashiest part of the project, the curmudgeonly old father to Jake Hoffman's struggling artist Sam (of the film's titular pairing), and it makes sense that people would be excited to see him at work in the movie itself.
Many fans are excited to see the return of Hoffman to the screen
Both Dustin Hoffman and Sissy Spacek have the kinds of bodies of work that actors dream of. Spacek is unforgettable in such classics as "Carrie" (in which Spacek did her own stunt work in one classic horror scene), "Coal Miner's Daughter," and "JFK," while Hoffman is a top-tier star in everything from "The Graduate" to "Midnight Cowboy," "Marathon Man," and of course, "Tootsie," just to name a few. "Sam & Kate" brings them both back to the screen in a sweet romantic comedy starring Hoffman's son Jake Hoffman as Sam and Spacek's daughter Schuyler Fisk as Kate. Plus, Hoffman has slowed down considerably in recent years, with some of his most high-profile work being the voice of Master Shifu in the "Kung Fu Panda" movies. For her part, Spacek's last feature film role was with Robert Redford in "The Old Man & the Gun."
As you can see in the trailer above, it's Dustin Hoffman who gets most of the attention in a funny, curmudgeonly role. "Cool to see Hoffman again!!" says YouTube commenter Ernie Hudson (presumably not the "Ghostbusters" actor of the same name, but you never know). "Finally dustin is back," says Allan Jensen on the same platform, presumably speaking for many who share the same sentiment. And YouTube commenter TwoWrights strikes at the heart of the potential appeal of "Sam & Kate," opining, "Real life father and son and real life mother and daughter, both playing the same. This should be the most naturally acted film of all time."
You'll be able to judge whether that's the case for yourself when "Sam & Kate" hits theaters on November 11, 2022.