The School For Good And Evil Adaptation Was In Development For Years Before Reaching Director Paul Feig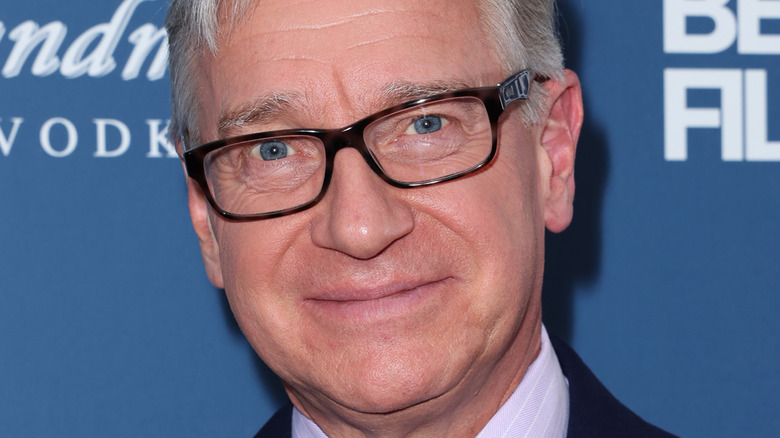 Phillip Faraone/Getty Images
Director Paul Feig returned to the world of fantasy and special effects with Netflix's "The School for Good for Good and Evil" after a small break from big budgets after 2016's "Ghostbusters." The Netflix film is as star-studded as his other efforts, with everyone from Charlize Theron to Kerry Washington to Laurence Fishburne featured in the movie. 
The story centers on two youngsters, Sophie (Sophia Anne Caruso) and Agatha (Sofia Wylie). The two begin as friends until they are dropped off at separate schools, one for heroes and one for villains, both engaged in a never-ending battle. Running the "evil" school is Lady Lesso (Theron) and at the head of the "good" school is Professory Dovey (Washington). The fantasy world is based on a series of books by Soman Chainani, giving Feig another chance at a major franchise. 
The first book in the "School for Good and Evil" series was published back in 2013, and it took years before the project ever came to Feig's doorstep. In an interview promoting the Netflix release, the "Spy" director opened up about the struggles others had in adapting the first novel and how far along exactly the project was when the movie came to him.
Paul Feig helped speed things along because he read the books
According to Paul Feig, there were a number of years of struggle adapting Soman Chainani's massive "School for Good and Evil" world to script form, and that was before he even got involved. 
"The book is so massive — the first book — there's so much stuff that happens. It was in development for a number of years before it even came to me, and I know they struggled with that. And then when it came to me, it was in pretty good shape," the director told Screen Rant. Even though the script was in good form, Feig helped move things along by adding in things he appreciated as a fan of the books and involving Chainani in the process.
"I went in and did more work and then, having read the books, went, 'Oh, I actually think this would be fun to put in here,' and worked very closely with Soman to make sure that I got the main things the fans of the books would want, but also to make a movie that you didn't have to know the books for to bring a whole new audience to it," he said. 
Feig continued involving Chainani in the filmmaking process and stressed he wanted the movie to be able to stand on its own, without requiring any previous knowledge of the source material. Viewers can judge for themselves whether that is true by heading over to Netflix.