The First Poster For The Guardians Of The Galaxy Holiday Special Promises Intergalactic Holiday Cheer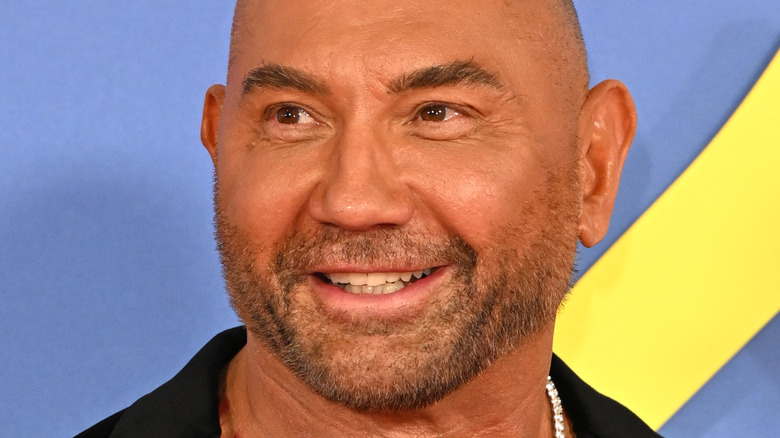 Jeff Spicer/Getty Images
Even though they've popped up in "Avengers: Infinity War," "Avengers: Endgame," and "Thor: Love and Thunder," 2017 was the last time that the Guardians of the Galaxy went on an adventure all their own at the movies. Thankfully, it won't be the final time they do, since that honor goes to "Guardians of the Galaxy Vol. 3," which will arrive on the big screen in 2023 and send Star-Lord (Chris Pratt), Drax the Destroyer (Dave Bautista), and the rest of the team riding off into the sunset. However, before we get to that, the Guardians will take the Disney+ spotlight.
On November 25, 2022, "The Guardians of the Galaxy Holiday Special" will premiere on the streamer for a festive small-screen detour. The first trailer for the special dropped on October 25, 2022, revealing a distraught Star-Lord who's still searching the cosmos for his beloved Gamora (Zoe Saldana), who ran off following "Endgame" after being plucked out of time. Drax and Mantis (Pom Klementieff) travel to Earth just in time for the Christmas season in hopes of finding him the ultimate gift to cheer him up: Kevin Bacon, as played by Kevin Bacon.
Coinciding with the trailer drop, Marvel Studios revealed a poster for "The Guardians of the Galaxy Holiday Special" — a project director James Gunn has made a bold claim about — and it promises all kinds of intergalactic holiday cheer.
Drax and Mantis will party it up during the Christmas season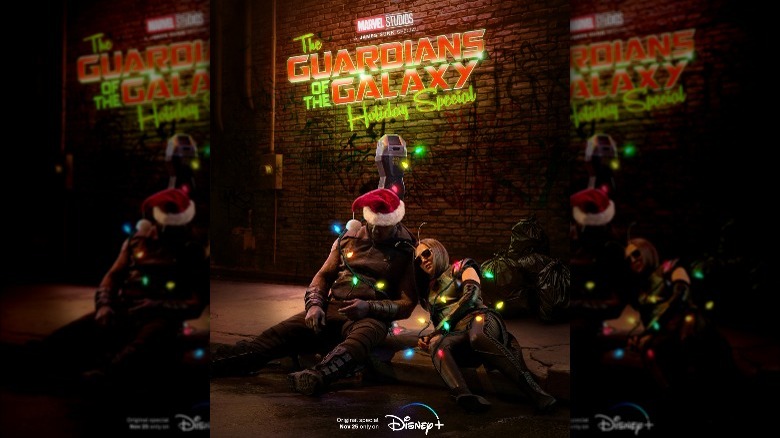 Disney+/Marvel Studios
The first poster for "The Guardians of the Galaxy Holiday Special" — as seen above — is the definition of simple yet effective. No floating heads, no unnecessary lens flares, and no ensemble shot. All it shows is two of the feature's main players, Drax and Mantis, sitting on an Earth sidewalk while wearing Christmas garb. As shown in the teaser, the Guardians find some time to party while they search for the best gift possible for Star-Lord. Although, as evidenced by this poster, Drax and Mantis seem to take their partying a bit too far, passing out on the curb with colorful Christmas lights wrapped around them (via Marvel Studios on Twitter).
"The Guardians of the Galaxy Holiday Special" will be the second in a new initiative known as Marvel Studios Special Presentations: a variety of Marvel Cinematic Universe entries exclusive to Disney+ that are far shorter than your average MCU flick. The first production to bear the Special Presentation label is the spooky "Werewolf by Night," which debuted on the streaming service on October 7, 2022, to much fanfare. With James Gunn at the helm and the iconic Guardians cast in tow, it stands to reason that "The Guardians of the Galaxy Holiday Special" will receive a similar positive reaction.
At the time of publication, one month remains until "The Guardians of the Galaxy Holiday Special" reaches Disney+. If the trailer and poster are of any indication, then it'll certainly be worth the wait.