Dwayne Johnson May Have Been The Reason A Whopping 43% Of Fans Watched Black Adam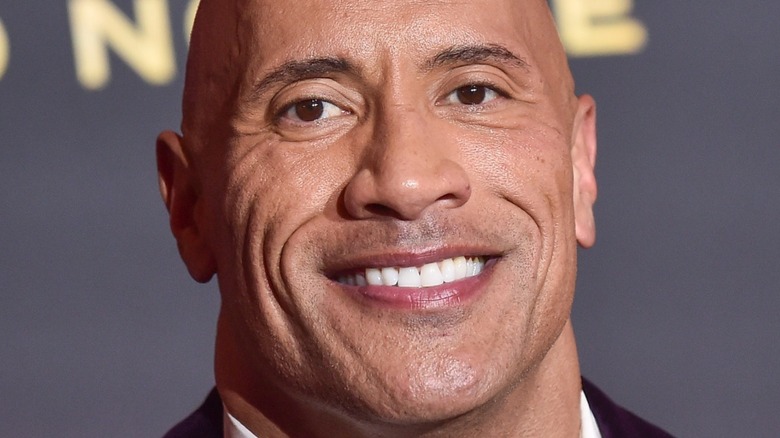 DFree/Shutterstock
Warning: This article contains spoilers for "Black Adam."
The popularity of Dwayne Johnson has reached the levels of fame that allow him to immediately be known by his distinctive nickname. The Rock first became admired thanks to his wrestling skills which quickly elevated him into the pantheon of WWE stars. Thanks to his work with the preeminent wrestling organization, Johnson managed to transition into the world of acting in ways that previous personalities of the sport had yet to achieve, with memorable performances in "The Mummy" and "Fast & Furious" franchises among many other blockbuster films (via IMDb).
Johnson's blockbusters have grossed in excess of $4 billion at the American box office, and according to Forbes, he is now the highest-paid movie star working today. The Rock is such an enticing draw to moviegoers that he alone seems to have the power to drive a film's ticket sales, even if the movie in question is part of a major superhero franchise. This seems to be the case with "Black Adam," as Johnson may very well have been the reason 43 percent of fans bought a ticket.
Only 40% of people in a poll went to see Black Adam because of the genre, compared to 43% for Johnson
It is likely not surprising to many that a majority of the success of "Black Adam" is thanks to Dwayne Johnson in the title role. As revealed in The Hollywood Reporter, analytics firm PostTrack conducted a poll to gauge public opinion on this question. The results revealed that 43 percent of the respondents went to see the movie thanks to The Rock being in it. Comparatively, 40 percent went due to interest in the source material or the superhero genre in general. In its first weekend of release, "Black Adam" toppled previous box office records set by Johnson, which seems to be a rising trend in each movie he stars in.
The actor also seems positioned to build the DC Extended Universe (DCEU) further. In response to the praise he received for his performance, The Rock shared on his Twitter account, "...#BlackAdam was a departure for me from characters I've played in the past. Our director, Jaume Collet-Serra helped me tremendously and a big advocate [sic]. Look forward to building out the DCEU from here. #BLACKADAM [lighting bolt emoji] #JSA." 
Johnson's success with the DCEU ignites many future possibilities for the franchise as a stronger competitive offering to the Marvel Cinematic Universe. Henry Cavill's return as Superman in the mid-credits scene of "Black Adam" is another sign of the franchise's exciting new launch.