Sophia Bush Admitted She Struggled To Leave The Heaviness Of Chicago PD Behind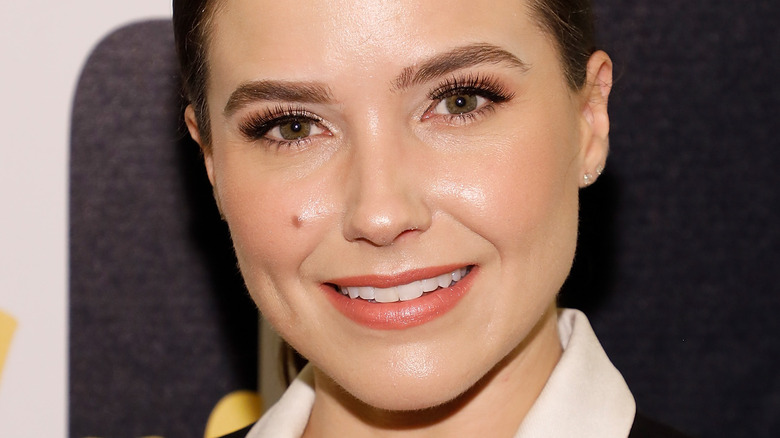 Taylor Hill/Getty Images
The "One Chicago" franchise rarely disappoints fans and among its many shows in the lineup, "Chicago P.D." is one of the most popular the shared TV universe has to offer. The series has a lot of likable characters, including Detective Erin Lindsay (Sophia Bush), whose efforts on the show had a bigger impact on the actress that played her than some fans may realize.
Sophia Bush starred in four seasons of "Chicago P.D." while also making appearances in other "One Chicago" properties. But before she became a police procedural powerhouse, Bush had attained a slew of impressive credits on her resume, including the series "One Tree Hill" and movies like "John Tucker Must Die" and "The Hitcher" (via IMDb). It's no secret she was a proven player in the industry before joining the CPD Intelligence Unit, and her turn as Erin Lindsay seldom proved to be a dull affair. As one of Chicago's finest, Detective Lindsay saw plenty of action, dealing with an array of issues involving abused children, dangerous drug dealers, and sadistic killers. Bush's police persona managed to stay strong in the face of adversity, upholding her commitment to social justice, no matter the cost.
But, playing a person continually forced to experience all of the trials and tribulations law enforcement officials go through in their day-to-day life will most certainly start to take its toll, which is what happened to Sophia Bush during her time on "Chicago P.D."
Erin Lindsay's Chicago P.D. efforts had a significant impact on Sophia Bush
During her tenure as Detective Erin Lindsay, Sophia Bush expressed her enthusiasm when it came to how her career up to that point had prepared her to take on the role and how it allowed her to demonstrate to viewers her unique skill set. "I've always known I have all these different people in me character-wise, but as an actor, when you do a job for so long, the public gets so used to you being that person that they think you are that person," Bush told The Hollywood Reporter about her tour of duty in One Chicago. "What's nice about the way Chicago P.D. has hit is that I get to show people something else."
While her efforts were nothing short of excellent, the painfully realistic narratives she had to help bring to life started to take their toll on the actress. Eventually, Bush revealed that the heaviness of "Chicago P.D." started to weigh her down much more than expected. "We're telling real stories," Bush said (via YouTube). "And because I work with officers who will sit down and talk to me and share their stories, they've seen things that none of us are aware of, and that stuff certainly sticks."
Eventually, Bush would leave the series, and while she has publicly stated that the struggles with the quality of life she experienced and less-than-ideal working conditions were the reasons for her departure, it's not hard to imagine the heaviness of the show could have also been a factor.