Sissy Spacek Did Her Own Stunt Work For This Classic Horror Scene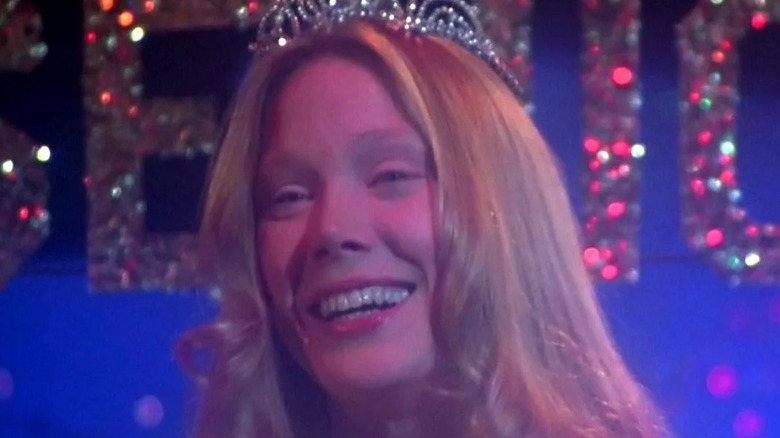 United Artists
Accepting the dazzling title of Prom Queen was never as bloody or violent as it was the classic 1976 horror film "Carrie." Based on horror legend Stephen King's first published novel, Brian De Palma's adaptation follows the shy, socially shunned Carrie White (Sissy Spacek) as she unknowingly became the target of a revenge prank. The teenager discovers her budding, emotionally charged telekinetic powers while dealing with her abusive, devoutly religious mother and the woes of coming of age.
Spacek, whose breakout role in "Badlands" began her rise to fame, received critical acclaim for her portrayal of the bullied supernatural outcast. The actress remains humble about the role — though the image of Carrie's stunned face, drenched in glistening pig's blood, as she looks on in wide-eyed horror at her classmates is one of the most iconic in the entire horror genre.
In a 2012 interview with Terry Gross, the host of NPR's "Fresh Air" podcast, to discuss her memoir "My Extraordinary, Ordinary Life," Spacek explained why she chose to be her own stuntman for one scene in the film.
All hands on deck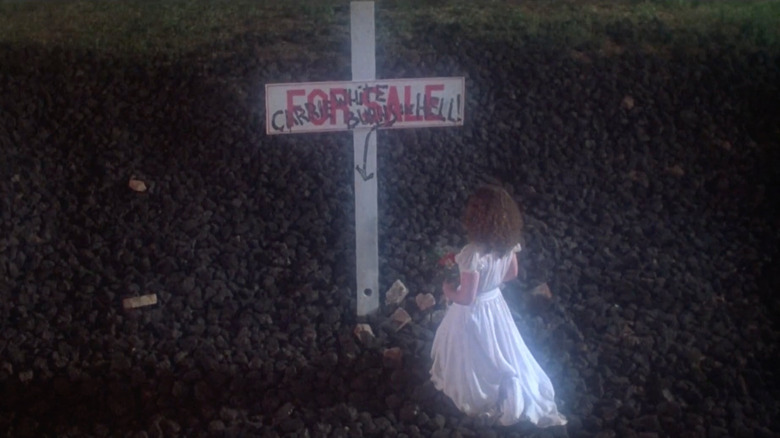 United Artists
Sissy Spacek insisted that her hand be the one reaching up from the ground below the vandalized "for sale" sign in the final scene of "Carrie." As Sue Snell (Amy Irving) kneels to place flowers below the cross that crudely states "Carrie White Burns in Hell!", a bloody arm bursts from the ground to grab her. She screams and thrashes about, inconsolable as she wakes up from the nightmare.
As Spacek told NPR, that's her hand: "I do all my own foot and hand work, and always have." Laughing, Spacek told Terry Gross that she used to go to theaters to see the last five minutes of "Carrie" to "watch everyone jump out of their chairs."
"The music is really beautiful and relaxing, and all of a sudden [my hand] comes up, and people just go crazy," she said. The scare would've worked with a different hand, but knowing the actress' commitment to the role makes it all the more thrilling.