House Of The Dragon's Paddy Considine Had Everyone Cracking Up Behind The Scenes With An Impromptu Song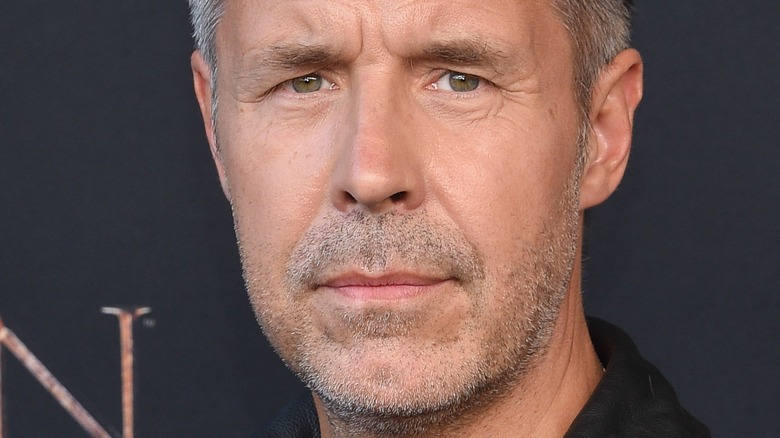 DFree/Shutterstock
The first season of "House of the Dragon" wrapped up with high marks from both critics and fans of the "Game of Thrones" franchise. Episode 10, "The Black Queen," currently holds a positive 90% rating from critics on Rotten Tomatoes, while the entire first season boasts an 84% audience approval on the review aggregator. HBO parent company Warner Bros. Discovery says over 9 million viewers tuned in during the finale to watch House Targaryen's latest spat — a number that's on par with the Season 8 finale of "Game of Thrones."
This cultural hold is no doubt in part to the show's medley of note-worthy performances. "House of the Dragon" has managed to make stars out of actors like Milly Alcock (Young Rhaenyra), Emma D'Arcy (Queen Rhaenyra), Emily Carey (Young Alicent), and Paddy Considine (King Viserys). Particular praise has been hurled towards Considine, who gave a complex performance as the weak but honorable leader of the House Targaryen. Through his nuanced portrayal, Decider has already dubbed Considine a future Emmy winner, saying the thespian "transformed Viserys from a foolish man struggling to balance power and the personal into a tragic king trying to fix his calamitous rule for the sake of the people he so loves."
For all of Viserys' show-stopping seriousness in his final episode, there's something to be said about Considine, whose joyous presence was a constant delight on the set. During his most prominent scene, the actor broke out into song, leaving the cast and crew in stitches.
Paddy Considine performed a hilarious rendition of 'I Got You Babe'
Sara Hess, an executive producer and writer on "House of the Dragon," opened up to Vanity Fair about the atmosphere on set and how the show differs from the source material (George R. R. Martin's "Fire & Blood.") One moment that particularly stood out from the set involved King Viserys' actor Paddy Considine breaking character. In Episode 8, "The Lord of the Tides," audiences see an ailing and frail Viserys attempt to reunite his fractured family with an emotional speech at dinner.
While audiences witnessed an emotional call to action, cast and crew members managed to see Considine break out of character, resulting in a hilarious moment. "We were shooting the big emotional dinner scene in episode eight, and the dance music started, and Paddy Considine, in full decrepit old-age makeup, suddenly stood up and started belting out 'I Got You Babe' in perfect tune," the writer revealed to Vanity Fair. "I think nobody could breathe for about four minutes from laughing."
Considine, the first actor approached to play Viserys, has his CV packed with comedic appearances. Audiences might remember the actor from Edgar Wright's bar-crawling sci-fi comedy "The World's End," or the satirical "Death of Stalin." Following the show's premiere, Considine revealed that he struggled most with scenes involving formality and quietness. Well, there's certainly nothing formal about breaking into song and dance as an old king during a family reunion.