Pitch Perfect: Bumper In Berlin - Everything You Need To Know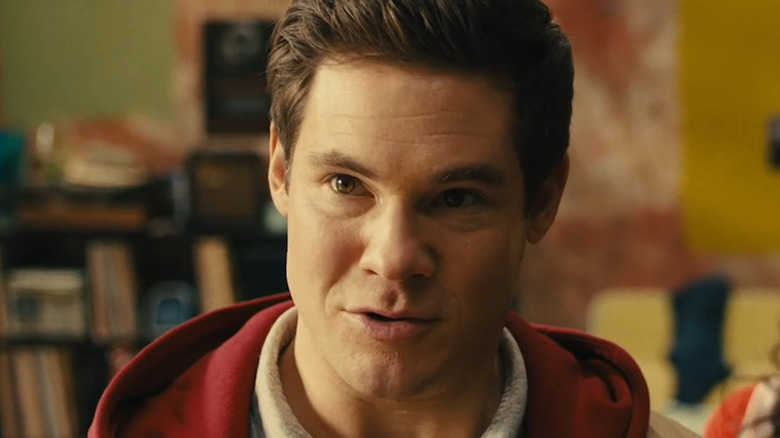 Peacock
We may receive a commission on purchases made from links.
The "Pitch Perfect" movies proved surprisingly durable. Released in 2012, the first film in the trilogy — based on Mickey Rapkin's book "Pitch Perfect: The Quest for Collegiate a Cappella Glory" — was a sleeper hit. Its sequels were also successes, with 2015's "Pitch Perfect 2" and 2017's "Pitch Perfect 3" both singing their way into the top 10 highest-grossing musicals of all time (via Box Office Mojo). However, the series didn't stop with theater screens. It then headed over to TV ... with a very unusual premise for a new show.
Fans who remember Adam Devine's self-centered, thickheaded Bumper Allen from "Pitch Perfect" and "Pitch Perfect 2" may find the choice to build a series around him somewhat curious. However, that's exactly what's happened with Peacock's "Pitch Perfect: Bumper in Berlin." The show hit the NBC streaming service on November 23, and if you want to know more about this new installment in the "Pitch Perfect" franchise, read on for everything you need to know about "Bumper in Berlin."
What is the plot of Bumper in Berlin?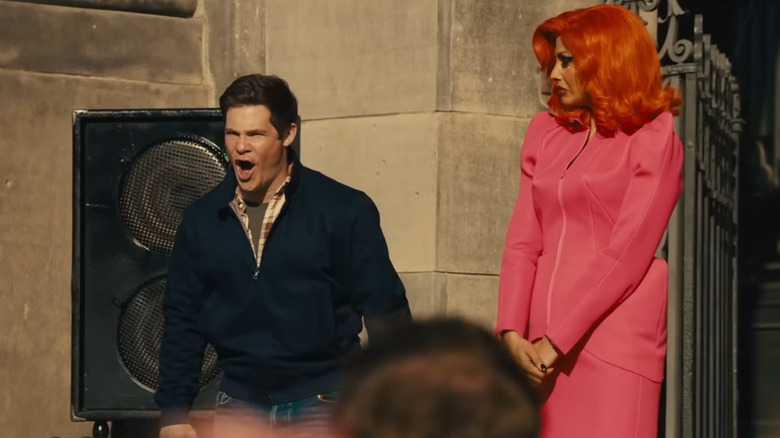 Peacock
Bumper Allen isn't exactly living the dream. Instead, he spends his days as a security guard at Barden University — that is until a viral TikTok video catches the attention of Pieter Krämer, of Das Sound Machine fame from "Pitch Perfect 2." With the help of his uber-cool producer sister, Thea, and his devoted assistant, Heidi, Pieter promises he can turn Bumper into a star. The plan? Bring Bumper to Germany, have him perform at the German Unity Day concert, and watch Bumper become an international celebrity.
Of course, that's all easier said than done. Bumper isn't exactly the brightest bulb, Pieter has ulterior motives for wanting to manage the American, and our protagonist finds himself up against a Lady Gaga-style rival in Gisela, a fabulous pop star (and Pieter's old flame). Throw in Bumper's growing feelings for Heidi (who herself is a secret songwriter) and his increasingly shaky confidence and we wonder if Bumper can make it in the land of lederhosen. Can Heidi help him get his act together, or will it all come crashing down?
Who stars in Bumper in Berlin?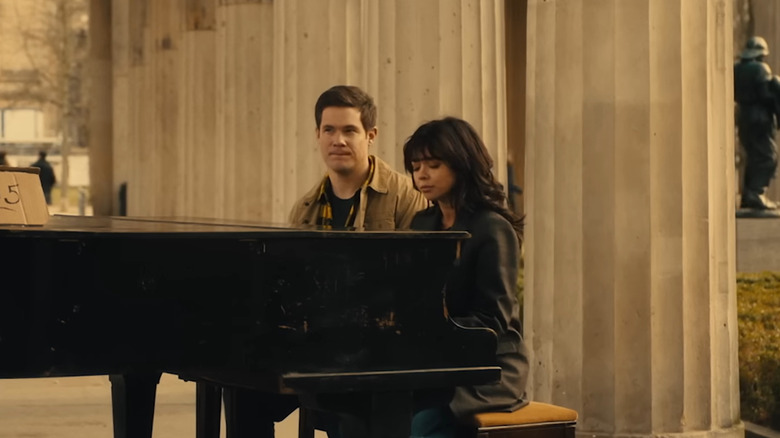 Peacock
Alongside Adam Devine, "Bumper in Berlin" features faces old and new to the "Pitch Perfect" saga. One of the returning characters is Pieter Krämer. Played by German actor Flula Borg, Pieter appeared in "Pitch Perfect 2" as second-in-command of Das Sound Machine.
A new addition is that of Jameela Jamil, who recently appeared as the super strong Titania on "She-Hulk: Attorney at Law." Jamil plays Gisela, Pieter's ex and a rival to Bumper. Relative newcomer Lera Abova also stars as a DJ and Pieter's sister, Thea. Abova's only previous role was in Luc Besson's 2019 action-thriller, "Anna."
Also among the new faces is Sarah Hyland ("Modern Family," "Love Island"), who plays Bumper and Pieter's American assistant, Heidi, who we find out has singing ambitions of her own. This makes "Bumper in Berlin" something of a reunion for Devine and Hyland, given that Devine appeared in the recurring role of "manny" Andy Bailey across four seasons of "Modern Family," during which he and Hyland's character formed a deep bond.
Who produced Bumper in Berlin?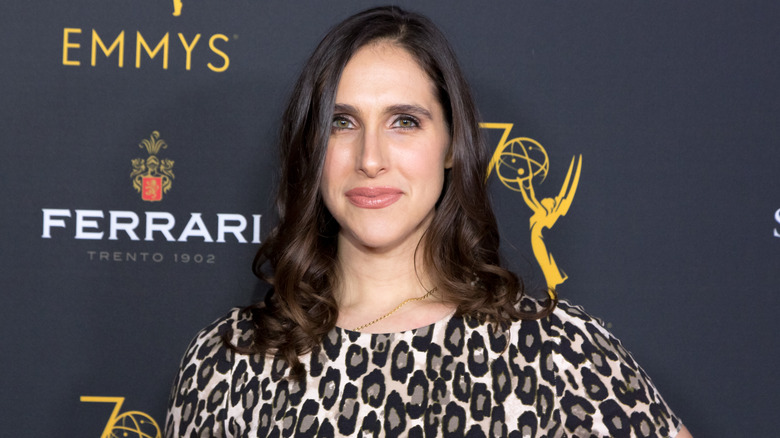 Greg Doherty/Getty Images
Elizabeth Banks has been a pretty major player in the "Pitch Perfect" franchise. She produced and acted in all three films and even directed the second here. She also served as executive producing "Bumper in Berlin," but the role of showrunner went to Megan Amram. While she might not be as famous a name as Banks, Amram has worked on some incredibly popular series. For example, she was a writer and producer on "The Good Place" (which, like "Bumper in Berlin," starred Jameela Jamil), and she was also in the writer's room for shows such as "Parks and Recreation," "Silicon Valley," and "The Simpsons." With that kind of comedy cred, it's no wonder she was the one picked to lead the "Pitch Perfect" franchise into the world of streaming.
How are critics and audiences responding to Pitch Perfect: Bumper in Berlin?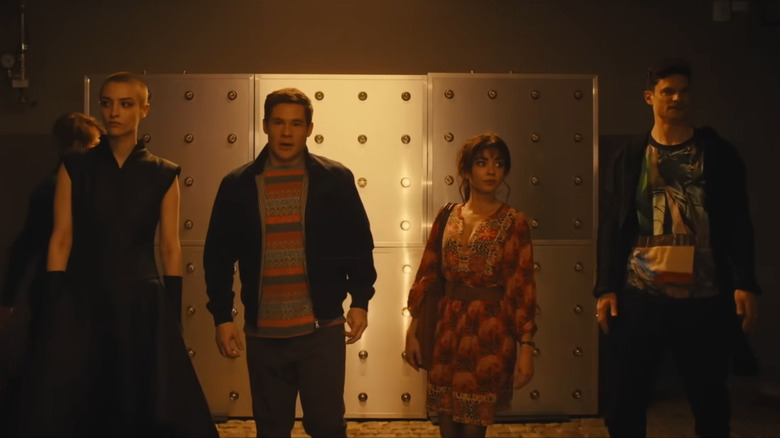 Peacock
Admittedly, the premise for "Bumper in Berlin" is a bit weird. Of all the characters in the "Pitch Perfect" franchise to get a spinoff, why him? That question has tripped up quite a few critics, who've given the series a 43% approval rating on Rotten Tomatoes. Angie Han of The Hollywood Reporter summed up "Pitch Perfect's" continued existence with this brutal line: "A tiresome extension of a tired franchise."
However, on the more positive side of things, Kristen Baldwin of Entertainment Weekly wrote, "'Pitch Perfect: Bumper in Berlin' is a slight but unexpectedly amusing spin-off of the film franchise. The show won't win any trophies for originality, but it keeps a pleasant beat thanks to an appealing ensemble and a fat heart." Keeping up with that sentiment, most fans seem to generally like the series, as it has a 75% audience score based on 20 reviews.
Ultimately, your enjoyment of the series will probably come down to one question: "Are you tired of the 'Pitch Perfect' franchise?" If so, skip. If not, head over to Peacock as quickly as possible.
Where to watch Bumper in Berlin and the Pitch Perfect movies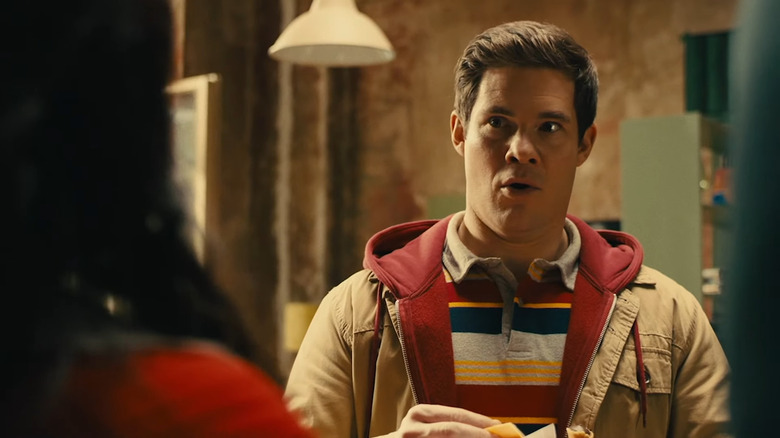 Peacock
If you want to watch Andy Devine sing his way through Germany, then you can check out "Bumper in Berlin" on Peacock. And if you want to revisit Bumper's past and his interactions with Anna Kendrick's Beca, Rebel Wilson's "Fat Amy," Flula Borg's Pieter, or just hear the angelic voice of Ben Platt, then you'll need to check out the previous film.
Luckily, both "Pitch Perfect" and "Pitch Perfect 2" are available to stream on Peacock. You can rent the first film for $3.99 on Apple iTunes, Amazon Video, Google Play, YouTube, and Vudu. As for the second film, you can spend the same amount of money to rent the sequel on Vudu, YouTube, Google Play, Amazon Video, and Apple iTunes. Unfortunately, "Pitch Perfect" 3 isn't currently available on Peacock. However, you can rent it for $3.99 on Amazon Video, YouTube, Vudu, Google Play, and Apple iTunes.