David Tennant Had Some Worries Over Returning To Doctor Who's The Power Of The Doctor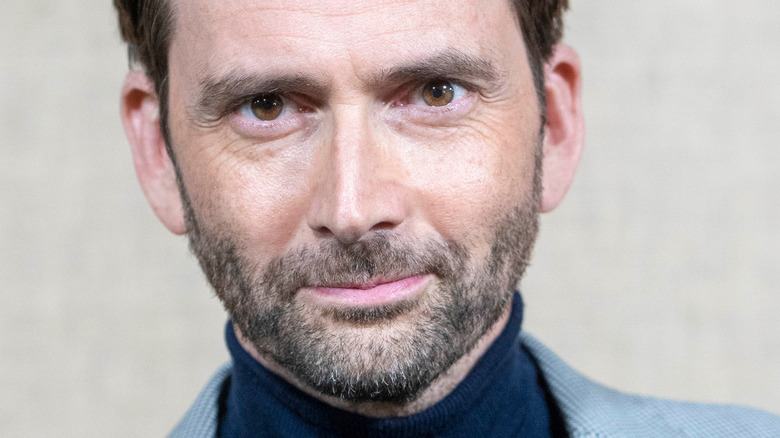 Eugene Powers/Shutterstock
"The Power of the Doctor," a BBC television special for "Doctor Who," an ongoing science fiction series with more retcons than starring actors (and that is saying a LOT), was released on October 23, 2022. Ironically, it stole a little bit of the social spotlight from "House of the Dragon." That show notably features Matt Smith in a leading role, an actor made famous by his time on "Doctor Who," but that's just a fun little bit of trivia — back to the point at hand. "The Power of the Doctor" saw The Doctor (Jodie Whittaker) facing many of her most famous foes, including the Daleks (evil, sentient trash cans), the Cybermen (evil, sentient trash cans with legs), and The Master (Sacha Dhawan).
At the end of the special, The Doctor did what The Doctor always does after a few seasons: she regenerated. In canon, it happens because The Doctor is a magical alien with untapped eternities at her disposal. In reality, it happens because "Doctor Who" wants to keep running, even after the stars get tired. Instead of becoming Ncuti Gatwa, as fans anticipated, however, The Doctor regenerated BACK into David Tennant, who famously played the Tenth Doctor. While audiences knew to expect Tennant at some point, thanks to all the news, it was something of a shock to get him entirely before Gatwa. 
Despite this, Tennant was a sight for sore eyes, even if it overshadowed Whittaker's finale. Now that his return is readily available for the world to see, he's taken to the interview circuit to discuss how he felt about returning to his old stomping ground. 
David Tennant was worried he couldn't recapture the magic
In a radio interview with BBC Today, David Tennant opened up about his return to "Doctor Who," saying that he was afraid that he wouldn't be able to find that sci-fi magic again. Specifically, he said, "I think I was worried before I got there that it might be difficult to get in the groove again, [instead it was] weirdly, weirdly straight-forward ... there's bit of a precedent in this show that all Doctors maybe turn up for a special now and again, but usually in cohort with the current team. So to get another run round the park was a little joy I never saw coming ... what a lovely, lovely thing to get to revisit something that was such a wonderful, happy, significant time in my life, it's like being given the loveliest present. It's been an absolute joy."
Now, for those who haven't watched the special yet, Tennant only appears briefly at the end. "The Power of the Doctor" serves primarily as a swan song for Jodie Whittaker's turn as the Thirteenth Doctor, after all. That being said, fans can look forward to more time with Tennant as the Fourteenth Doctor paving the way to Ncuti Gatwa's Fifteenth Doctor. How much time? Well, it appears as though Tennant will stick around for a few specials, but the details are a bit murky. Then again, that's pretty much the standard mode of operation for the BBC.