That Bill Murray Tease In Ant-Man And The Wasp: Quantumania's Trailer Is Splitting The Fandom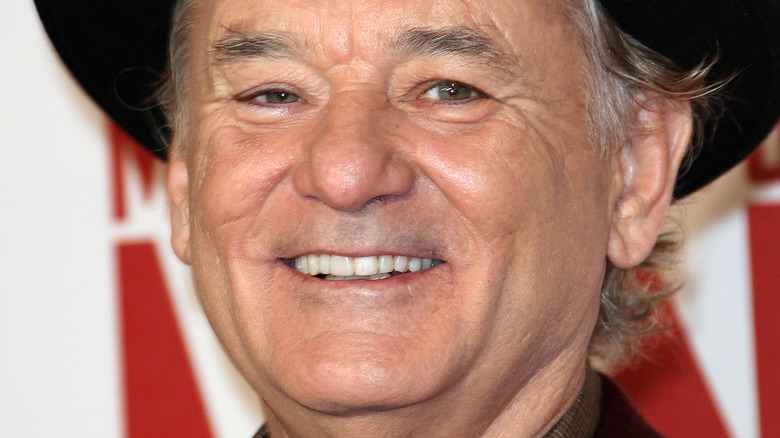 BAKOUNINE/Shutterstock
Leave the bug spray at home, because the trailer for "Ant-Man and the Wasp: Quantumania" is finally here and it's larger than life. Things are looking up for Scott Lang (Paul Rudd) following the events of "Avengers: Endgame." His relationship with Hope van Dyne (Evangeline Lilly) is still going strong and he's even been named Employee of the Century at Baskin Robbins. However, Scott and his loved ones are quickly put to the test when a mysterious force draws them into a different dimension. Cassie (Kathryn Newton) and Hank Pym (Michael Douglas) have made a satellite that can reach the quantum realm, news clearly rattles Janet (Michelle Pfeiffer). However, before they can turn the machine off, the signal drags the family down into a secret universe that exists under our own.
The trailer promises an exciting story with stunning visuals and high stakes, not to mention the return of Kang the Conqueror (Jonathan Majors). Marvel movies are known for having A-list actors on the call sheet, but a new addition to the cast has raised some eyebrows. The next installment in the "Ant-Man" saga looks like it will be another hit for the studio, but when it comes to Bill Murray's brief appearance in the trailer, fans can't seem to make up their mind.
That Bill Murray jump-scare has fans divided
Even though we only get a glimpse of Bill Murray in the trailer for "Ant-Man and the Wasp: Quantumania," the actor revealed on "The Eli Manning Show" that he'll be playing a villain. Specific details about the plot of the movie are naturally being kept under wraps, so only time will tell what kind of chaos viewers can expect from this new antagonist. While Murray's comedic talent might lend itself to Marvel's signature brand of irreverent humor, fans of the franchise are split on how to react to his presence. 
On one hand, there are fans who can't wait to see the "Groundhog Day" actor join the franchise. "HYPE. Bill Murray in MCU what more do you need," wrote one Twitter user. There are some who likely feel similarly, as one fan wrote, "BILL MURRAY!!!! I'm here for it."
However, if you were surprised to see Murray in the trailer after what's been going on in the news, then you're not alone. One incensed Twitter user wrote, "f***ing insane they put bill murray in that ant-man 3 trailer after all the allegations." Another netizen couldn't help but agree: "I got to say, with all the recent stuff that's come out about him, incredibly funny timing for Bill Murray to enter the MCU." It's clear that fans are having mixed feelings about Murray's role in the upcoming film. If you're not sure what allegations are being referenced, we'll give you the rundown.
What's the deal with Bill Murray?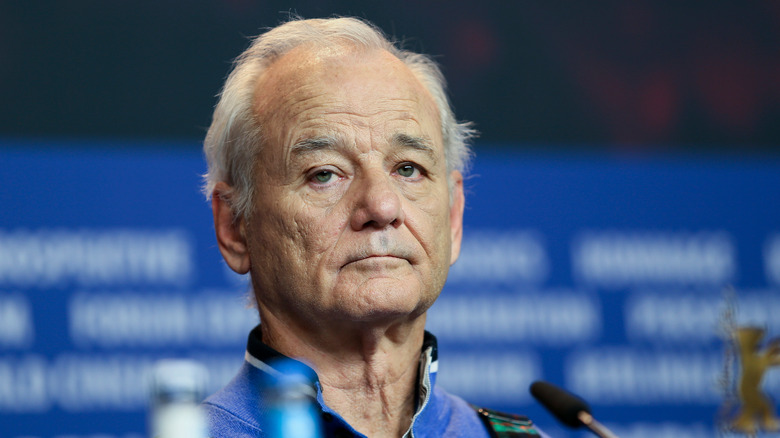 Denis Makarenko/Shutterstock
Bill Murray has been making headlines lately, and not in a good way. Variety reports that "A League of Their Own" actress Geena Davis has drawn attention to Murray's highly inappropriate behavior during the making of the 1990 film "Quick Change." According to the same source, Murray continually made unwanted advances on Davis, culminating in a deeply unprofessional and upsetting interview on "The Arsenio Hall Show." The actress elaborates on her uncomfortable encounters with Murray in her memoir, fittingly titled "Dying of Politeness."
Davis' experience paints a grim picture for women working in Hollywood at the time, but also showcases how men in the entertainment industry rarely have to face consequences for their actions. NBC News reports that Murray has a history of aggressive behavior on set, and several actors, directors, and producers have come forward to air their grievances against the actor. In any case, even though "Ant-Man and the Wasp: Quantumania" began filming long before the Geena Davis interview surfaced, it still has many questioning the use of Murray in promotional material (via SlashFilm). 
Fame is a slippery slope and Murray isn't the only "Ant-Man" star who's facing criticism. "Starring Evangeline 'anti-vax' Lilly and Bill 'touching everyone' Murray," wrote a Twitter user in reaction to the trailer, referencing the actress' controversial remarks about vaccines and refusal to social distance during the coronavirus pandemic (via Variety).