House Of The Dragon Co-Creator Ryan Condal Spills Some Details On Alicent's Mysterious Fourth Child Daeron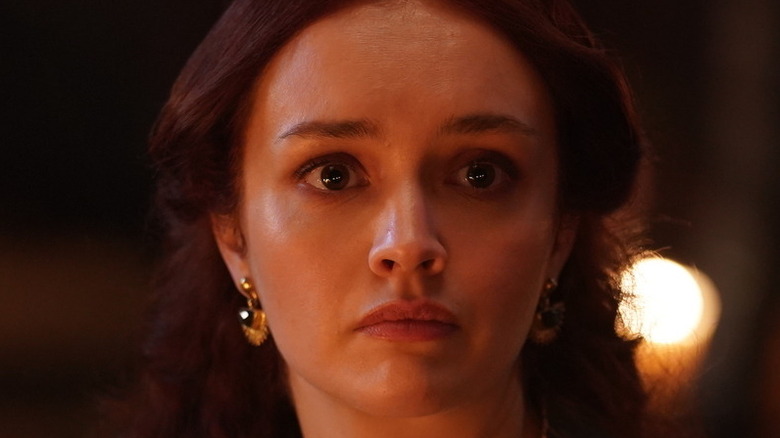 Within the world of "House of the Dragon," Queen Alicent Hightower (Olivia Cooke) seems to have three children — but she actually has four, and one just hasn't appeared on screen yet.
Now played as older teens by Tom Glynn-Carney, Phia Saban, and Ewan Mitchell, respectively, audiences are pretty well-acquainted with Aegon II, Helaena, and Aemond, but there's been no sight yet of Alicent's youngest child, Daeron. Original series author George R.R. Martin confirmed, in a recent blog post on his own website, that Daeron is alive and well, and is just over in Oldtown squiring for one of Alicent's cousins. "Alicent gave Viserys four children, three sons and a daughter, their youngest son Daeron is down in Oldtown, we just did not have the time to work him in this season," the author confirmed in parentheticals, discussing everything "House of the Dragon" had to omit due to storytelling constraints. Ryan Condal, co-creator and showrunner of the series, also dished on Daeron, assuring us that, yes, we'll see this other Targaryen eventually.
Daeron Targaryen will be very important in the Dance of the Dragons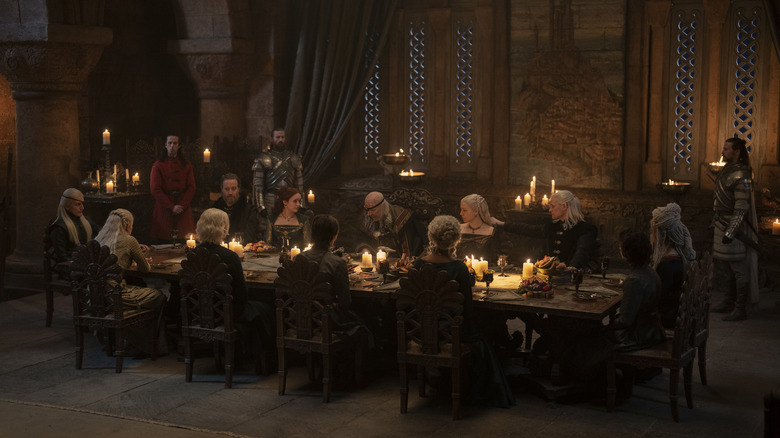 Ollie Upton/HBO
Speaking to Variety in the aftermath of the first season finale, Condal confirmed that, no, they haven't forgotten about Daeron. "He does exist," the showrunner said. "No worries, everybody. He's the youngest son. He's warded off at Oldtown to Hobert Hightower and soon to Ormond Hightower, who is Hobert's nephew, who becomes Lord of Oldtown. Honestly, this stuff happened all the time in this world. It's not our modern day where if you had a 6-year-old, you would FaceTime them every day and see how they're doing and write letters. He's there. That's the fact. When he is relevant to be mentioned — and he will be — he will be mentioned."
Condal is correct; Daeron will definitely be important as the Dance of the Dragons, as he eventually marches from Oldtown flanked by Hightower armies who fight for the Green factions against Rhaenyra Targaryen's (Emma D'Arcy) Blacks. Without spoiling anything, there's a lot of bloodshed ahead in this civil war, and Rhaenyra and Alicent's children are both powerful forces who will prove vital in the fight over the Iron Throne.
"House of the Dragon" is streaming now on HBO Max.