Tom Hanks Fans Aren't Thrilled About A Man Called Otto's Familiar Plot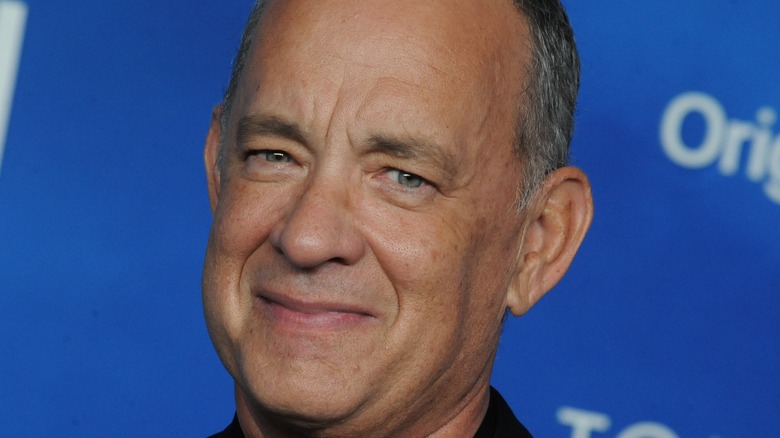 Tinseltown/Shutterstock
Tom Hanks is getting ready to warm hearts yet again with his next big-screen project "A Man Called Otto," but not everyone is pleased. This particular film stars Hanks as Otto Anderson, a widower who is not afraid to tell his neighbors and others about their actions that he finds annoying, which is on full display in the new trailer recently released by Sony Pictures Entertainment. Otto shares his strong opinions about where his neighbors walk their dogs and how the delivery vans park on his street, but his new neighbor Marisol (Mariana Treviño) might help him change his perspective.
The film is based on the best-selling book "A Man Called Ove," written by Swedish novelist Fredrik Backman. According to NPR, the book was first published in Sweden where it gained immense popularity before becoming a New York Times best-seller in America. The book led to a film adaptation in 2015 starring Rolf Lassgård as Ove, a widower who is befriended by his new neighbor Parvaneh (Bahar Pars). The film received Academy Award nominations in 2017 for best foreign language film of the year and best achievement in makeup and hairstyling. As Sony's Columbia Pictures gears up to release their version of the beloved story, people are taking to social media to share one big gripe they have with the plot.
Some people feel the plot is too repetitive
Since the release of the first trailer for "A Man Called Otto," many people are complaining that the storyline of a grumpy man who has a change of heart is one they've seen too many times. Twitter user @TadLoad wrote, "Is this a remake? I feel like I've seen this concept done at least two other times." Twitter user @admiki85 wrote, "Seems like he's just mimicking Clint Eastwood." The post presumably compares Tom Hanks' new film to Eastwood's 2008 movie "Gran Torino," which tells the story of a lonely widower who saves his neighbors from a gang.
The critiques seem to keep piling up on the r/movies subreddit with some people already predicting that this adaptation won't be as good as the original. One Redditor asked if "A Man Called Otto" is meant to be a remake of "A Man Called Ove," to which Redditor u/nupoles replied, "By remake you mean a much worse version I guess..." The commenter then compared it to other American adaptations of foreign films, including "Death at a Funeral," where a British movie that came out in 2007 was remade in America only three years later ... again in English. That remake currently has a 43% score among critics on Rotten Tomatoes, and a review from The Hollywood Reporter notes "predictability" in the plot, adding that there are not many differences between the original and the remake.
What Hanks wants moviegoers to take away from this film
While people continue to note the repetitive nature of the plot in "A Man Called Otto," Tom Hanks tells People that the movie's themes are a reminder of caring for others. "The way you treat your own neighbors, the way people can come together in any time of crisis happens over and over again ... 'A Man Called Otto' is a movie about community and a movie about family," he said.
According to Deadline, Hanks and Mariana Treviño are starring alongside Rachel Keller ("Legion"), Manuel Garcia-Rulfo ("The Magnificent Seven"), Mike Birbiglia ("Orange is the New Black"), and Cameron Britton ("Mindhunter"). The film also has Hanks working in front and behind the camera, since he and his wife, actress Rita Wilson, are a part of the film's producing team. This heartwarming movie is making its way to the big screen just in time for the holiday season. According to the film's trailer, a limited release begins Christmas Day 2022 followed by a wide release on January 13, 2023.