Who Played Stephanie On The Big Bang Theory?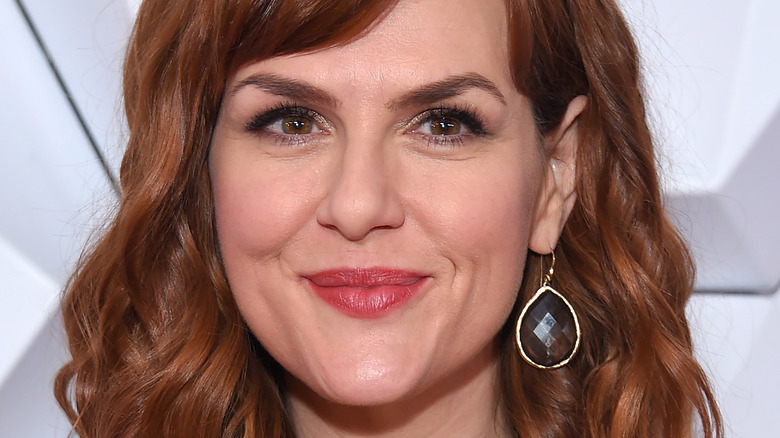 DFree/Shutterstock
The highly popular CBS sitcom "The Big Bang Theory" lasted 12 seasons, premiering in 2007 before concluding in 2019. Since the show was on for so long, it stands to reason that it was bound to feature several actors in recurring roles aside from our favorite nerds and their partners. And with three of those nerds on a quest to overcome their social awkwardness and find love, there was a bit of a revolving door of romantic interests. This was especially true for Leonard Hofstadter (Johnny Galecki), whose will-they-won't-they relationship with female series lead Penny (Kaley Cuoco) saw him navigate through a minefield of girlfriends before finally ending up with her.
One such girlfriend was Dr. Stephanie Barnett, a highly regarded surgeon. Stephanie initially catches the eye of Howard Wolowitz (Simon Helberg), who tries to impress her by allowing her to drive the Mars rover. Unfortunately for Howard, she confesses that she has more of an interest in Leonard. The two start a brief relationship, in which Stephanie slowly moves into Leonard's apartment without his noticing. Once he realizes what's going on, he makes several attempts to break up with her, but her sexual advances prove to be too good of a distraction. Eventually, the relationship ends off-screen.
Stephanie appears in a total of three consecutive episodes in Season 2 of "The Big Bang Theory." Though many fondly remember the actor who plays her, Sara Rue, for her brief stint on the beloved sitcom, she has in fact amassed a large filmography over the years.
Sara Rue also appeared in cult romantic dramedy Popular
In a career spanning over three decades, Sara Rue has racked up over 60 acting credits to her name. Though she has appeared in several movies, including Michael Bay's "Pearl Harbor," the romantic drama "A Slipping-Down Life," and the teen rom-com "Can't Hardly Wait," Rue has primarily made her career in television, with roles on popular sitcoms such as "Will & Grace," "Less Than Perfect," "Rules of Engagement," "Two and a Half Men," "Mom," and "B Positive."
However, arguably Rue's best-known TV role was on the teen romantic dramedy "Popular," in which she starred as unpopular girl Carmen Ferrara. Though the show only lasted two seasons, it gained a cult following over the years, so much so that Entertainment Weekly included it on its list of "26 Best Cult TV Shows Ever."
In 2015, Rue hosted an Ask Me Anything session on Reddit to promote the TV Land sitcom "Impastor," on which she played Dora Winston. One fan asked in a since-deleted comment if she had predicted whether "Popular" would gain a cult following (via AMA). The actor intimated she didn't and simply hoped that teenagers enjoyed the show, not expecting that it would connect with new audiences.
"The fact that people are still coming up to me. Even teens are coming up to me now and saying 'I loved "Popular"!' and I'm like 'you're 13, how did you even see it?' and they're like 'Duh, DVDs,'" Rue explained. "It is amazing how much the show spoke to people, but I think it gave a voice to certain kinds of kids that had [trouble] speaking up for themselves at the time."