Erica's Baby Name Reveal On The Goldbergs Season 10, Episode 5 Surpassed Fans' Expectations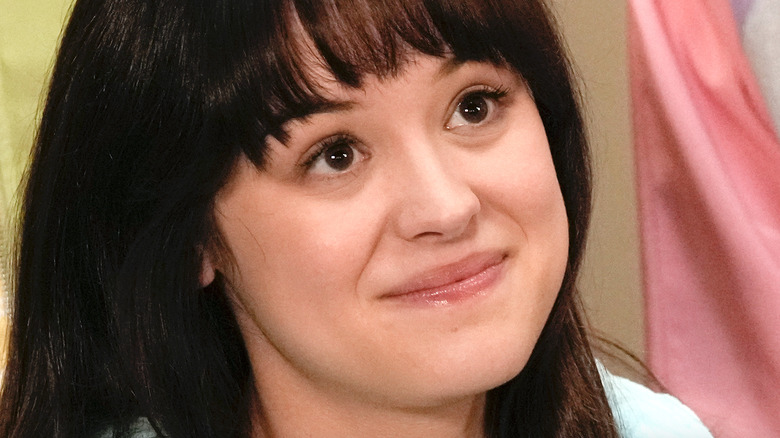 Scott Everett White/ABC
Over the course of its time on the air, "The Goldbergs" has produced over 200 episodes. There aren't, in other words, many milestones left that the ABC series hasn't already hit. While "The Goldbergs" has seen some cast members and writers come and go over the years, too, the series continues to operate on the same comfortable, family-friendly level that it always has.
That said, the Season 9 finale of "The Goldbergs" did conclude by revealing that Erica Goldberg (Hayley Orrantia) was pregnant. Ever since then, fans of the show have been waiting to see the complete arc of Erica's pregnancy on "The Goldbergs." Now, several weeks after the "Goldbergs" Season 10 premiere aired, a new addition to the show's eponymous family has finally been born. Only time will tell, of course, how well Erica ultimately deals with motherhood in "The Goldbergs," but it seems safe to say that viewers were quite happy with how the ABC series ultimately handled her pregnancy and the birth of her first daughter.
As a matter of fact, fans of "The Goldbergs" have taken to social media to share their reactions to the most recent, game-changing installment of the long-running comedy series.
Fans love Erica Goldberg's name for her daughter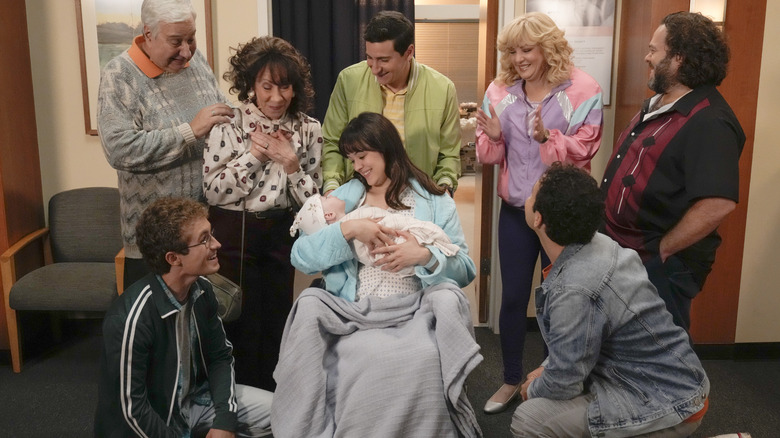 Scott Everett White/ABC
In Episode 5 of "The Goldbergs" Season 10, titled "Uncle-ing," Erica Goldberg finally gives birth to her daughter. While the road leading up to the episode's heartwarming conclusion is, in typical "Goldbergs" fashion, full of unnecessary detours and unforeseen obstacles, too, "Uncle-ing" still manages to stick the landing. In fact, just in case the episode's climactic recap of Erica's journey to becoming a mother wasn't emotional enough, "Uncle-ing" ends by revealing that she and her husband, Geoff Schwartz (Sam Lerner), have named their daughter Muriel Allison Goldberg Schwartz. The name is, of course, a homage to both Erica's father, Murray (Jeff Garlin), and her grandfather, Albert (George Segal).
With all this in mind, to say that the episode has been received well by fans of "The Goldbergs" would be an understatement. On Twitter, @lynneaosborn tweeted, "I loved all the Beverly/Erica flashbacks and I loved the episode," while another "Goldbergs" fan wrote, "Muriel Allison is THE cuteste [sic] name ohmygosh." Elsewhere, @meelees tweeted, "I'm so glad I had my tissues ready! What a special episode."
All of this is to say that, while "The Goldbergs" has already delivered more than its fair share of notable moments over the years, it looks like Muriel's birth still made quite the impression on the ABC series' fans. Now, all that remains to be seen is where Erica, Geoff, and Muriel go from here.