Dead To Me Actor Natalie Morales Gets An Exciting New Role In The Morning Show Ahead Of Season 3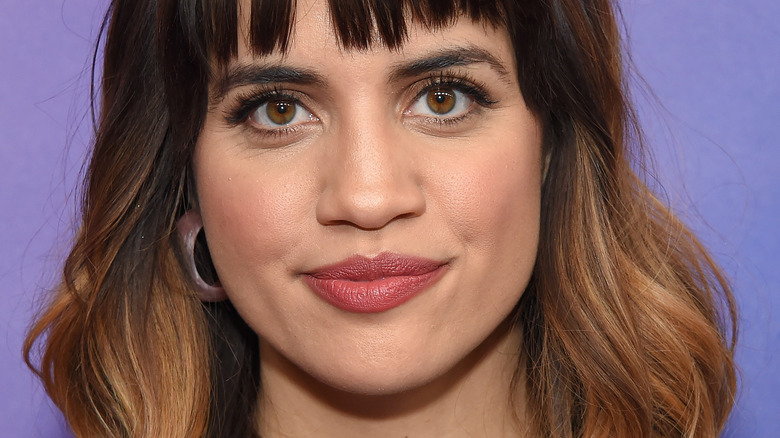 DFree/Shutterstock
Season 3 of Apple TV's "The Morning Show" is getting a lot of new faces joining the already star-studded cast. In addition to a cast that already includes such huge names as Jennifer Aniston, Reese Witherspoon, and Steve Carell, Deadline reported in august that Nicole Beharie of "Miss Juneteenth" fame would be joining the show as new anchor Christina Hunter. In September, Deadline reported that veteran British comedian Stephen Fry would be joining the show as Leonard Cromwell, who Deadline described as "a ruthless UBA board member working to steer the company through troubled financial waters."
In August, The Hollywood Reporter also reported that "Mad Men" and "Confess, Fletch" star Jon Hamm would be joining the cast as Paul Marks, an ironic casting choice considering the ad that Hamm starred in, in which he plays himself upset that other actors are getting great roles on Apple TV instead of him. Witherspoon, who serves as an executive producer on the show in addition to starring in it, spoke excitedly to Deadline about Hamm's character. "​​He is a very complex character," the "Legally Blonde" star told the outlet. "He's a media mogul and he gives Billy Crudup a run for his money, which I think is the most fun part too, because Billy could eat a scene like I've never seen somebody eat a scene, and Hamm gets to come in and give him a great foil."
Well, the upcoming season just got yet another new cast member in Natalie Morales, and no, this is not the journalist who's been on a morning show herself. It's the actor of the same name who you've probably also seen before.
Natalie Morales will play Kate Danton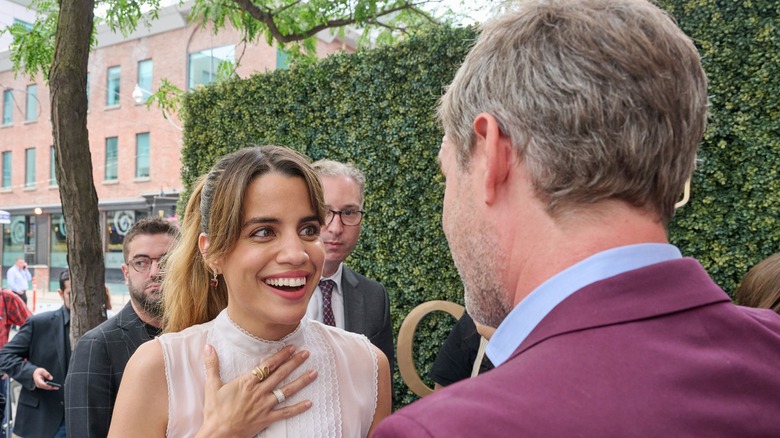 Tobias Wang / Mi Productions/Getty Images
Natalie Morales has a number of well-known roles. Morales played Tom's love interest Lucy Santo Domingo on "Parks and Recreation," Sheriff Anne Garcia on "Santa Clarita Diet," and Judy's love interest Michelle Gutierrez on "Dead to Me." They also co-wrote, directed, and starred in the COVID-19 drama "Language Lessons" with Mark Duplass and also directed the film "Plan B." Now, according to Variety, they'll join "The Morning Show" (which also stars Duplass) as Kate Danton, Stella's (Greta Lee) best friend from college who has some history with Jon Hamm's character, Paul Marks. The character of Stella only joined the show in Season 2 of the series, so having Morales there to expand on Stella's character means that the show is really invested in every new character.
In a 2021 interview with Awards Radar, Morales talked about their work on "Language Lessons" and the "Dead to Me" actor revealed that their career in acting is really what prepared them to direct. "Honestly, the more I acted, and the more directors I worked with – I got to work with a lot of great directors, but I also worked with some not great ones, and you learn a lot," they explained to Awards Radar. "I've always paid attention to everything around me, in all aspects of how to make TV and movies, but when I took an interest in directing I started to wonder if I could do what these guys were doing. Oftentimes, the answer was yes. When the answer was no, I would ask questions and learn." 
Working on "The Morning Show" will certainly expose Morales to some great actors, directors, and executive producers, so only time will tell what they'll learn from this job.