Black Adam's Quintessa Swindell Expressed Confusion When Putting On Cyclone's Suit For The First Time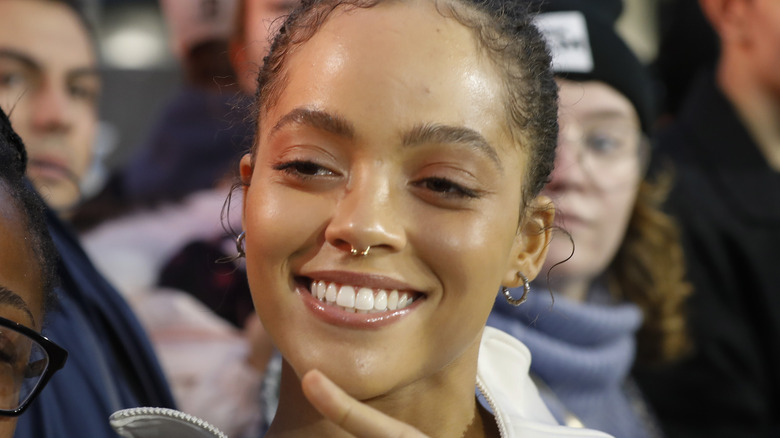 Tristan Fewings/Getty Images
"Black Adam" is emerging as one of the most talked-about superhero movies of the year. Powered by Dwayne "The Rock" Johnson's non-stop hype train about the film, the DC Comics property is also making waves by bringing the Justice Society, an early version of the famous Justice League, to the silver screen for the very first time. Among them are lesser-known heroes like Dr. Fate (Pierce Brosnan), Atom Smasher (Noah Centineo), and Hawkman (Aldis Hodge).
Still, other heroes like Cyclone (Quintessa Swindell) are also making their debut in the Warner Bros. anti-hero tentpole. A character with the ability to control currents of wind using her mind, Cyclone is a formidable force of nature and a hero with no qualms about standing up to Black Adam. Still, that didn't stop Swindell from having a few questions during a moment of confusion that occurred when they first donned the costume for the metahuman hero.
Quintessa Swindell was picturing a different look for Cyclone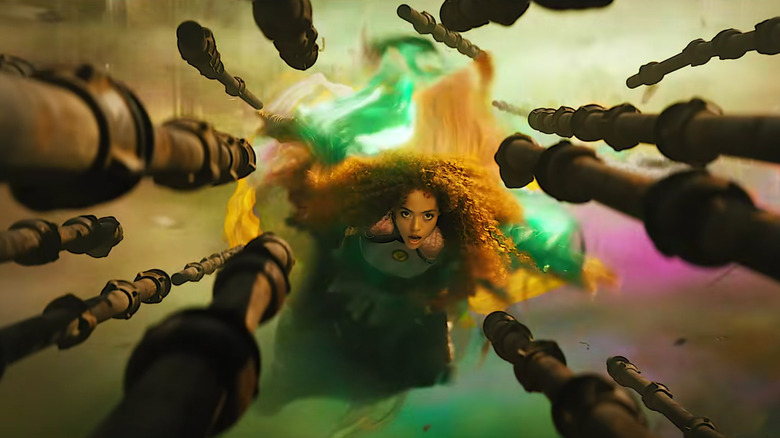 https://www.youtube.com/watch?v=YlSv7GjUdfU
Quintessa Swindell and Noah Centineo sat down with SyFy to discuss their roles in "Black Adam," and Swindell was quick to point out that they had expected something much different from Cyclone's costume. "When I first put it on, I was like, 'Y'all gotta explain this, because I don't really know what's going on with this one," Swindell recalled. "I was picturing something completely different. In the comics, she's in this really beautiful sexy, silvertone suit."
Though Swindell noted the clear differences between the original costume her character can often be seen sporting in her appearances in various DC Comics over the years, they did say that they came to understand and appreciate the new look. "Her costume makes sense with this iteration of Cyclone because she's coming into herself," Swindell explained. "She's also picking out the things from like a costume shop or a theater shop, and creating the type of person or the type of hero she thinks a hero should look like."
Well, it definitely sounds like Swindell eventually came around on the new design. "It's purely from her imagination, which I think is really beautiful and authentic and it's not trying to be anything other than who she is at her core," they concluded. Audiences can see Swindell in Cyclone's new costume by heading out to see "Black Adam," which is currently in theaters.