Abbott Elementary Fans Are Already Annoyed By Melissa's New Aide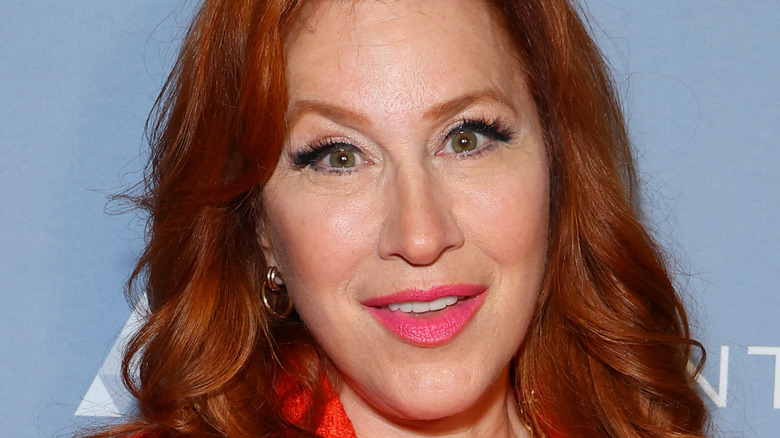 Leon Bennett/Getty Images
The Emmy-winning "Abbott Elementary" returned with a hilarious start to Season 2, continuing the series' themes of enduring optimism. Each school year brings about a fresh beginning for students and teachers, even if new problems arise throughout the year. This is clear in the show's second season, especially with hilarious new guest stars like the one and only mascot Gritty and a "Curb Your Enthusiasm" standout. 
"The Parent Trap" fan favorite Lisa Ann Walter was the tough heart of Season 1 as Melissa Schemmenti uses her unconventional methods to better the school and its students. She keeps this up in Season 2 by taking on more students to simultaneously teach two grades and therefore takes on much more responsibility. This leads her to ask Abbott's often unproductive principal Ava (in a side-splitting role played by Janelle James) for a teacher's aide to help manage the extra work.
The need introduces Keyla Monterroso Mejia (who some may recognize from "Curb Your Enthusiasm") as the tone-deaf Ashley who unsurprisingly gets along well with Ava. She distracts the students from Melissa's informative lesson plan with a Megan Thee Stallion science tribute, complete with a skeleton dance partner. This antic takes away from the student's ability to learn at the already underfunded and disadvantaged school. Fans of the show are even getting irritated with Ashley after only a few episodes.
Fans are as fed up as Melissa with Ashley
Given the enormous undertaking Melissa already has on her plate, it's no surprise that Ashley's antics would elicit such a reaction from her. It's even more aggravating to see Ava encourage her rather than have a serious talk with her. However, it leads to more understanding on Melissa's side when she learns to celebrate their differences and help incorporate Ashley's flare into the curriculum. 
Numerous fans find Ashley unbearable and are less willing to compromise, with an abundance of tweets reflecting this. One user, @NeQuitaHunter, expressed, "This new aide is annoying & unnecessary. #AbbottElementary" with the uncomfortable wrinkled smile emoji emphasizing their point. Another avid tweeter, @TheJediAshCash, had a more direct solution for the Ashley problem, stating, "Nah get this aide out of here. #AbbottElementary." Even Reddit threads were overflowing with fans sharing their insights on Ashley's lack of change. 
One Redditor, in particular, @inyouratmosphere, commented, "She's definitely cringey lol. I was hoping that she would adapt more to match Melissa's personality, rather than Melissa changing for her." Though it's still early for Ashley, her stubbornness is an early indicator of her inability to change, which will definitely rub Melissa's hard-headed personality the wrong way. Another Reddit user named @NatalieLudgate noted that, in their opinion, Ashley is dragging down the quality of the show "If she becomes a main character I swear I might have to stop watching (I love the show but she got on my nerves sooooooo bad)."