Black Adam's Aldis Hodge Didn't Let His Fear Of Heights Keep Him From Playing Hawkman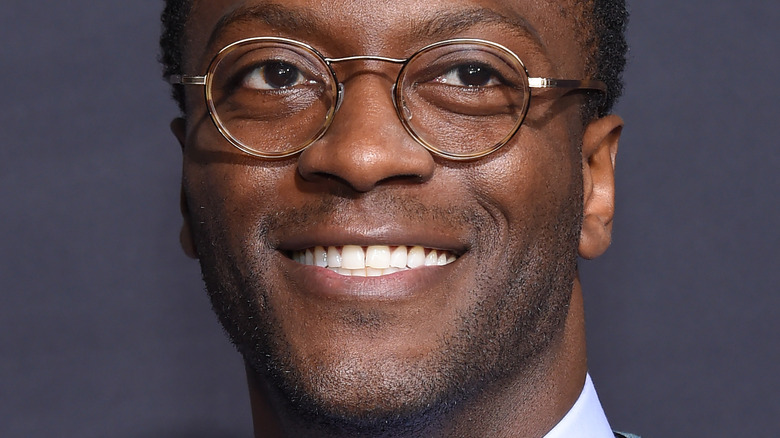 DFree/Shutterstock
"Black Adam" is filled with firsts for the DC Extended Universe. The highly-anticipated superhero romp sees Dwayne Johnson stepping into the titular role — the first time the megastar has taken on a comic book role. In addition to bringing the anti-hero to the big screen, "Black Adam" will also see the cinematic debut of the Justice Society of America, which features the likes of Dr. Fate (Pierce Brosnan), Atom Smasher (Noah Centineo), Cyclone (Quintessa Swindell), and Hawkman (Aldis Hodge). The release of "Black Adam" is monumental for DC as it's considered "Phase 1" for the franchise, according to Johnson (via Twitter). But the road to production was a particularly rocky one. 
If there's one consistent theme that's ruled the production of "Black Adam," it's persistence. Johnson has been hard at work over the last decade to bring Teth-Adam and his benevolent cruelty to life. Since his announcement as the character, the DCEU has gone in a significantly new direction thanks to new regimes, parent company Warner Bros. has changed hands and received new leadership, for better or for worse. Nevertheless, Johnson persisted, and "Black Adam" lives to tell the tale as it heads into 4,402 domestic cinemas (via The Numbers).
While Johnson's determination and enthusiasm is frequently reported, it would be negligent to dismiss the work put in by those in supporting roles. Consider his co-star, Aldis Hodge, who went through his own trials and tribulations on set, persisting against his fears to bring Hawkman to life. 
Aldis Hodge thanks the Black Adam stunt team for motivating him
The cast of "Black Adam" recently sat down with Entertainment Weekly to discuss the film over a round of drinks. When asked about the film's action sequences, Cyclone actor Quintessa Swindell noted how Aldis Hodge (Hawkman) enjoyed the time he spent suspended in air as Hawkman. Hodge revealed that he has a fear of heights and was proud that he "didn't scream every time they dropped [him] from 50 feet in the air." A decent amount of stunt and wire work is required to make Hawkman's abilities believable, an aspect that was certainly nerve-wracking for Hodge. "I'm hanging up there. I'm rethinking every choice in my life. I'm having some real conversations with God at this point," the actor said.
The Hawkman actor's attitude took a completely different turn when he realized that an entire team dedicated themselves to stunt work. "I see the entire stunt team on the ground, and they live this life," Hodge recalled. "So you can't say, 'Hey guys, slow down, wait a minute.' You've got to man up because your boys are down there, and you know they're going to make fun of you if you do not come through." Being 50 feet up from the ground gave Hodge some perspective and the opportunity to combat his personal limitations. "But I was able to challenge every single fear that I had. I was like, of all the superheroes, I've got to be the one that flies? Lord knows, me and heights, we're not friends like that," the actor said with a laugh.
Audiences can see Hodge fly in "Black Adam," now playing in theatres.