Why Dr. Fate's Destiny In Black Adam Will Likely Not Be Reversed
The following contains spoilers for "Black Adam."
Besides Dwayne Johnson's soundstage-shaking frame filling most of the scenes of "Black Adam," the hierarchy of power in the DC universe hasn't so much as changed as it has spread out with the addition of a classic superteam sent to pacify Kahndaq's protector. Besides marking the first big-screen iteration of Black Adam, the film also marks the arrival of the Justice Society (formerly of America). Led by Carter Hall, aka Hawkman (Aldis Hodge), this golden-era superteam preceded the Justice League in the comics and is repped in the film by Cyclone (Quintessa Swindell), Atom Smasher (Noah Centineo), and the stoic, super Doctor Fate played by Pierce Brosnan.
In Jaume Collet-Serra's new film, it's established early on that both Carter and the good Doctor, also known as Kent Nelson, go way back. The wise old mystic is much older than he appears, living a life riddled with harrowing visions of bleak futures that he's thankfully managed to avoid. In "Black Adam," however, the reawakening of this ancient force paves the way for a fate that not everyone will be able to outrun, leading Nelson to take drastic steps to avoid it. Now, with the dust settled, what's Doctor Fate's prognosis, and what does it mean for the future of the DCEU on the verge of making a comeback?
Black Adam opens up the chance for a new Doctor Fate in the future of the DCEU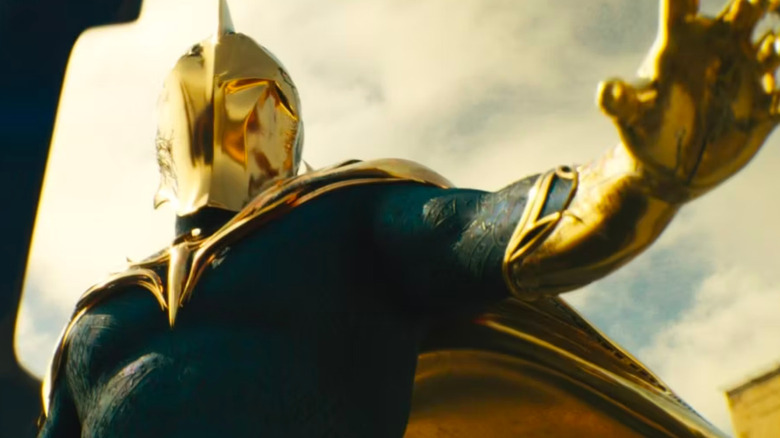 Warner Bros.
If you've got this far, you've no doubt checked "Black Adam" off your watchlist and seen that Brosnan's stupidly charming master of magic sacrificed himself to get Teth-Adam back in the fight. It's a bit of a shame the former Bond's involvement in the franchise was so brief after being considered a highlight following the film's release. All that's left now is an empty chair on Carter Hall's decked-out Cruiser and a helmet without an owner. Well, for now, at least.
In the comics, the Helmet of Fate (via Fandom) has had many owners over the years, with Nelson being one of its most notable. Even those not explicitly chosen to don the helm have tried on the headgear, including dry-witted Hellblazer John Constantine and even Superman himself. On some occasions, however, the helm has been a perfect fit for other heroes donning the mantle of Doctor Fate. Nelson's own bloodline has stepped up to take over, and there have even been total newcomers to the game of good, evil, and hand-wavey magic spells. However, among those contributing to Fate's legacy is a contender that, given a little bit of tweaking here and there, could be located not far from Adam's home turf.
Could the future of Black Adam lead us to DC's current Doctor Fate?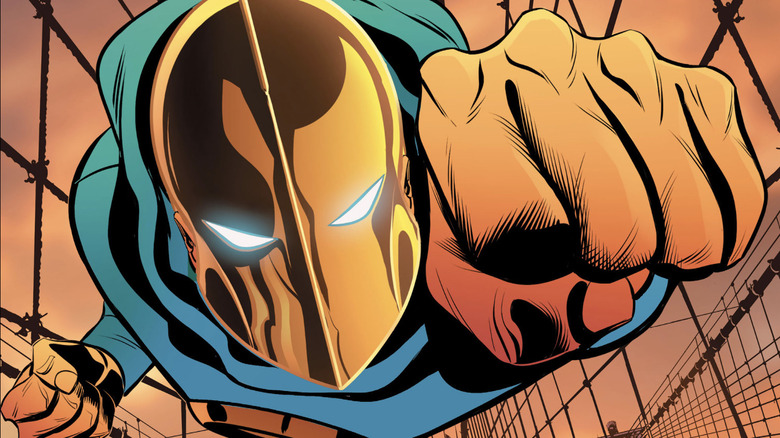 DC/Inaki Miranda, Eva De La Cruz
Currently, in the comics, the doctor on duty isn't Kent Nelson but his nephew, Khalid Nassour. Debuting in 2015, Khalid is an Egyptian-American who has been linked to many of DC's superteams beyond just the Justice Society. Currently, he's a member of Justice League Dark, a united force against the demonic and hellish threats to humanity and led by none other than John Constantine, who is soon to return to the big screen in the form of Keanu Reeves returning to the role. Factoring this in, it feels almost, well, fate that the next in line for that shiny gold helmet is part of a team that Warner Bros. has been wanting to bring to live-action for years. 
With Constantine coming back to exorcise some demons and a helmet without a hero to don it, "Black Adam" feels like a great stepping-off point to establish another new area of the DC universe that is fighting to make a comeback. Also, given Khalid's Egyptian heritage, it'd be cool if his origin story could be altered and he somehow winds up in Kahndaq (a fictional city that was originally modeled on Egypt) so that the new Doctor could give a second opinion on the man in black that fought beside his Uncle. Who knows? The hierarchy of power in the DC universe might be changing after all, and it could become the perfect prescription.