Love Is Blind Season 3 Has Fans Laughing About Andrew's Eye Drops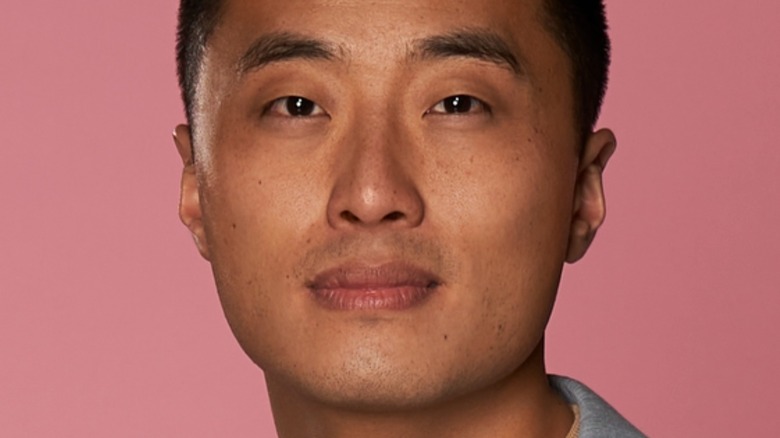 SER BAFFO/NETFLIX
"Love is Blind" is a reality dating show on Netflix about singles who insist that they're ready to find a real relationship based on a deep emotional connection, settle down, and get married — and almost always instantly contradict themselves the second they meet their new fiance face to face. Unlike a similar show (Netflix's "Sexy Beasts") where contestants' looks are covered up with prosthetic makeup in order to let the emotional connection take center stage, "Love is Blind" stars are kept visually separated from their potential paramours while they get to know each other via conversation only. Then, after several weeks, it's time to propose.
The first four episodes of Season 3 are live now on the streaming platform. In those episodes, fans are introduced to the newest crop of singles as they witness them grow bonds with one another in "the pods" and check out the first proposals. For one individual, in particular, Andrew Liu, his proposal to Nancy did not go as planned. This is partly because she was involved in a love quadrangle with him, Bartise, Raven, and SK — and partly because he's been branded the "'Love is Blind' version of Elon Musk." But what he did in an interview with producers after his rejection has fans of the show literally laughing out loud on social media.
The producers left some footage in the final edit of Andrew using eyedrops to fake tears
It's not uncommon for reality TV show producers to edit their footage in a way that makes certain contestants seem like a certain type of character. It's often referred to as "frankenbiting." But this time around, the "Love is Blind" producers did the exact opposite; they left in unedited footage of Andrew applying eye drops to his eyes while talking about being rejected by Nancy to make himself appear as though he had been crying. And fans are eating it up.
One of the most popular reaction tweets comes from @BornInKampala, who said, "Love is Blind producers when they let Andrew use the eye drops to fake tears and then left it in the final edit:" followed by an image of three men laughing together. That tweet has over 5,000 likes from fans who feel the same way. Users like @nonigatlin, @kendrakatherine, @NarutoTrickzxTv, and hundreds of others were tweeting similar sentiments, all joining in having a good laugh. Was it cruel for the producers to pull such a prank on one of their contestants? Possibly. But it's also a refreshing break of the fourth wall — and hilariously ironic — that someone's personal image may get tarnished not because of deceptive reality TV editing but because, for once, the producers decided to show fans what was really going on behind the scenes.