Chicago Fire Fans' Hearts Are Melting Over Stellaride Acting As Parental Figures In Season 11 Episode 5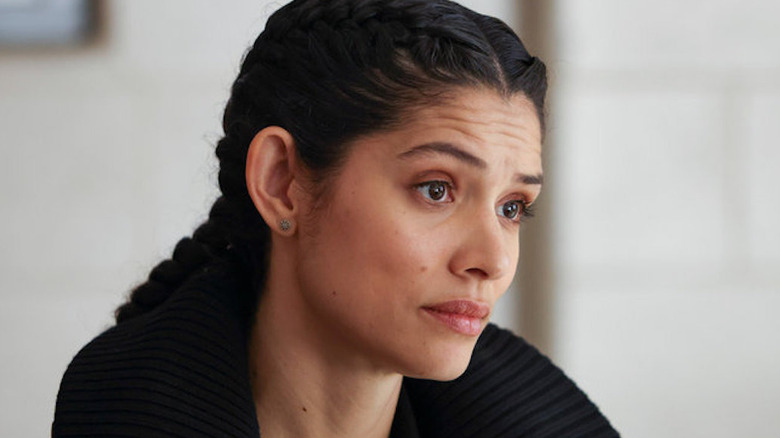 Adrian S. Burrows Sr./NBC
Season 11 of "Chicago Fire" has hit fans with immense emotional wallops. Episode 3 of the procedural series features the shocking death of the charming Evan Hawkins (Jimmy Nicholas), who is fatally buried under rubble while trying to save someone. The following episode continues the show's somber trek as Firehouse 51 grieves the loss of Evan. But the episode explores the fallout of his death mainly through Violet Mikami (Hanako Greensmith). It's heartbreaking as Violet's friends try to reach out to her while she disappears from them, alone in her despair. And while the episode produces a much-needed bonding moment between Kelly Severide (Taylor Kinney) and Violet, it's still heavy enough to leave many fans in tears.
Fortunately, for Episode 5, "Chicago Fire" decided to lighten the load with a Halloween-centered episode. The "Haunted House" episode shows Firehouse 51 ready themselves for a unique Halloween Open House. It's an episode full of plenty of lighthearted moments and opportunities for fans to love the romantic pairing of Severide and Stella Kidd (Miranda Rae Mayo) even more. The "Stellaride" ship has already sailed over wedding bell seas, as the two got hitched last season. But could children be on the horizon? Maybe not so soon, but "Chicago Fire" fans were touched as Stellaride got to act as parental figures to a runaway teen.
Fans loved the parental vibes from Stella and Severide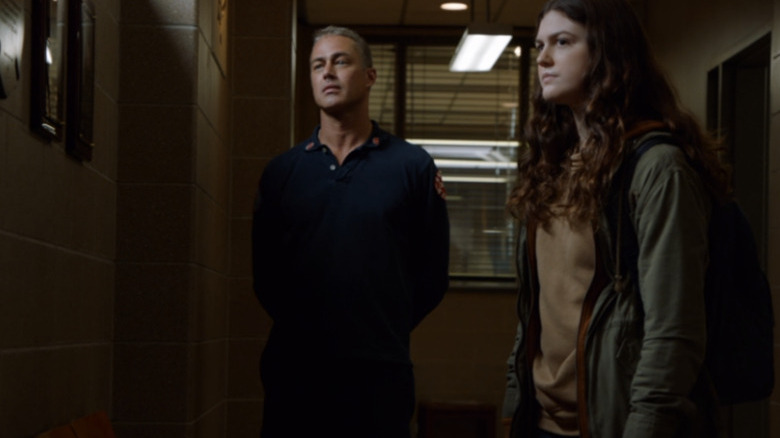 NBC
Plans for the Halloween festivities are interrupted by a call to Firehouse 51. However, instead of a fire, the unit walks into a dispute at home between a mother and daughter. It ends with the 15-year-old being kicked out of her house and forced to go to the firehouse. It's there that Kelly Severide and Stella Kidd go out of their way to look after her. Severide and Stella learn more about the teenager's past and the tumultuous relationship between her and her parents. They also see a lot of themselves in the teenager. In one scene, Severide recalls his own rough upbringing. In another scene, Stella implies she, too, knows the severe pain of a mother and daughter fight. Ultimately, some fans on Twitter couldn't help but feel the strong parental vibes flowing from the duo.
Fans were all for it. In fact, when Stella and Severide drove the young girl back to her mom, fans were more than optimistic about the idea of the two being parents. "They are sooooooooo gonna be the best parents," @shay0rz tweeted. Stellaride supporter @_StopPretending added, "They are THAT married couple, and I love it!!" What's telling about the two as potential parents is how much care and dedication they show no matter the curveballs thrown at them. Even when the young girl runs away from them, details her fears of her mother wanting nothing to do with her, or explains the tragedy of her deceased father, Stella and Severide never give up. And as one fan pointed out, the way the two of them look as they see the girl reconcile with her mother shows how much of an impact her ordeal has on them. 
But for some fans, that scene, in particular, is really all about the finer details. @stellaride_519 may have put it best when they tweeted, "Sev driving Stella's keep with her by his side and the girl in the back. HELLO, STELLARIDE AS PARENTS!"