Lupita Nyong'o Looks Back On Her Viral Moment During The Will Smith And Chris Rock Oscars Debacle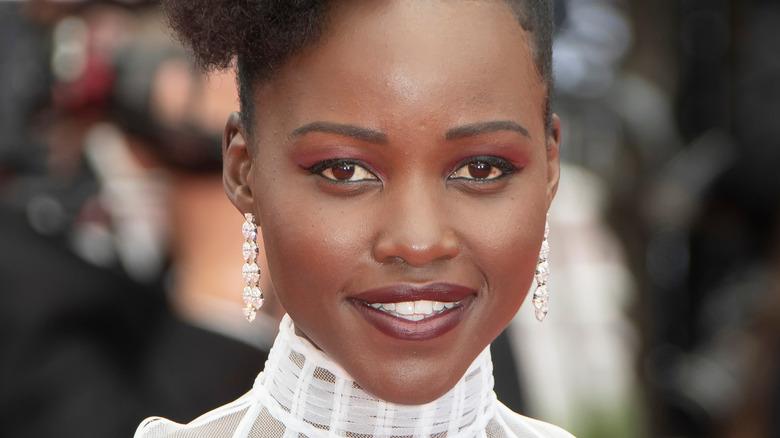 BAKOUNINE/Shutterstock
It was the slap heard around the world and easily one of the biggest news stories of the year. Will Smith steps on the stage during Chris Rock's monologue and slaps him across the face in front of a crowd of stunned A-list onlookers. Though the event occurred back on March 27th, it's still widely discussed today as the fallout from the incident continues to settle.
Lupita Nyong'o doesn't have to imagine what it would have been like to see it, though. She was there, sitting right behind Will and Jada Pinkett Smith, when the former stormed the stage to assault Rock. The moment occurred after Rock joked about Pinkett Smith's close-cropped hair, a style resulting from the actor's alopecia (via CNN). While many still debate who was in the right with regard to the incident, Nyong'o remembers exactly what it was like to be there that night.
Lupita Nyong'o knew she was going to be a meme
Lupita Nyong'o sat down with The Hollywood Reporter to talk about her career, "Black Panther: Wakanda Forever," and, of course, that infamous moment at the 2022 Oscars. Notably, the actor went through various emotions on camera, making her an easy focal point for viewers worldwide to relate to when Will Smith slapped Chris Rock on live television.
"Once the moment was over, I realized, 'Oh my God, there's no way all this transpired and I'm not in the shot,' " Nyong'o said. "I knew as soon as it was over that I was going to be a meme." Well, she was right about that, as many on Twitter and other social media services used her reactions to show precisely how they felt about the moment.
"Congratulations to Lupita Nyong'o for winning best actress in a supporting role for 'The Slap,"" tweeted @BradDia99011737. Meanwhile, @hyper254_ had the actor taunting Smith with the phrase, "Why didn't you slap August Alsina like that?" This is a reference to a televised talk between the "Fresh Prince of Bel-Air" star and Jada Pinkett Smith, which contained many intimate details of their marriage (via Buzzfeed).
However, Nyong'o was hesitant to weigh in any further on the debate surrounding the Oscars slap, closing the conversation with grace and humility. "I don't want to add any more fuel to that thing, quite frankly," she concluded.