A Black Panther Injury Changed How Lupita Nyong'o Prepared For Jordan Peele's Us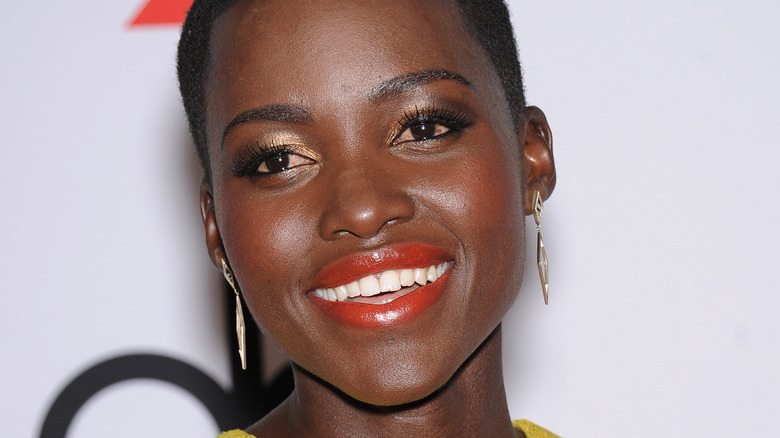 DFree/Shutterstock
"Black Panther: Wakanda Forever" has already given fans exciting details from all of the trailers that have dropped thus far. It appears that the death of the late Chadwick Boseman, and therefore that of T'Challa, will play a central part in how Wakanda moves forward — especially those closest to the former king. Letitia Wright's Shuri will seemingly take the mantle from her brother unless Marvel Studios is trying to misdirect fans. However, it is relatively unclear what will be going on with Lupita Nyong'o's Nakia, although we can see from the trailer that she will play a significant role in the events of "Black Panther: Wakanda Forever." Nakia and T'Challa seemingly had deep feelings for one another during 2018's "Black Panther," and she was essential in taking down Erik Killmonger (Michael B. Jordan).
Nyong'o is a highly experienced and Academy Award-winning actress (via Oscars.org), along with her "Black Panther" co-star Daniel Kaluuya, who has more than just an Academy Award in common with Nyong'o. The two are close with director Jordan Peele and have each taken part in at least one of his recent horror films (via IMDb). Kaluuya notably starred in "Get Out," and even won't be seen in "Black Panther: Wakanda Forever" due to scheduling conflicts being part of Peele's film, "Nope" (via Variety).
Nyong'o, on the other hand, would appear in 2019's "Us," after the filming of "Black Panther." However, it was recently revealed that an injury from "Black Panther" would change her preparation for "Us" soon after.
Nyong'o injured her vocal chords before filming Us
During a recent interview that The Hollywood Reporter had with Lupita Nyong'o, it was revealed that she had actually suffered an injury on "Black Panther" before filming "Us." While explaining his confidence in Nyong'o by taking on the dual role of Adelaide and Red in the film, director Jordan Peele noted that she did suffer a vocal cord injury before creating her voice for the character of Red. "So I knew she would be able to handle the Adelaide side of the role, but I was eager to see what she would do with the cold, disconnected side, the Red character. What happens when this face that can elicit so much empathy is used to terrify?" Peele said. It was then explained that Nyong'o worked with a vocal coach for Red, although she had to be careful with her vocal cords as she had injured them during an 'intense scene' in "Black Panther" where she hadn't warmed up first (via The Hollywood Reporter).
Ultimately, Nyong'o was able to do so in the film, and by the time "Us" was released, it received praise from critics and fans (via Rotten Tomatoes). Peele was amazed by Nyong'o and her performance. "She not only had the ability to create two completely different characters but also the skill and the depth to understand the link between them and how they are also the same character at the same time," he said.
Fans will see Nyong'o return as Nakia on November 11 in "Black Panther: Wakanda Forever."