12 Family-Friendly Movies Like The Curse Of Bridge Hollow To Watch Next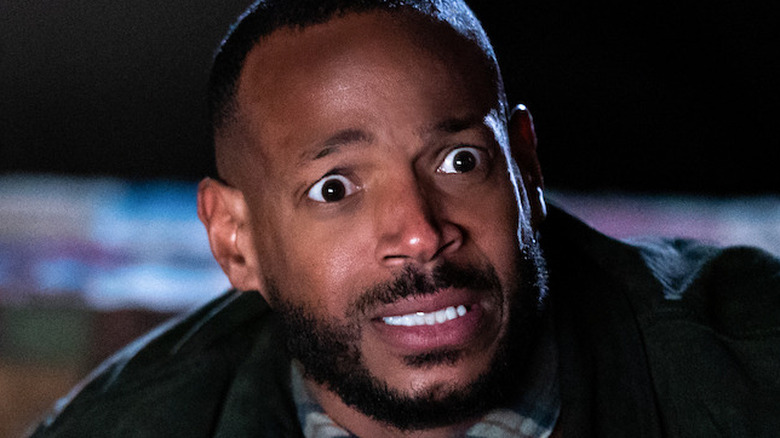 Netflix
In "The Curse of Bridge Hollow," Marlon Wayans plays Howard Gordon, a science teacher whose dedication to facts blinds him to the supernatural occurrences happening around him. His logical worldview is challenged when his daughter Sydney (Priah Ferguson) accidentally brings Stingy Jack (the inspiration behind jack-o-lanterns, per History) back from limbo to terrorize their idyllic, Halloween-loving small town. It's a fun, spooky romp with a whole bunch of monsters, neat mythology, and a stellar cast that includes Kelly Rowland, Rob Riggle, and Lauren Lapkus.
It's perfect viewing for October 31st, when the trick-or-treaters have gone and your kids are tearing into their own candy. Of course, it's not the only movie of its kind out there. Once you've had a blast watching "The Curse of Bridge Hollow" and you're wondering what else to watch, look no further than the list below. We've gathered together 12 family-friendly films that would pair perfectly with "The Curse of Bridge Hollow" for your Halloween marathon.
Just a quick note: In the case of this list, "family-friendly" doesn't necessarily mean it's a kid's movie. While some titles definitely lean more toward a younger demographic, others are intended for slightly older viewers. That being said, we're looking at films the whole family can watch together without risk of either getting bored or getting too scared. Pick any of these movies, and everyone in your household should have a pleasantly macabre time.
Hocus Pocus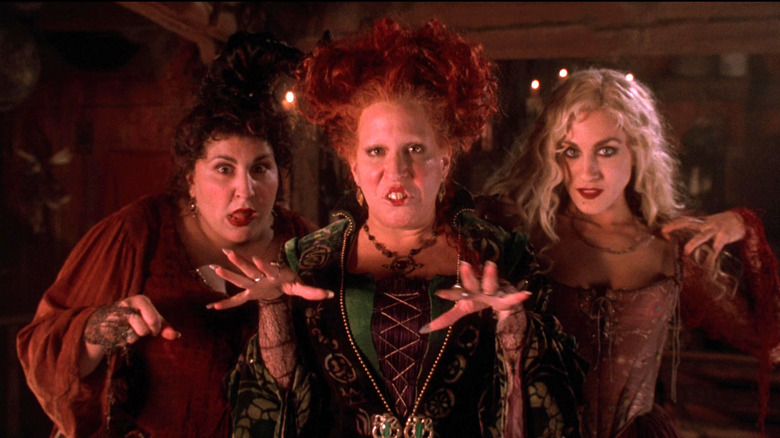 Disney
When watching "The Curse of Bridge Hollow" with its small town that loves Halloween, its skeptical protagonist caught up in an impossible adventure, and its fun mythology, one can't help but think of Disney's 1993 stone cold classic "Hocus Pocus. Bette Midler, Kathy Najimy, and Sarah Jessica Parker star in this family Halloween staple as the undead Sanderson sisters, who return to life in the modern world looking to devour children's souls to stay alive. If by some cruel twist of fate you haven't seen it, our hero is a kid named Max (Omri Katz) who inadvertently awakens the trio of dangerous witches on Halloween night while trying to impress a girl.
The story that unfolds is spooky, exciting, hilarious, and absolutely dripping with Halloween atmosphere. Set in Salem, Massachusetts, the film makes great use of its location by showcasing the incredible fall foliage and long, twisted shadows cast by trees in the moonlight. It features a friendly zombie, a 300-year-old talking cat who's actually a cursed boy, and a great musical sequence. If you liked "The Curse of Bridge Hollow," then you're going to love "Hocus Pocus" and its 2022 Disney+ sequel.
Goosebumps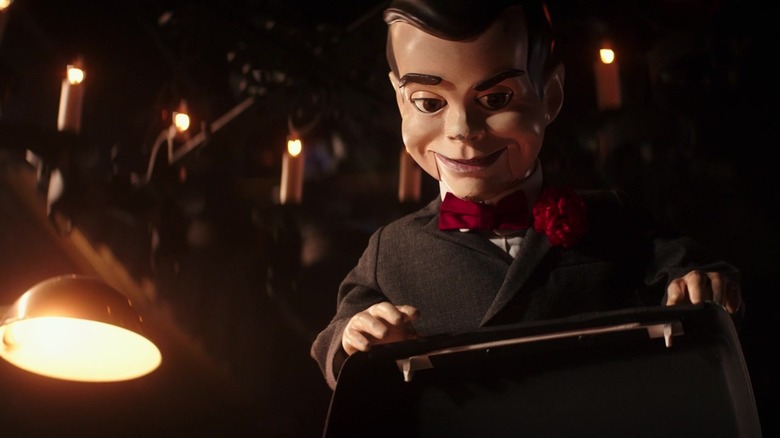 Sony Pictures Releasing
In the 1990s, author R.L. Stine turned a whole generation of kids into horror fans with his staggeringly successful "Goosebumps" book series. Blending humor and horror, the books went on to spawn their own TV show and all kinds of merchandise. Although some of the books were turned into special hour-long presentations, there was never a big-budget Hollywood movie based on them until 2015.
Just like the "Fear Street" films (which were also based on Stine novels), "Goosebumps" is more inspired by the ideas in the books rather than the books themselves. The movie is much bigger, broader, and action-packed than the books were, but it maintains enough of the source material's spirit to keep longtime fans happy. Instead of choosing one book to adapt, the film concocts a tale in which author R.L. Stine (played gleefully by Jack Black) keeps all of very real his monsters at bay by locking up the original manuscripts.
When a neighbor kid unlocks them, the whole town is overrun by every "Goosebumps" monster you can imagine, making for a treasure trove of fright. The sequel, "Goosebumps 2: Haunted Halloween," is also a fun watch that would pair nicely with "The Curse of Bridge Hollow."
The Monster Squad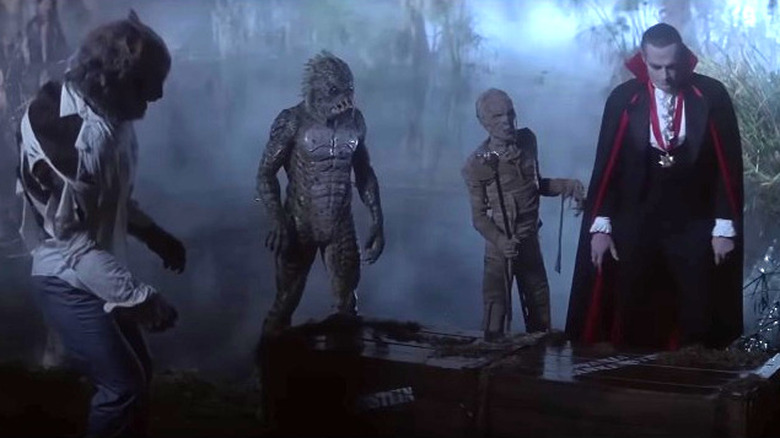 TriStar Pictures
It's probably fair to say that when most people think of an '80s film about a group of kids going on an incredible adventure to save their home, the first title that comes to mind is "The Goonies." However, there was another film in 1987 with a similar setup, but a completely different set of circumstances, a darker tone, and much scarier villains. That film, of course, is "The Monster Squad."
This is definitely in the "intended for slightly older kids" category. There's cursing, vastly outdated (and even offensive) dialogue, and the monsters are legitimately frightening. But if you can acknowledge and accept all that, then this movie is going to blow you away. The plot sees Dracula returning to a small town in search of the amulet that will allow monsters to rule the world.
That doesn't really matter, though. All the good stuff is with the Monster Squad, a group of monster movie-obsessed kids who wind up being the only line of defense against Dracula, the Mummy, the Wolfman, and the Gillman (who might as well be the Creature from the Black Lagoon). Their only ally in this battle is Frankenstein's monster, who has seen fit to join the Squad's ranks and take down his old vampiric master. It's funny, thrilling, surprisingly dramatic, and touchingly sentimental — basically, the movie rules.
Monster House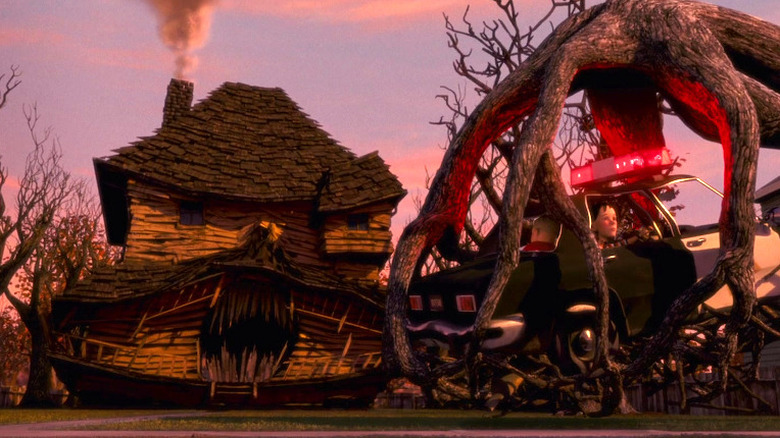 Sony Pictures Releasing
Scary houses have been a staple of horror and horror-adjacent stories for centuries, because there's just something inherently evocative about an old house that no one wants to visit. Urban legends about all the terrible things that might have gone on there get handed down to each generation, and since no one is brave enough to pass the foreboding threshold to find out what the deal is, those myths only continue to grow. "Monster House" takes the premise of "what's hiding inside that spooky old house" and turns it inside out by making the house itself (and not the secrets within) the frightening thing.
Co-written by Dan Harmon, this animated film doesn't get the respect it deserves for being a 21st century answer to Steven Spielberg-produced classics of the '80s like "Gremlins" and, yes, "The Goonies." Had this been live-action, they wouldn't have been able to pull off some of the more dazzling set pieces, but maybe audiences would've let it stand shoulder-to-shoulder with those others. As it is, though, this film about three kids determined to figure out what's going on with the terrifying house in their neighborhood is (like "The Curse of Bridge Hollow") inventive, dark, and funny — just what you need for the Halloween season.
Beetlejuice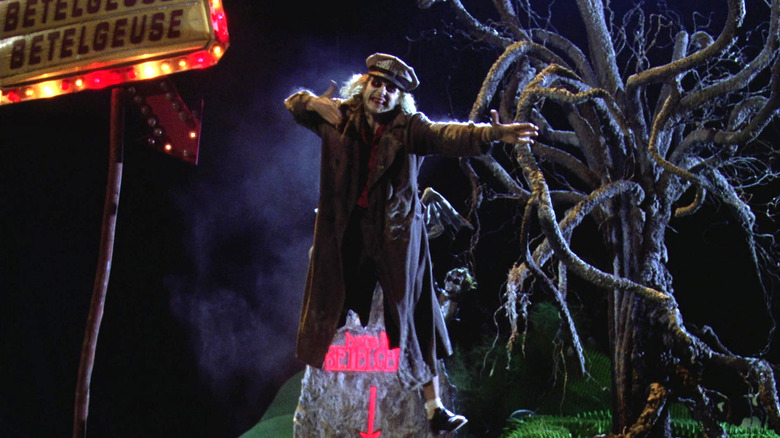 Warner Bros.
Tim Burton's visual style really cemented itself with the 1988 supernatural comedy "Beetlejuice" starring Alec Baldwin and Geena Davis as two recently-deceased homeowners who hire an unreliable poltergeist named Betelgeuse (gloriously brought to life by Michael Keaton) to scare away the new inhabitants of their home so they can haunt it in peace. There's a handmade quality to the film that is obvious from the start, with a long tracking shot over a miniature recreation of a town that makes you think you're looking at a real place until a tarantula crawls into view. The rest of the film's runtime is packed with that sort of visual inventiveness.
All the performances are great, but Michael Keaton is phenomenal in the title role. Beetlejuice is just zany enough to be a living cartoon, but there's real menace simmering below his charm that no other actor could match. If you haven't seen the film, it's difficult to explain it here because it is such a feast for the senses. Burton had laid the groundwork for his career in his feature debut "Pee Wee's Big Adventure," but in "Beetlejuice," he let it all out by unleashing his own offbeat brand of expressionism on the sets, characters, and props in the dingy but beautiful afterlife. It's a wild, macabre ride about life and death that can disturb and tickle you at the same time.
The Witches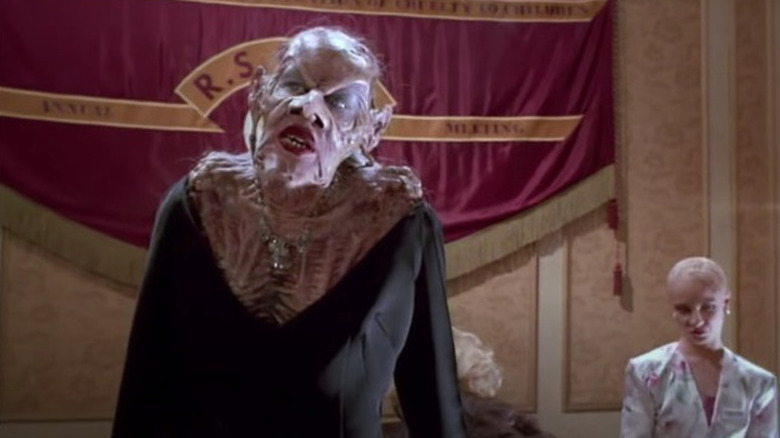 Warner Bros.
Most family-friendly movies featuring witches depict them as either joyfully spooky old crones or delightfully eccentric weirdos. In this 1990 film based on the novel by Roald Dahl, the witches are utterly terrifying. Although much of the film is beautiful to look at, there's an insidious menace lurking just outside of the frame at all times. It manages to convince you that witches are out there, lurking in the shadows, ready to offer you candy so they can eat you.
That's thanks to all the witch lore provided to us by the main character's grandmother, who is as certain of the existence of witches as she is of the elements. Hearing her tell her grandson stories of all the terrible things witches have done to children creates the impression that our characters' lives are in danger at all times from these demonic creatures capable of hiding their true forms in pleasant disguises.
All that tension builds to the moment the heroes stumble into a witch's convention and we see the witches remove their costumes to appear as their true selves — the sight of them is enough to send any kid diving for their covers. However, the intention of "The Witches" isn't simply to scare children, it's to empower them by respecting them enough to show intelligent kids facing off against truly hideous monsters and conquering their fears.
Casper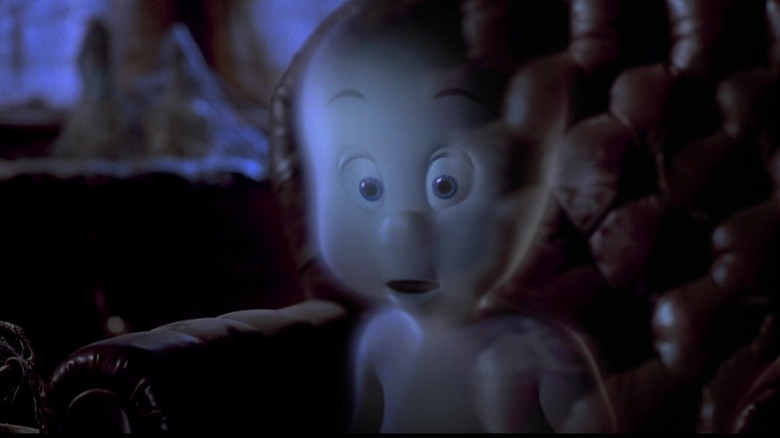 Universal Pictures
If the scarier elements in "The Curse of Bridge Hollow" aren't for you and you prefer a story about a family putting aside their differences in order to solve a problem and become closer as a result, then you definitely want to watch 1995's "Casper" starring Bill Pullman and Christina Ricci. The titular ghost is a lonely boy living in a big, spooky house with his three obnoxious spectral uncles who take the little guy for granted. All he wants is a friend, and he thinks he's found the perfect person when he sees a news report about an afterlife therapist with a teenage daughter who travels around the country helping spirits move on.
Carrigan (Cathy Moriarty), a greedy woman who's inherited the mansion where Casper lives, is trying to search the house for treasure. Since Casper knows she wants to get rid of the ghosts, he visits her motel and makes sure she sees the TV report so she'll hire Pullman's character. It's an odd premise, but it essentially serves as an excuse to give Casper a friend/love interest.
While not all of the effects have aged gracefully, the ghosts interact with the physical world realistically enough to believe that the friendliest ghost you know is actually in the same room as everyone else, and your family is sure to find the characters of "Casper" fun and engaging.
Halloweentown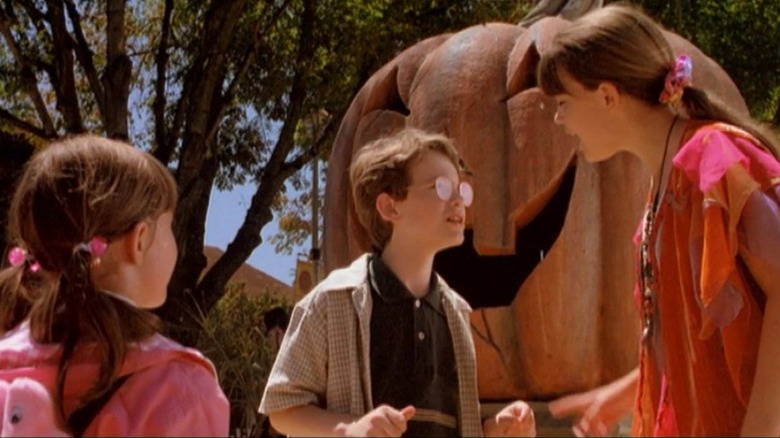 Disney
Another movie that immediately comes to mind when watching "The Curse of Bridge Hollow" is the 1998 Disney Channel original movie "Halloweentown." At the start of "Bridge Hollow," the Gordon family is moving from Brooklyn to the town of Bridge Hollow so Howard can start his science teaching job at the local school. As they drive through their new town, they notice that nearly every house is decked out for Halloween. It's almost as though they somehow wandered into Halloweentown itself.
The premise of "Halloweentown" is that every Halloween the Piper family is paid a visit by their wonderful grandmother Aggie Cromwell (played by Hollywood legend Debbie Reynolds), who happens to be a witch. Aggie's granddaughter Marnie Piper (Kimberly J. Brown) is fed up with her mother not allowing her to embrace her heritage as a witch, and hitches a ride back to Halloweentown, where her grandmother lives shoulder-to-shoulder with friendly ghouls and goblins.
Once there, Marnie and her siblings have to help their grandmother take care of a supernatural threat and protect the residents of Halloweentown. At its heart, though, it's about a family reuniting and embracing their differences to solve a problem. "Halloweentown" was so successful became a franchise with four installments.
Ernest Scared Stupid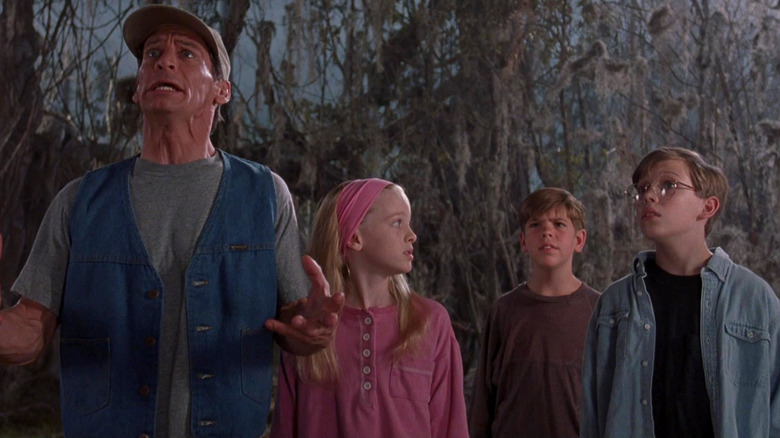 Buena Vista Entertainment
Before the Sanderson sisters returned from the dead to steal the souls of children in "Hocus Pocus," a troll was roused from his slumber to rise again and steal the souls of children to feed his offspring in the horror comedy "Ernest Scared Stupid." Starring Jim Varney as the title role that made him a comedy icon, the film feels like a prototype for "Hocus Pocus" but with a bit more bite. Anyone over the edge of 12 might see this as just a fun and funny adventure film, but anyone younger than that might be terrified of the vile, mucus-y troll in this movie. Of course, that's not necessarily a bad thing. 
After finding the greatest tree for a treehouse in the world, three kids and everybody's buddy Ernest build the greatest treehouse ever. Unfortunately, it was planted to house the resting troll who once fed on the villagers of their town centuries ago. The film has plenty of laughs thanks to Varney's uncanny ability to disappear into a zillion different characters, his hilarious facial expressions, and the innocent charm he exudes in every single one of his scenes. But if it didn't have that scary threat at the center of it, the whole film would fall apart. 
"Ernest Scared Stupid" has incredible monster designs, a few heartbreaking moments, and a climax in which milk is used as the ultimate weapon. What's not to like?
Double, Double Toil and Trouble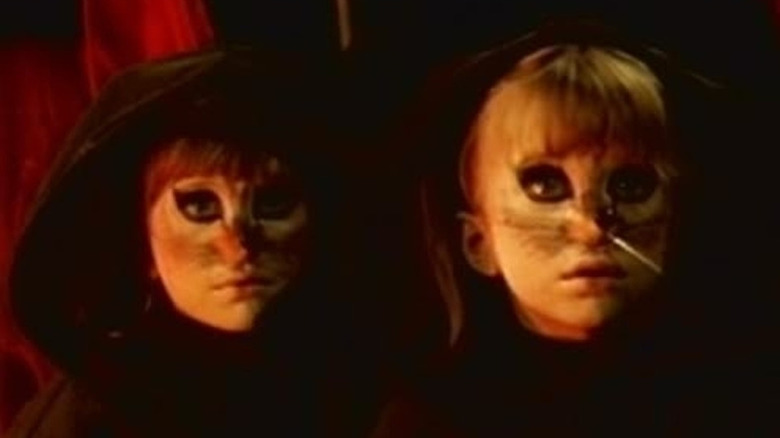 Warner Home Video
Back in the early '90s, Mary-Kate and Ashley Olsen were beginning to take America by storm thanks to the popularity of the family sitcom "Full House," where the twins played Michelle Tanner. Just before their entertainment empire was complete, they starred in a couple of made-for-TV movies, including a Halloween adventure with a title borrowed from William Shakespeare's "Macbeth": "Double, Double, Toil and Trouble."
In Shakespeare's play, three witches begin their incantation with those words while maneuvering around their cauldron. Thus, it's only fitting that this film is about the twins battling their evil aunt Agatha (played wonderfully by the late Cloris Leachman) who trapped her own twin sister in a mirror decades ago so she wouldn't have to share her magic.
This one definitely leans on the younger viewers' side, but some of the jokes are funny enough to keep parents entertained. Besides, Leachman's performance is too great to miss, and it's fun to see Eric McCormack a few years before he'd hit it big with "Will & Grace."
ParaNorman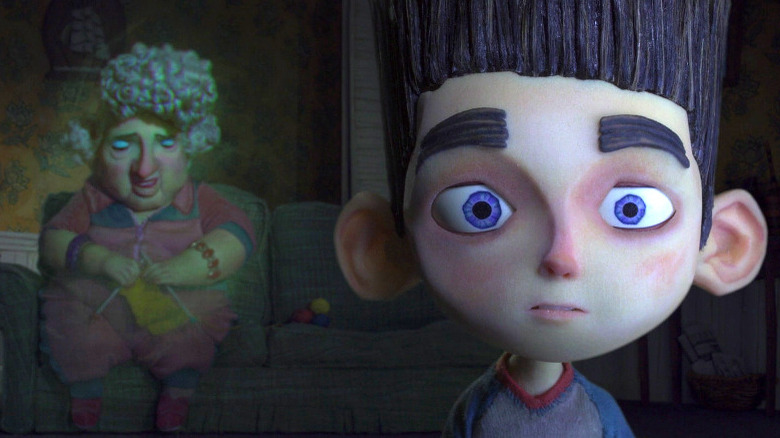 Focus Features
Just like "Monster House," the stop-motion animated film "ParaNorman" is a tragically underrated piece of work that should be in everyone's Halloween viewing rotation every single year thanks to its atmosphere, design, and the power of its story. Also like "Monster House," it takes a standard horror trope and does something different with it. Norman Babcock is a kid who can see and speak to ghosts. Unlike other films where kids who speak to the dead are terrified of their gift, Norman has just accepted it as part of his life.
We see this early in the movie, as Norman watches television and has a casual conversation with an elderly woman sitting behind him. In the very next scene, we learn that this woman is his grandmother and that she's dead. Norman walks through town being greeted by the dead all the time the way some other kids might be greeted by neighbors or the parents of their friends. That kind of acceptance runs through the rest of the film, including — in a refreshing moment of representation for a family film — a character who comes out as gay. "ParaNorman" embraces and celebrates the outsider as few other films do. Oh, and it also happens to feature a zombie apocalypse.
Mr. Boogedy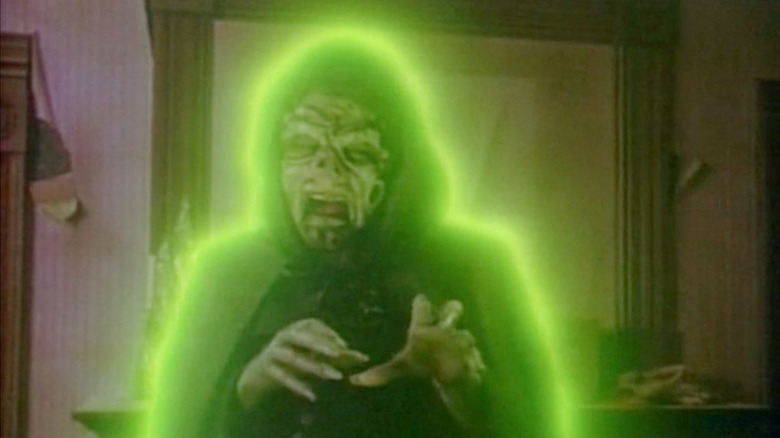 Disney
"Halloweentown" wasn't the first spooky-but-family friendly made-for-TV Disney movie. In 1986, the television special "Mr. Boogedy" debuted as an installment of "The Disney Sunday Movie" on ABC. It's a short film with a silly name, an outlandish premise, and a goofy villain who is way scarier than he has any right to be. Kids today likely won't be affected by it, but the scenes in which evidence of his existence is discovered are still relatively spooky and atmospheric.
It's a movie about a family of prank-loving joke shop proprietors who move into a creepy, run down old house haunted by the titular Mr. Boogedy. Things progress about the way you'd expect, but the performances from the main cast (especially Richard Masur as patriarch Carlton Davis) are real and natural enough to make you buy into the wacky events going on. Plus, OG Gomez Addams John Astin is in it, and he's always fantastic.
If you like the film, be sure to check out its feature-length sequel "Bride of Boogedy" for more creepy goodness.