Werewolf By Night's Head Makeup Artist Discusses The Complicated Use Of Blood In The Disney+ Special - Exclusive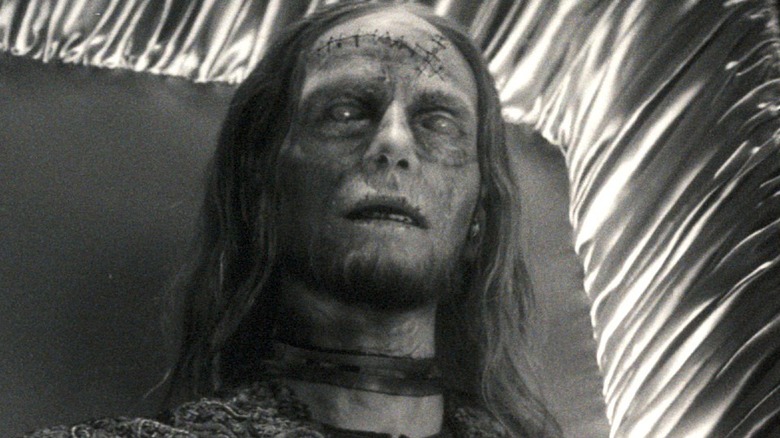 Marvel Studios/Disney+
Much like film, television has its own set of ratings based on the ages of its potential audience members. For example, scenes of violence, intense imagery, and adult language in a horror production are all considered to determine if it should be given a mature rating. But according to Ellen Arden — the head of the makeup department for "Werewolf by Night" — ratings can also be affected by other elements that viewers might not expect, including a horror staple used in Marvel Studio's new Disney+ special.
Inspired by Marvel's "Werewolf by Night" comic book series, the live-action adaptation from director Michael Giacchino follows a small group of monster hunters searching for the Bloodstone, a powerful gem that gives greater strength and power to its possessor. Among those vying for the Bloodstone is Jack Russell (Gael García Bernal), who harbors the secret that he's cursed to become a lycanthrope, aka a Werewolf by Night.
Given its horror foundation, "Werewolf by Night," naturally, includes its fair share of blood. Yet while the majority of "Werewolf by Night" was filmed for a black-and-white presentation, Arden said the color of fake blood is still a determining factor in film and TV ratings.
It's all in the (bloody) details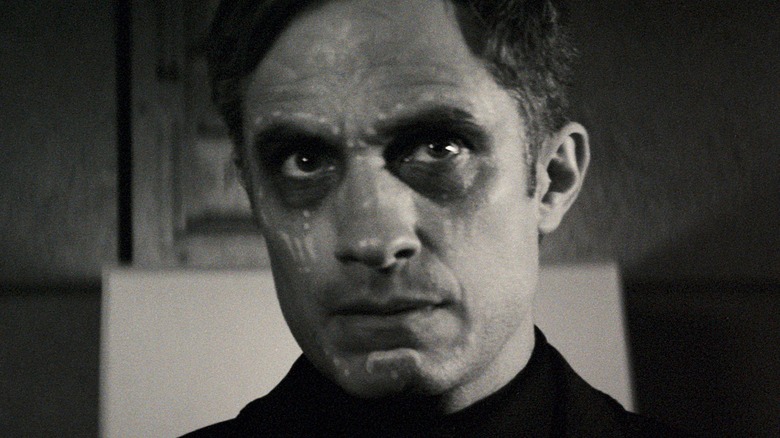 Marvel Studios/Disney+
In an exclusive interview with Looper, makeup department head Ellen Arden — whose long list of credits includes such MCU productions as "Black Panther" and "Spider-Man: No Way Home" as well as AMC's "The Walking Dead" and Netflix's "Fear Street" movies — said different types of fake blood were used for "Werewolf by Night." Her department used Pigs Might Fly blood, a washable brand of fake blood, while the film's makeup effects department, from KNB EFX Group — which created the monsters in the film — designed their own fake blood.
Arden noted that the use of fake blood comes with its own set of standards, even in a black-and-white production. "Generally, we veer toward bloods that are dark. There's this whole thing about the color of blood and the ratings because blood can affect ratings, whether it be PG-13 or TV-MA," Arden said. "There's blood ratings in different markets. There's a lot of thought and decisions that revolve around blood. For 'Werewolf by Night,' [which is rated TV-14], the bloods were dark. They read better in black and white being dark anyway. The opacity and viscosity are important factors to look at when you're looking at bloods that need to read well in black and white, in color, and look real at the same time."
Night hues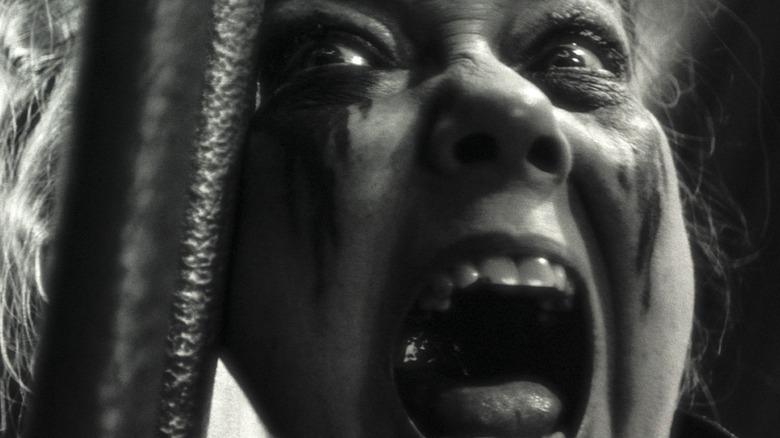 Marvel Studios/Disney+
Ironically, it was not always set in (tomb) stone that "Werewolf by Night" was going to be in black and white. As a result, Ellen Arden said, she had her makeup department plan for everything since she knew the project "could potentially be in black and white or potentially in color."
"When we had gotten to the reshoots, we were positive that it was going to be released in black and white. We did some reshoots a little bit after principal photography," Arden said. "But Michael [Giacchino] has spoken in articles about Marvel and their hesitancy to actually release the film initially in black and white."
Giacchino pleaded his case to Marvel Studios, however, and got the black-and-white "Night" he wanted.
"He knew that he wanted to release it in black and white — it looked cool. When we were on set looking at these monitors, it looked great," Arden said. "But it's not something that they [Marvel] actually do. We don't see black-and-white movies very often. Marvel has such great films that are pop-y and full of life and color. It was probably scary to [think of a film in black and white]; that these new characters would be introduced, and here they are in black and white."
"Werewolf By Night" is streaming exclusively on Disney+.