Creed's Michael B. Jordan Explains How To Achieve The Perfect Training Montage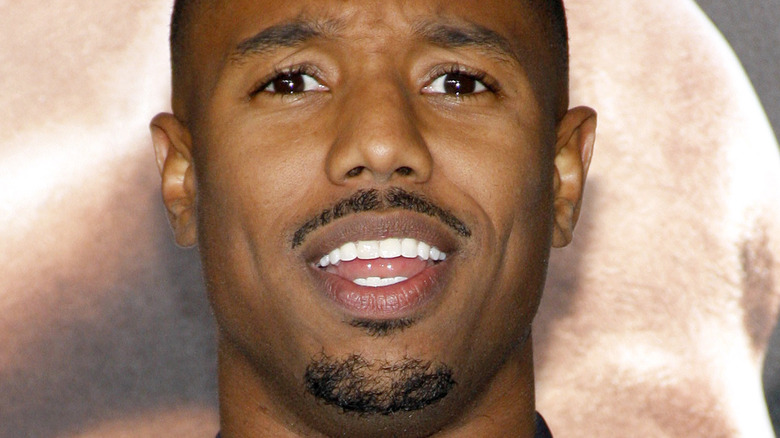 Tinseltown/Shutterstock
MGM released the trailer for "Creed III" earlier this week, teasing Adonis Creed's (Michael B. Jordan) latest struggle in the ring. The "Creed" franchise kicked off in 2015 with director Ryan Coogler spearheading the legacy sequel to Sylvester Stallone's "Rocky" franchise. The critically-acclaimed sports drama saw the secluded boxer train Apollo Creed's son, Adonis. Grossing over $170 million at the box office (via Box Office Mojo), "Creed" pumped new blood into the stagnant "Rocky" franchise.
With success came a sequel, with "Creed II" arriving hitting cinemas in 2018, bringing home over $210 million globally (via The Numbers). The second "Creed" outing saw a more accomplished Adonis take on Ivan Drago's (Dolph Lundgren) son Viktor (Florian Munteanu). While Adonis got the opportunity to come to terms with Ivan, the man who killed his father, it looks like "Creed III" is set to be the most emotionally-charged and intimate entry in the franchise yet.
Joining the threequel is Jonathan Majors, who plays Anderson Dame, Adonis' childhood friend who was locked away. Reunited after decades, the two butt heads, taking their beef to the ring to fight out. What particularly sets "Creed III" apart from its predecessors is that Jordan is stepping into the director's chair, making his filmmaking debut. Having helped shape the franchise over the last decade, Jordan is the right contender to lead "Creed III" to victory.
While it remains to be seen how Jordan will make his mark on the franchise, the director has opened up about how he tackled the third "Creed" film's training montage, an important component of any "Rocky" flick. 
Michael B. Jordan says the perfect training montage has to focus on stakes
It makes perfect sense for Michael B. Jordan to spearhead the third "Creed" outing, especially after having worked with several prolific directors he can learn from, like Ryan Coogler, Denzel Washington, and Ramin Bahrani. Jordan said as much when he spoke to Collider about his upcoming debut. "Talking to a lot of directors that have been through this really gave me as close of an idea as what the experience was gonna be ... I had just finished working with Denzel [Washington], right before this project. I had that wisdom and support, which really helped me out a lot during prep," the actor revealed. 
And while directing its own unique challenge, Jordan has the privilege of looking back on two "Creed" movies and six "Rocky" entries for inspiration. A key component of each film in the franchise is an intense training montage, one that conveys to the audience that our hero is finally becoming a master at their craft. The outlet went on to ask the director about what he thinks makes a unique training montage now that he's finally filmed his own.
For Jordan, it's not about highlighting the amount of physical work the hero has done but rather how they've benefited from the sequence. "Get any and everything you can — every push up and every speed bag moment. No," the actor-turned-director said. "With the montage, it's about, what are the stakes? Has your character left the montage better than he was, when he first started? I think that's a good one to stick to." It's clear from the first "Creed III" trailer that the stakes are higher than ever for Adonis and his family. 
Audiences will get to see Jordan's directorial debut when "Creed III" hits cinemas in March 2023.