Kevin Feige Has Zero Concerns Over Black Panther 2's Oscar Chances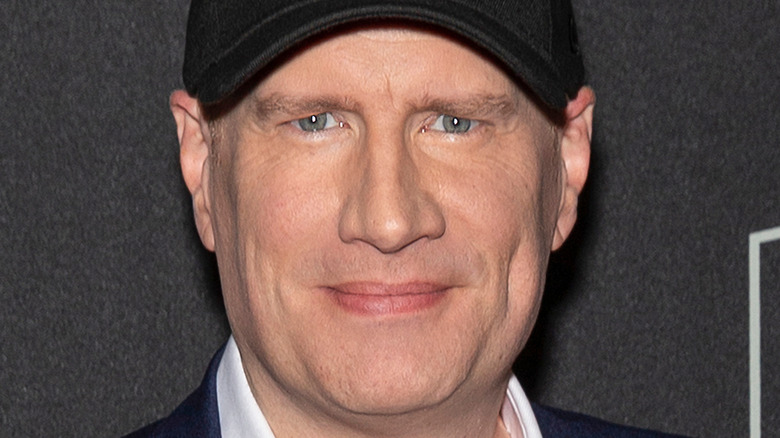 Ovidiu Hrubaru/Shutterstock
Marvel fans have just under a month until "Black Panther: Wakanda Forever" hits theaters, and the awards buzz has already started.
"Wakanda Forever" follows Shuri (Letitia Wright), Nakia (Lupita Nyong'o), Okoye (Danai Gurira), M'Baku (Winston Duke), and Queen Ramonda (Angela Bassett) as they deal with protecting the nation of Wakanda after the passing of King T'Challa. Wakanda faces a true test when an outside force, Talocan, led by Namor (Tenoch Huerta), attacks, threatening the entire country. Marvel Studios decided against recasting T'Challa, choosing instead to pass the mantle of Black Panther to another character.
The first "Black Panther" movie set a new precedent for superhero movies. Everything from the African culture on full display to the Grammy-winning soundtrack earned it massive praise. It showed audiences and critics alike that superhero movies can be more than just blockbuster entertainment. As a result, "Black Panther" received numerous award nominations and wins, including Best Picture nominations from both the Academy Awards and Golden Globes.
Because of the massive cultural impact of " Black Panther," many expect "Wakanda Forever" to reach those same levels or even surpass the original. When asked about any potential awards "Wakanda Forever" could receive, Marvel Studios President Kevin Feige had an interesting outlook.
Marvel Studios did not focus on winning awards with Black Panther: Wakanda Forever
During his interview with Total Film, Kevin Feige revealed he isn't very concerned with "Black Panther: Wakanda Forever" achieving what "Black Panther" could not, taking home the award for Best Picture. Instead, he and director Ryan Coogler focused on pleasing the audience and honoring the late Chadwick Boseman (via ComicBook.com).
"I'm not the kind to predict what the Academy of Motion Picture Arts and Sciences will do with their precious votes. I don't know," Feige said. "I do know that Ryan [Coogler] and the entire team approached this movie just like they approached the first one, which is: how do we make the best experience possible for the audience? And how do we make the best experience that people will want to repeat again and again? That was the driving motivation. And something that is an incredible tribute to the legacy of Chadwick."
From the sound of it, Feige thinks next year's 95th Academy Awards will be a repeat of the 2019 ceremony, assuming "Wakanda Forever" nabs a Best Picture nomination. If "Wakanda Forever" were to win the Best Picture category, it would not only overcome its predecessor but also become the first superhero movie ever to take home the award, propelling the genre to new heights.
In the past, the Academy has shown it favors films that experienced a tragic passing either before or after production, most famously with Heath Ledger's supporting actor win for "The Dark Knight." We may see this trend continue with "Wakanda Forever" since Chadwick Boseman's presence was immeasurable to so many people.
"Black Panther: Wakanda Forever" opens in theaters on November 11.