Why Dave's Boss From The Neighborhood Looks So Familiar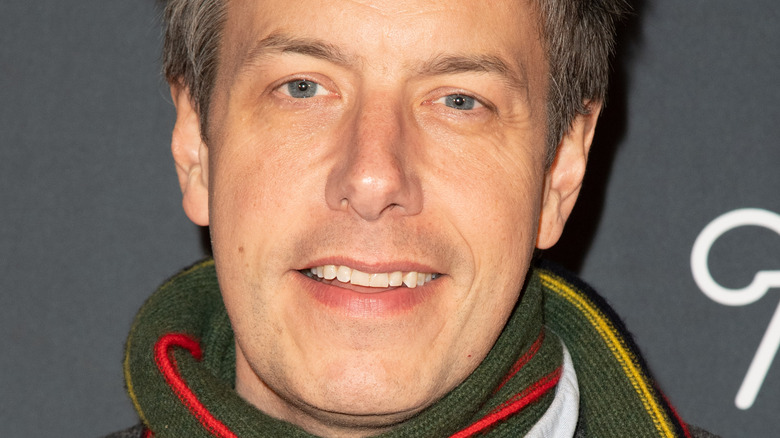 Earl Gibson Iii/Getty Images
"The Neighborhood" Season 5 is well on its way, and the CBS sitcom is once again proving to be a reliable source of good-natured entertainment. The fifth episode of the season, "Welcome to the Art of Negotiation," takes the action to Dave Johnson's (Max Greenfield) workplace. Though they still butt heads every once in a while, Dave and his neighbor Calvin Butler (Cedric the Entertainer) have long been in good enough terms to hatch plots together, so when a promotion seems to be heading Dave's way, the pair start figuring out a way to attach a hefty raise in the deal. However, there's a significant problem standing in the way. Dave has a new boss, Gregory, who keeps an extremely tight budget and is less than enthusiastic about the concept of wage increase — at least, when it comes to Dave.
It's all good, old school sitcom fun, but a plot like this only flies as far as the actors can carry it ... and with comedy heavyweights like Greenfield and Cedric the Entertainer on one end of the see-saw, the actor portraying Gregory has his work cut out to balance out the scales. Of course, he does a good job. So good, in fact, that you migth want to check out his previous work. Here's where you may have seen John Ross Bowie, the actor who plays Dave's boss in "The Neighborhood." 
John Ross Bowie played Barry Kripke in The Big Bang Theory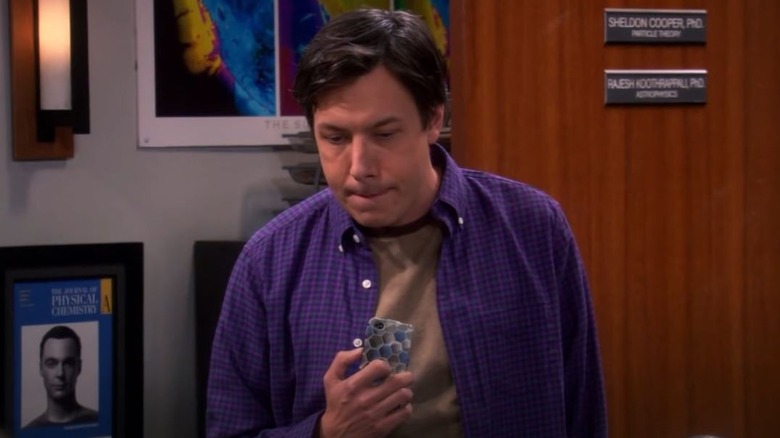 CBS
John Ross Bowie was no stranger to CBS sitcoms before his appearance in "The Neighborhood." After all, from 2009 to 2019 he potrayed one of the most prominent secondary characters in "The Big Bang Theory." Barry Kripke, Ph.D., debuts in the show's sophomore season, and though he appears in just 25 of the show's 280 episodes, he makes every scene count. In the show's context, Kripke is something of a frenemy to the main characters, particularly Sheldon Cooper (Jim Parsons). He's a confident, yet somewhat lazy character with a number of questionable personal habits and a speech disorder that the show frequently portrays as a trait that undermines his boastful attitude. Despite this, his outer shell hides a surprisingly self-aware guy who's deceptively smart — and talented enough to challenge and even surpass Sheldon's genius when he feels like it.
In an interview with writer Will Harris, Bowie elaborated on how he landed on Kripke's voice. To counterbalance the character's overconfident attitude, co-creator Chuck Lorre initially suggested a subtle speech disorder that centered on the way the Bowie would pronounce his L's, but the actor's mouth chose otherwise. "What came out in lieu of the Tom Brokaw liquid L was this ridiculous f****** Elmer Fudd thing, but Chuck's head flies back, and he has this cackle that anyone who's been on set with him has heard," Bowie describes the audition. "And for a moment I thought, 'Oh, my God, this might really work!'"
John Ross Bowie brings the laughs as Dr. Max von Sydow in Childrens Hospital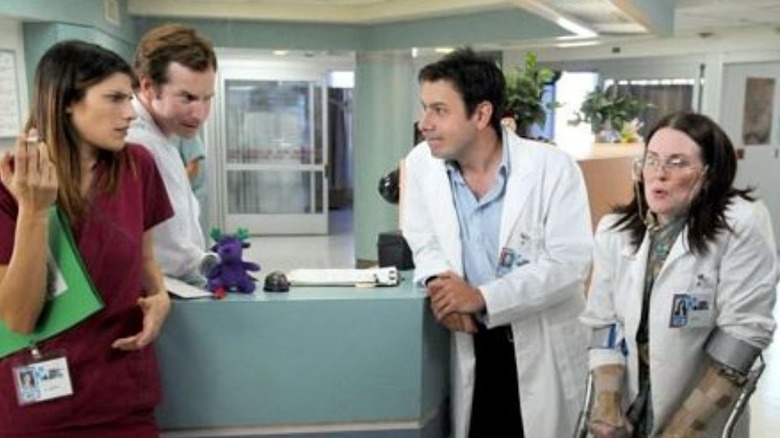 Adult Swim
"Childrens Hospital" is a fun, creepy-in-just-the-right-way medical drama parody that evolved from five-minute webisodes to a punchy Adult Swim show with 11-minute episodes. Its seven seasons feature a veritable laundry list of comedy and acting talent. The show's creator and star Rob Corddry is surrounded by folks like Megan Mullally, Henry Winkler and Malin Åkerman, and the recurring characters tend to be played by folks like Jordan Peele, Jon Hamm and Nick Offerman. 
Speaking of the recurring cast, if you watched the show, the first three seasons of "Childrens Hospital" might very well be where you grew to appreciate John Ross Bowie. The actor turns up in a handful of episodes as the delightfully named neurosurgeon Dr. Max von Sydow. As Bowie told Will Harris, "Children's Hospital" was a fun gig because he's good friends with Corddry and several cast members. He also revealed that he had another, more subtle but no less funny role in the making of the show. 
"People don't know this, but my other claim to fame regarding 'Childrens Hospital' is that I wrote a lot of the 'attention, staff" announcements that Michael Cera read over the P.A. system," he said. "If you're a big fan of the show, he would come on and say these non sequiturs, and a lot of them I would just send Rob and Jon Stern, one of the other producers, an email with a bunch of random s***, like, 'Attention, staff: you really only need two Tom Waits albums,' or whatever popped into my head that I felt, like, 'This could be a tweet, or I could send it to Childrens Hospital.'"
For reference, Bowie's two Waits albums are "Rain Dogs" and "The Black Rider."
He handled baggage and family matters as Jimmy DiMeo in Speechless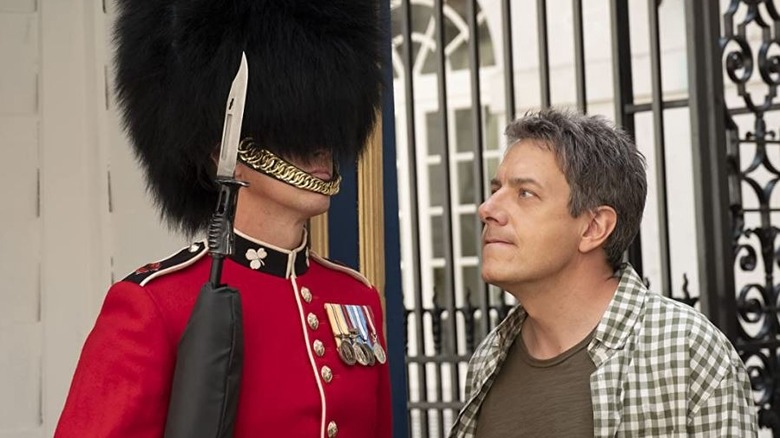 ABC
From 2016 to 2019, John Ross Bowie starred as Jimmy DiMeo in ABC's "Speechless." The three-season sitcom features Bowie's character as the laid-back father of the DiMeo family, while Minnie Driver plays the driven mother, Maya. This, however, is no ordinary sitcom. The name and central premise of the show come from the family's eldest child, J.J. (Micah Fowler), who is a very funny and smart teenager, but whose mobility and speech are affected by cerebral palsy. 
As Bowie told Entertainment Weekly, the show deliberately steers away from clichéd depictions, which he described as both inclusive and powerful. He also considered the show's comedy chops so strong that he was already ready to call "Speechless" an absolute career highlight after Season 1. 
"It's really hard to get something with a really strong comedic vision on the air, on the network, and get a full season out of it," he said. "So I'm really, really proud of the 23 [episodes in Season 1] we did. If that's it, then it will remain a complete and total career peak for me personally."
John Ross Bowie is a veteran of one-episode appearances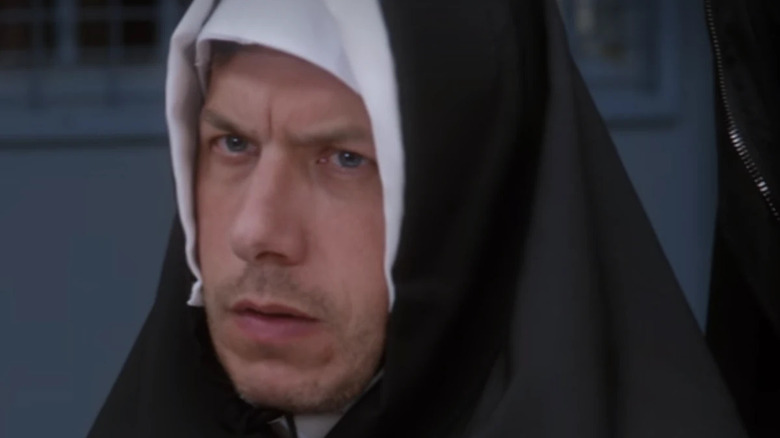 Fox
John Ross Bowie's early years as an actor were marked with a string of appearances in various shows, occasionally in multiple roles within the same show or franchise. In the mid- and late 2000s, you might have spotted him in one-off appearances in popular shows like "C.S.I. New York," "Las Vegas," "Heroes," "C.S.I.," "Monk," "Glee," and "Weeds," among many others. During this time, he also made sporadic appearances in "Reno 911!" as a pageant dad.  
Even after he started gaining fame with "The Big Bang Theory" and his other works, he's kept his tendency to turn up in all sorts of cool shows for a quick one-episode appearance. So, if you think you spotted him as mugging victim Sister Steve in the 2013 Halloween episode of "Brooklyn Nine-Nine" or as a focus group member in "Veep," well ... that was him, all right. In fact, in 2022 alone Bowie has appeared in shows like "Grace and Frankie" and "The Rookie" ... and, of course, "The Neighborhood."