Fans Are Divided Over Jennifer Coolidge's Holiday-Themed Old Navy Commercial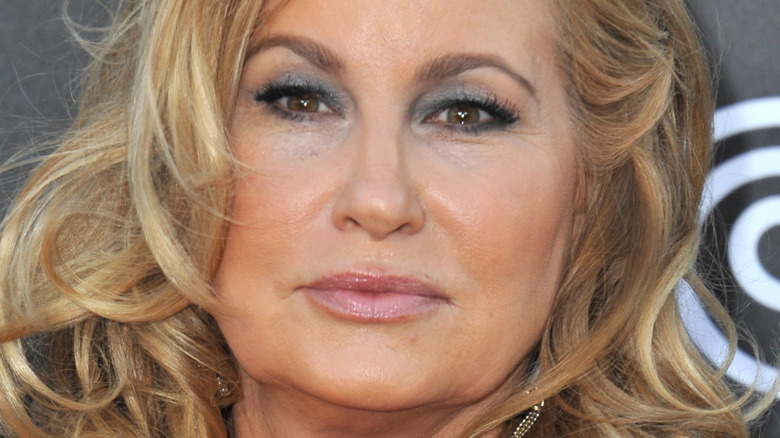 Featureflash Photo Agency/Shutterstock
Jennifer Coolidge has been on an absolute tear since her career-revitalizing performance in HBO's lauded comedy-drama "The White Lotus." Her performance earned her an Emmy, the sole returning spot in the series' second season, and a whole host of new fans. Though she's been a well-known, versatile, and hilarious talent since her roles in "Legally Blonde" and "America Pie," the next era of Coolidge's career has catapulted her into true, mainstream-household stardom.
After a brief period of revelry (and a stream of endearing interviews in publications like InStyle and Vulture), Coolidge has returned to TV screens in Ryan Murphy's "The Watcher," a thriller that follows closely on the heels of Murphy's controversial Jeffrey Dahmer bio-series. Though "The Watcher" itself has garnered polarizing reviews (it currently holds a "rotten" score on Rotten Tomatoes), Coolidge's performance has been praised and chronicled by outlets like Entertainment Weekly. At the very least, it's safe to say Coolidge is one of the hottest actors in Hollywood right now. As fans await her return in Season 2 of "The White Lotus," premiering later this very month, they may wonder where her skyrocketing career will take her next. 
The answer is, of course, being in an Old Navy Christmas ad.
Tis the season for Jennifer Coolidge
As seen here on YouTube, Jennifer Coolidge's recently released Old Navy ad is probably a bit too weird for a mainstream clothing brand but exactly weird enough for the actor's skill set. The ad features Coolidge smiling unwaveringly as she loudly belts a comedically lazy rewrite of a Christmas carol before attempting to feed asparagus to a reindeer. Will it sell more Old Navy sweaters? Who's to say. Will it go down as yet another classic moment in Coolidge's renaissance? For that, we must delve into Twitter.
@LeakinYours tweeted, "It's past due for Jennifer Coolidge to receive her flowers. It brings me joy to see her @OldNavy holiday campaign..." Meanwhile, @courage_always joked, "Not Jennifer Coolidge being the spokesperson for old navy this year omg what a vibe." Even @makeitepic, who appears to be offended by the early onslaught of Holiday adverts, said, "I am delighted that Jennifer Coolidge is in the Old Navy ads."
Of course, since it is Twitter, hot takes are destined to fly around. One user wrote, "Jennifer Coolidge in an old navy ad..? is she having money problems ?" Another user simply scoffed, "I've seen the off key singing Jennifer Coolidge Old Navy Christmas commercial twice now and that is two times too many." As with her Old Navy ad, Coolidge's acting has never been for everyone — but it has been everything for her fans.
Coolidge returns to HBO's "The White Lotus," premiering October 30th 2022. "The Watcher" is streaming now on Netflix.