Here's Where You Can Stream A Christmas Story Christmas Online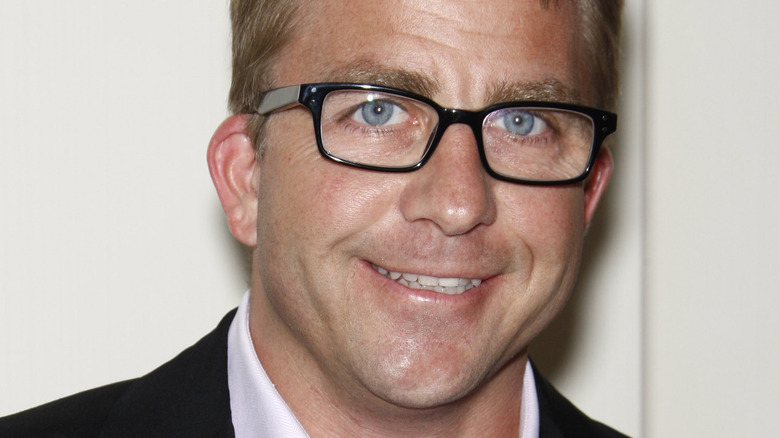 Joe Seer/Shutterstock
Get your BB guns ready, and don't forget to polish off that ugly, leg-shaped lamp because "A Christmas Story Christmas" is nigh. Word dropped in January that the sequel to the beloved and somewhat demented classic "A Christmas Story" will see Peter Billingsley return to his iconic role as Ralphie Parker and that the story will revolve around the now-adult Ralphie's attempts to provide his own kids with a memorable Christmas (via The Hollywood Reporter).
Now, the first teaser is here, and it is clearly leaning into the nostalgia that made the 1983 original such a hit to begin with. There are plenty of shots of the Parkers' living room, as well as voice-overs of lines from the original ("Fra-gee-lay," "Oh fudge") before we see adult Ralphie donning his familiar glasses.
Clearly, the producers — which include Billingsley himself — and the rest of the filmmakers are aiming to rope in devoted fans of the original as well as perhaps introduce the Parkers to a new generation. But none of that lands unless we know where to watch it.
A Christmas Story Christmas will be available on HBO Max
According to Deadline, "A Christmas Story Christmas" will be available to stream on HBO Max when it premieres on November 17. This may then prove to be an important property for HBO Max, given that since the fallout from the finalization of the Warner Bros. Discovery merger, there has been some suspicion about how much HBO is really ready to put in scripted content. Given how important the Christmas season can be for movies — including on streaming — releasing this movie may go some way toward rehabilitating HBO Max's reputation as a safe place for scripted content.
Interestingly enough, this is not the first direct sequel that continues the high jinks of the Parker family's Christmas. In 2012, "A Christmas Story 2" was released direct-to-DVD, starring Braeden Lemasters as a fifteen-year-old Ralphie and Daniel Stern as the Old Man. It was released to mostly negative reviews and currently holds a 37% audience rating on Rotten Tomatoes. It was also not based on the source material from Jean Shepherd's stories, and "A Christmas Story Christmas" will likely not reference its events.