House Of The Dragon's Fabien Frankel Believes Ser Criston Is Still In Love With Rhaenyra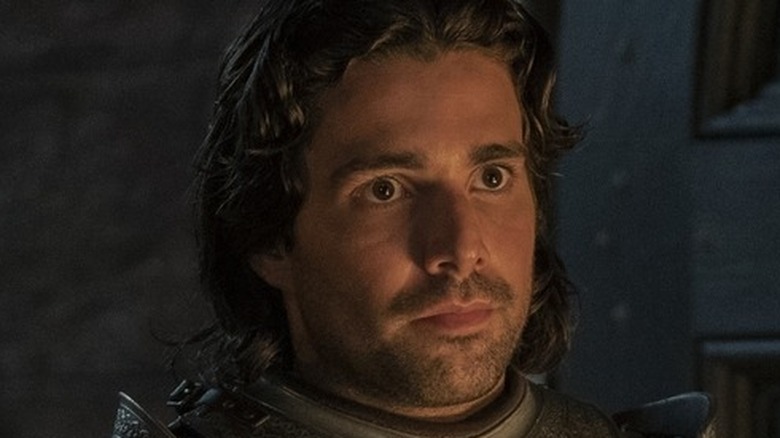 Ollie Upton/HBO
Characters die left and right in Westeros, but according to this one actor, love never does.
During the first season of "House of the Dragon," the first major "Game of Thrones" project to come after the original series that's set to chronicle the Targaryen civil war known as the Dance of the Dragons, Fabian Frankel plays Ser Criston Cole, a knight brought up from nothing to a high-ranking position in the Kingsguard. Early in the season, when Princess Rhaenyra Targaryen is still played in her younger days by Milly Alcock, she seduces a perfectly willing Ser Criston, who falls head over heels for the young princess; however, when he asks her to run away with him and shirk her royal responsibilities, she immediately refuses, telling him she can, essentially, keep seeing him in secret. Not only does Ser Criston refuse, but that moment clearly instills a lifelong hatred within him for his one-time lover, as he later allies himself with Rhaenyra's enemies.
Now, as Rhaenyra is played by Emma D'Arcy in her adulthood and is pitted firmly against Olivia Cooke's Queen Alicent Hightower — to whom Ser Criston is unfailingly loyal — Frankel is revealing some of his character's motivations when it comes to the princess, as well as how Ser Criston might still feel about her. Here's what Fabien Frankel had to say about Ser Criston's inner demons and whether he still loves Rhaenyra.
Fabian Frankel thinks Ser Criston will always love Rhaenyra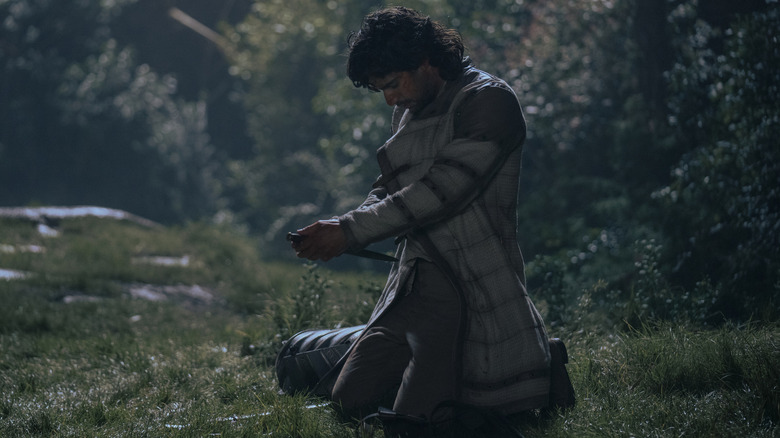 Ollie Upton/HBO
In an interview with The New York Times, Frankel, at the very end of the article, revealed that, yes, he does think Ser Criston still loves Rhaenyra — in his own way, at least.
"First love is first love," Frankel told the outlet. "I think everyone will always love the person that they fell in love with for the first time. From the first time you hear a beautiful piece of music, you'll always love it, even if you've heard it a hundred times, because you remember that first time you heard it. So yeah, he will always love Rhaenyra."
That said, he also explains why Ser Criston takes Rhaenyra's initial rejection so hard. "There's nothing extraordinary about it: He's asked a girl to run away with him, and he's been told no," Frankel said. "That's the basis. It doesn't matter who she is — they're two kids, and they're young, and he has very strong feelings for her. And she said, 'No, but I'll keep you on the side, do what I need to do,' which is disrespectful unto itself. My justification, and this is probably somewhat controversial, was that Rhaenyra could have let him go at the end of that conversation, or at some point before her wedding. Instead, she made him sit through the whole thing. And he flips. It becomes very evident that he has a temper that we had not yet seen. That temper, for reasons he feels are profound, makes him flip."
Like Ser Criston, Fabian Frankel is firmly Team Green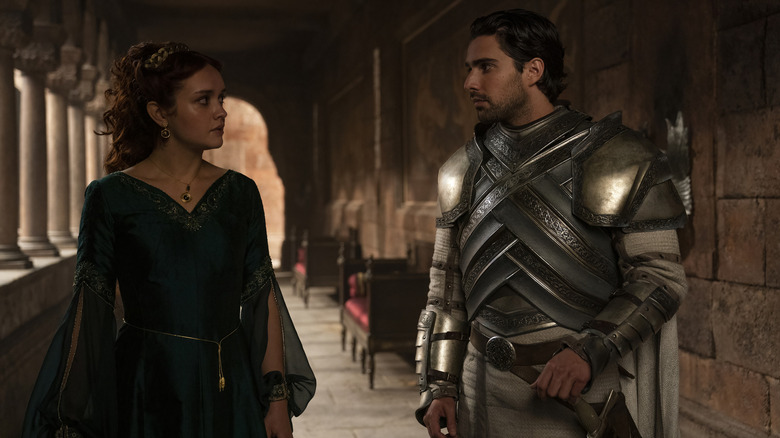 Ollie Upton/HBO
Though he might have lingering feelings for his first love Rhaenyra, Frankel makes one thing entirely clear: he is very much on Alicent's side, known as the "Greens" after the Hightower color of war. In the Dance of the Dragons, Alicent's Green faction faces off against Rhaenyra's Black faction, and there's no doubt about Ser Criston's loyalties.
When the interviewer says that Ser Criston is one of the "coolest" members of the Greens, Frankel excitedly responds, "Oh, mate, I'm loving you saying that. I'm very Team Green, and proud of it. That's kind of how I'm programmed to think now. I'm glad to hear there's some love for the Greens out there. I think we are a force to be reckoned with. It's a good solid crew. I'd back us in a street fight."
So what made Ser Criston this way? Well, Frankel thinks it goes back to his disillusionment over Rhaenyra, as well as the overall environment of the Targaryen clan. "The sourness and bitterness of this world has washed off on him," Frankel explained. "You are your surroundings; you are the people you're surrounded by. Ser Criston happens to be surrounded by an incredibly ambitious group of very Machiavellian human beings whose sole ambition is power. Eventually, you go: "Well, that's the life I live. That's what I am now. I'm in too deep."
Frankel's final turn — until the second season! — as Ser Criston on "House of the Dragon" will air on Sunday, October 23 at 9PM EST on HBO and HBO Max.