Netflix's Christmas With You – Everything You Need To Know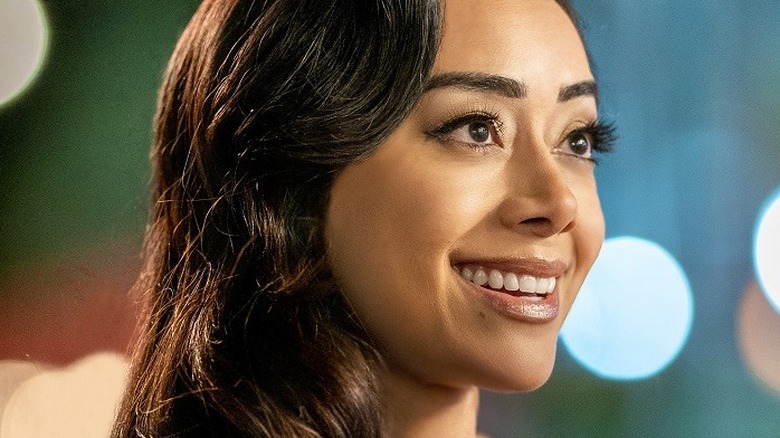 Jessica Kourkounis/Netflix
Netflix has firmly planted its flag in the market of Christmas movies, releasing titles like "Falling for Christmas," "The Christmas Chronicles," and the "Christmas Prince" series. Then on November 17, 2022, "Christmas With You" entered the streamer's pantheon of festive films. In true holiday style, the film is the perfect blend of seasonal magic and timeless love — a tried and true recipe for Christmas movie success.
So if you're looking to snuggle up in front of the fire, wearing your ugly Christmas sweater and sipping hot cocoa as the tinsel hangs from the tree, then "Christmas With You" might be exactly the type of film you're looking for, especially if you're missing a certain star who was at his peak in the late '90s and early '00s. If you want to know more about this Netflix holiday flick, then read on for everything you should know about "Christmas With You."
What is the plot of Christmas With You?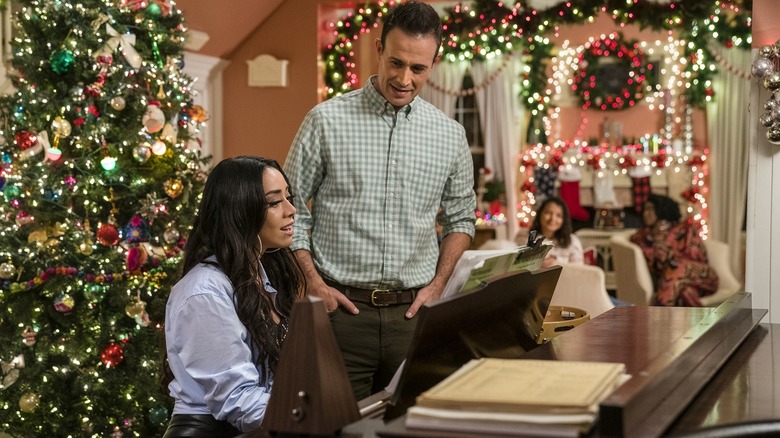 Jessica Kourkounis/Netflix
Christmas movies love to lean into the trope of "someone from the big city finds themselves in a small town for the holidays and then discovers the true meaning of love." And that's definitely true for "Christmas With You." In this 2022 holiday flick, pop star Angelina Costa is feeling the pressure of her age, a bad relationship, and the death of her mother. Her career is on the rocks, but there's one sure way to reinvigorate things — write a hit Christmas song. Of course, that's way easier said than done.
That's when Angelina finds a tribute video online made by teenage fan Cristina. Wanting to surprise the young girl, Angelina leaves the Big Apple and heads to Cristina's small town. However, once she arrives, she finds herself trapped in Cristina's house when a snowstorm sets in. Good thing Cristina's dad, Miguel, is a sweet widower who also happens to be a music teacher. The two decide to join forces and write the perfect Christmas song to rejuvenate Cristina's career, and who knows? They might just fall in love along the way (not-so-spoilery spoiler — they totally do).
Who stars in Christmas With You?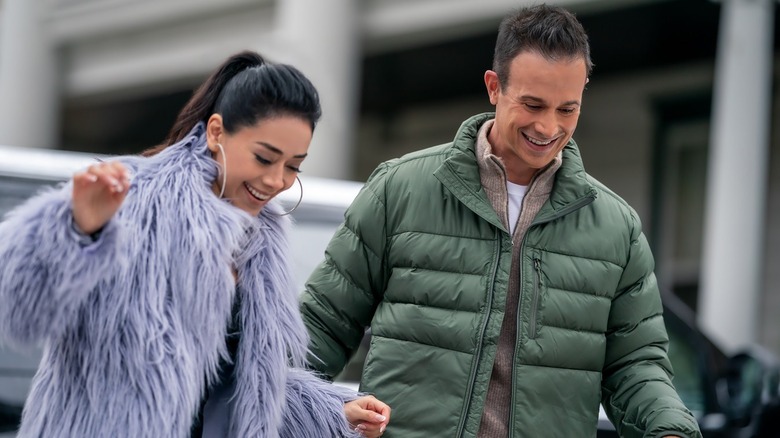 Jessica Kourkounis/Netflix
Netflix's Christmas films have been able to mobilize some impressive star power, from Brooke Shields and Cary Elwes to even Dolly Parton. Likewise, "Christmas With You" features some very recognizable faces: Freddie Prinze Jr. and Aimee Garcia.
Garcia is probably best known for playing LAPD forensic scientist Ella Lopez for five seasons on "Lucifer," in which her character brought a bubbly and enthusiastic attitude to crime scenes despite frequent visits from the Angel of Death. She also appeared in three seasons of "Dexter" as Jamie Batista, younger sister to Angel and nanny to Dexter's son.
As for Freddie Prinze Jr., he needs no introduction for anyone who went to movies in the '90s and early aughts. The veteran actor starred in the classic rom-com "She's All That," played Fred in the live action "Scooby-Doo" movies, and starred alongside Jennifer Love Hewitt in the first two installments of the "I Know What You Did Last Summer" franchise. More recently, he's appeared in the eighth season of "24" and provided voices for a wide array of animated shows from "Star Wars: Rebels" to "Robot Chicken."
Deja Monique Cruz plays Cristina, the young girl whose tribute video brings Garcia's character to her little town. The rest of the cast is rounded out by the likes of Lawrence J. Hughes, Nicolette Stephanie Templier, Gabriel Sloyer, and Socorro Santiago.
Who wrote and directed Christmas With You?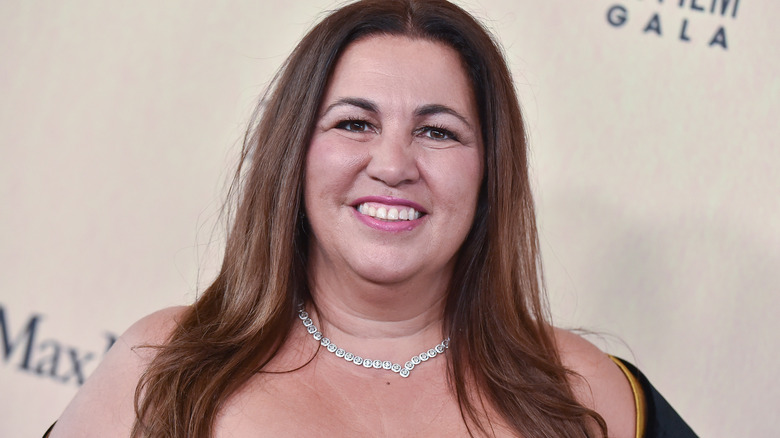 DFree/Shutterstock
Gabriela Tagliavini sat in the director's chair for "Christmas With You." The Argentinian-born writer-director has steered nearly 20 films over the past 30 years, including some critically acclaimed hits in Spanish-speaking markets. Her 2003 breakout film "Ladies' Night" is one of the most successful box office draws in Mexican history (via MySanAntonio.com). 
"Christmas With You" is not Tagliavini's first collaboration with Netflix. Her 2019 comedy "Despite Everything" ("A pesar de todo") was released on the platform and garnered particular praise for the chemistry between the lead actors and unexpected comedic sources (via Decider).
Meanwhile, Jennifer C. Stetson and Paco Farias are listed as the movie's writers. While Stetson has several production credits to her name, this is her first full-length feature film as a writer. Likewise for Farias, who appears to have worked primarily in the editorial department up until now, including for "American Idol" and "America's Got Talent."
Where to watch Christmas With You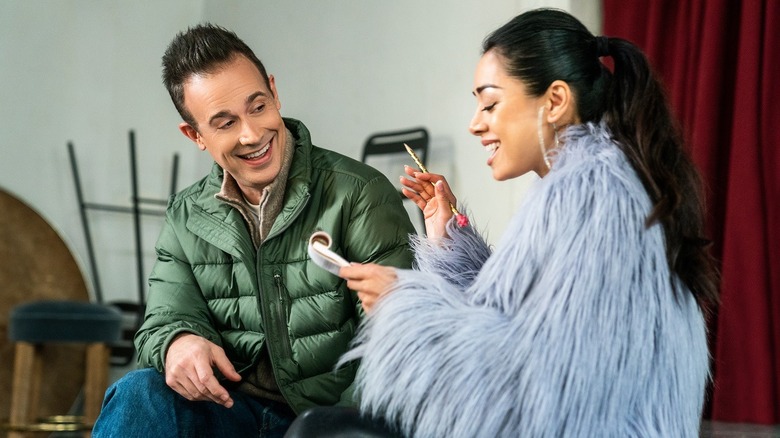 Jessica Kourkounis/Netflix
This should come as no surprise, but there's only one place to watch Freddie Prinze Jr. and Aimee Garcia make musical magic and googly eyes at each other. If you want to check out "Christmas With You" — be it in December, July, or anytime of the year — you can find it on Netflix. Fortunately, the film is also available for users opting for Netflix's "basic with ads" option (via Justwatch). So when you're ready for some holly jolly goodness, be sure to head over to Netflix to see what happens between Garcia's popstar and Prinze Jr.'s music teacher.
How are critics and audiences responding to Christmas With You?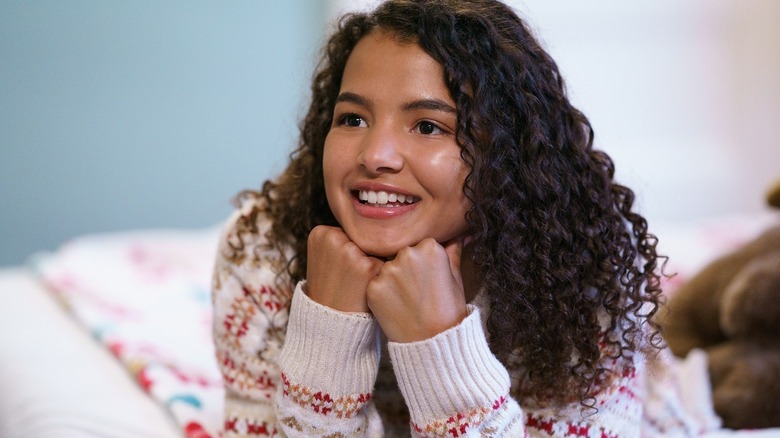 Jessica Kourkounis/Netflix
Judging by the film's scores on Rotten Tomatoes, it seems that Netflix's "Christmas With You" is pretty much what you're expecting. If you're looking for a sweet, simple, straight-down-the-middle holiday movie, then that's exactly what you're going to get.
At the time of this writing, the film has 60% on Rotten Tomatoes based on 10 reviews. As Courtney Howard of Variety put it, "It's a holiday trifle for sure, but there's enough to feel satiated — if just temporarily — by the festivities on display." Audience members seem to feel pretty much the same way. Currently, the film has a 68% audience score based on 50+ reviews.
What is Christmas With You rated?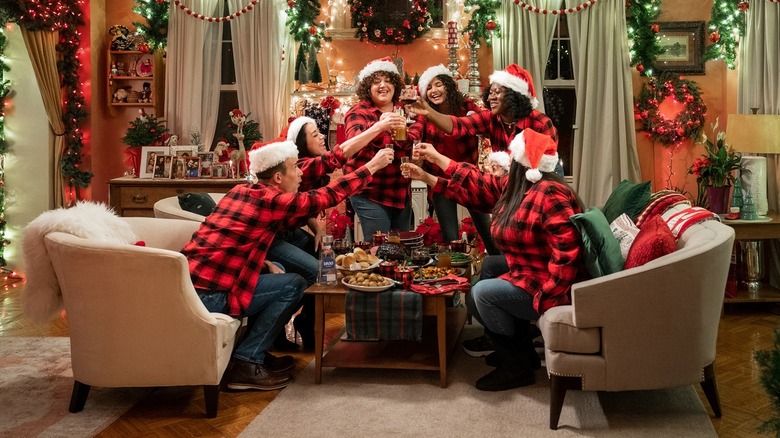 Jessica Kourkounis/Netflix
"Christmas With You" was designed with families in mind. It's a sweet Christmas tale, a tender love story, and celebration of Latino culture. In other words, this isn't a movie that's going to earn a TV-MA. "Christmas With You" is TV-PG, and according to Common Sense Media, it's about as offensive as Santa Claus himself, which is to say that this is an innocent flick for everyone, with no violence, cursing, or adult sexuality.