Clive Barker's Dark Worlds Authors Recall Horror Icon's Forgotten Marvel Comics Work - Exclusive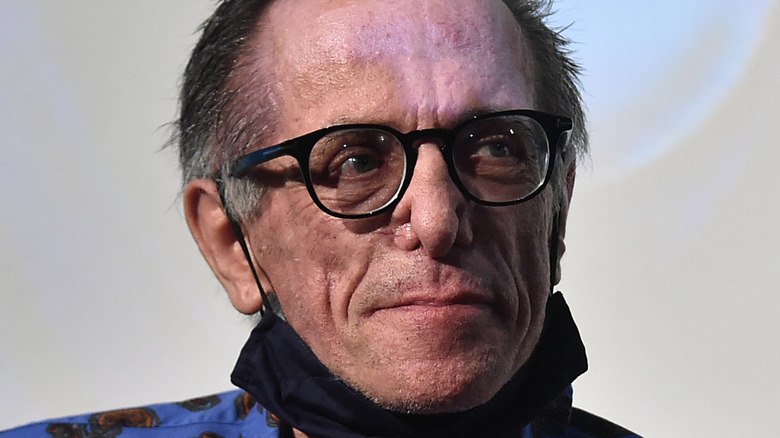 Alberto E. Rodriguez/Getty Images
Author and artist Clive Barker's name is nearly synonymous with the 1987 horror film classic "Hellraiser," which just experienced a rebirth through a reimagined version with an original movie on Hulu. But "Hellraiser," which is based on Barker's 1986 novella "The Hellbound Heart," isn't the only indelible impression he's made on cinema. In addition to the "Hellraiser" film saga, he also wrote the screenplay for the 1992 horror sensation "Candyman" — based on his own short story "The Forbidden" — and wrote and directed the 1995 horror thriller "Lord of Illusions."
In the big picture, however, Barker's film work represents only a small corner of his imagination — a creative mind that is mapped out in great detail by authors Phil and Sarah Stokes in their new book, "Clive Barker's Dark Worlds" (Abrams Books). The Stokes have been Barker's archivists since the late 1990s when they started the website Revelations, and now, their 352-page tome represents Barker's long list of achievements as an author of books and short stories, his work on stage and film, and his sketches, painting, and photography — as well as the press and public's receptions of each of his works over the years.
While "Clive Barker's Dark Worlds" is a celebration of Barker's successes, it also recalls elements of his career that didn't get as much public visibility. Among those works was Barker's Marvel Comics line, which the Stokes were happy to bring back to light after it faded away in the mid-1990s.
"[There were] projects that perhaps weren't quite as public or the areas which came and went quite quickly, and even sometimes looking back on some of the disappointments," Phil Stokes, who was joined by Sarah Stokes, told Looper in an exclusive interview. "The Marvel Comics line was huge, and then it wasn't there anymore."
Razorline wasn't MCU material but had its own identity as the CBU
"Clive Barker's Dark Worlds" looks back "at the projects that worked, the projects that didn't," said Phil Stokes, and unfortunately, Clive Barker's take on an alternate superhero universe for Marvel Comics fell into the latter category. "He created something called the 'Razorline,' which was a planned series of 10 comic lines, of which four were published," Stokes explained. "The remaining six were due to come out in of late '93, early 1994, and the comics industry contracted at that point. It was more of a sales issue rather than an ideas issue. That's my take looking back."
Marvel has dominated the film industry since 2008 and the release of "Iron Man," which kicked off the sprawling, intertwining film and television saga fans know as the Marvel Cinematic Universe. And while many of the characters in the MCU were created long before the release of Barker's "Razorline" series, the superhero stories of the author's comic book existed outside of the framework of Marvel's traditional superhero narrative. As such, Stokes said, Barker's Marvel characters could never be a part of the MCU, nor were they ever meant to.
"The comics were to showcase Clive Barker's imagination, not necessarily to make it fit into the Marvel universe," Stokes observed. "If you look across the totality of what he was creating there, there's almost a Clive Barker Cinematic Universe in there — the CBU, perhaps."
"Clive Barker's Dark Worlds" is new in stores and available online from Abrams Books.