Disney Princess: Beyond The Tiara Author Emily Zemler On Why The Little Mermaid Still Resonates With Fans - Exclusive
Though Disney has dabbled in live-action remakes for almost 30 years, dating back to 1994's "The Jungle Book," it wasn't until 2014's "Maleficent" that the iconic studio started retelling the tales of the Disney Princesses. Since then, fans have revisited "Cinderella" in 2015, "Beauty and the Beast" in 2017, and "Mulan" in 2020.
Next up, in 2023, is the live-action reimagining of "The Little Mermaid," which Disney first released as an animated fantasy film in 1989. Loosely based on the 1837 Danish fairy tale of the same name by Hans Christian Andersen, the movie follows a mermaid princess named Ariel who dreams of becoming human after falling in love with a land-dwelling prince.
In a new book, "Disney Princess: Beyond the Tiara," author Emily Zemler looks at the legacy of Ariel from "The Little Mermaid," exploring what the character represents, how her influence has expanded beyond the original film, and how she has become the cultural icon we know today.
During an exclusive interview with Looper, Emily Zemler shared her thoughts on why the upcoming "The Little Mermaid" remake is so important and why Ariel still resonates with fans some 30 years later.
Young women love Ariel's drive and ambition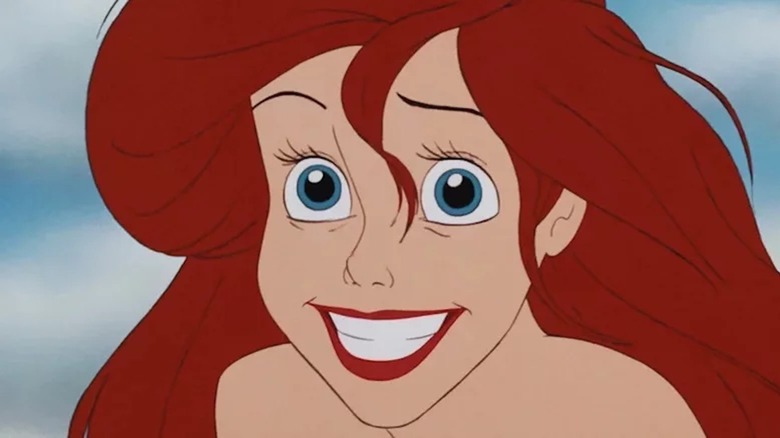 Walt Disney Studios Motion Pictures
Jodi Benson, the original voice of Ariel from the animated "The Little Mermaid," wrote the foreword to "Disney Princess: Beyond the Tiara," leaving Emily Zemler to admit that Ariel is her "personal favorite" Disney Princess.
"The mermaid aspects spoke to me [as a kid]," she says. "I liked how she felt curious and rebellious and she was willing to go to great lengths to indulge that curiosity. The more you look at the story of 'The Little Mermaid' — while it does maybe have some things in it that we wouldn't include in a film today — it is ultimately about a girl who wants something so badly, she will do anything to get it. That resonates really strongly with people, especially young women."
While the character in the original animated film was white with red hair, the 2023 live-action adaptation stars up-and-comer Halle Bailey, who is Black. It's a move that has caused much excitement among Disney enthusiasts, including Zemler, who sees the move as a cultural shift.
"Halle is really, really exciting," she says. "She can capture the exact same traits that we loved in the original animated version, but she can bring them to an audience whose tastes are contemporary. What's important to us now is different from what was important to us when the original was made. One of the things that is important to us now, and should be important to us now, is diversity and inclusion."
Inclusive casting makes a difference
The impact has been swift and impactful, with images of little Black girls giddy with excitement sweeping social media. "I think we all can recognize that impact when we see those videos that are going around of the young Black girls who see the trailer and see themsel[ves] on screen for the first time," says Emily Zemler. "That is an undeniable bonus of inclusive casting, where someone actually gets to look at the screen and it looks back at them."
It's a trend Zemler hopes continues when it comes to future Disney reimaginings. "Instead of making the same thing over and over again, we're actually listening to what we want in culture and creating something new," she says. "I don't see why we would keep remaking the same thing over and over instead of evolving it."
"Disney Princess: Beyond the Tiara," published by Epic Ink, an imprint of The Quarto Group, is out now.