Halle Bailey Reacts To The Glowing Fan Response To Her Little Mermaid Teaser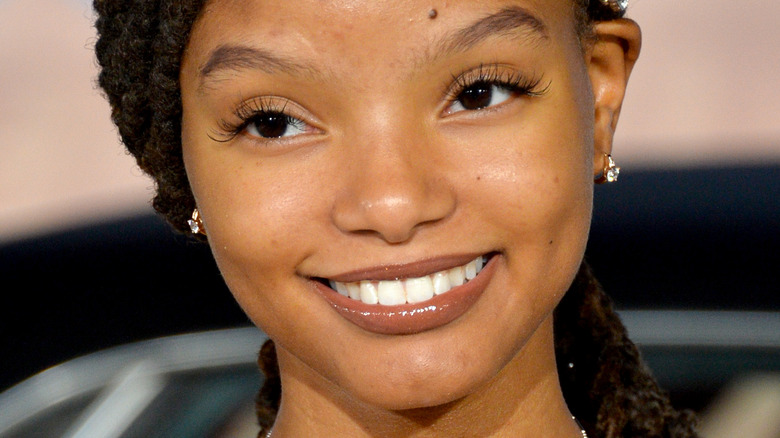 Featureflash Photo Agency/Shutterstock
Whether you love it or hate it, the response to Halle Bailey's on-screen debut as the live-action version of Ariel in the first teaser trailer for Disney's "The Little Mermaid" remake has been resounding — with countless fans across the globe losing their minds and showering Bailey with praise online. Now, the singer-turned-actor has a message in return.
Taking to her Twitter page on September 12, Bailey showed a deep appreciation for how many people had been sending her heartwarming messages and videos of children excitedly watching the "Little Mermaid" teaser, thus drawing a sharp contrast from the racist vitriol that can often proliferate online whenever legacy Disney properties are diversified to more accurately reflect the real world. The widespread reception to her Ariel performance, as a whole, has been deeply positive, with one of the biggest fans being Jodi Benson, the voice of Ariel in the animated 1989 movie, who received an early viewing of the live-action film and wrote on an Instagram story, "Halle, you were absolutely amazing! I'm SO proud of you and your beautiful performance as Ariel!" (via Entertainment Weekly).
And for many young people out there who watched the teaser trailer, the feeling was mutual. Now, Bailey has a message for all of her backers.
'This means the world to me'
Speaking in a quote tweet, Halle Bailey shared a video of some of the responses she's been getting to "The Little Mermaid" trailer and described how she was "truly in awe" from all of the reactions. The outpouring appeared to come from TikTok and other social media platforms. 
"People have been sending these reactions to me all weekend," Bailey tweeted. "This means the world to me."
Despite the racist "Little Mermaid" outrage that fired off across the internet from the moment Bailey was cast, many Disney fans feel that this new film — and Bailey's performance in it — will serve as a perfect launching pad for Disney to start featuring more inclusive roles and portrayals. "For every white parent upset that their child doesn't get to 'feel this special feeling' [watching The Little Mermaid] I hope they see the light in these kids' eyes & recognize that we rarely ever get that in media," wrote Twitter user @BlaqDante in response to the Bailey response videos she's been receiving. "Representation Matters," the user added. 
Another person tweeted to Bailey: "An entire generation of brown and black girls will grow up with you as Ariel. Your impact in their lives will be immeasurable." 
Speaking to Variety, Bailey described what it feels like to be the first Black Disney princess portrayed in a live-action film adaptation. "I want the little girl in me and the little girls just like me who are watching to know that they're special, and that they should be a princess in every single way," she said. "There's no reason that they shouldn't be."