Halloween Ends' Big Climax Was A Very Late Addition To The Film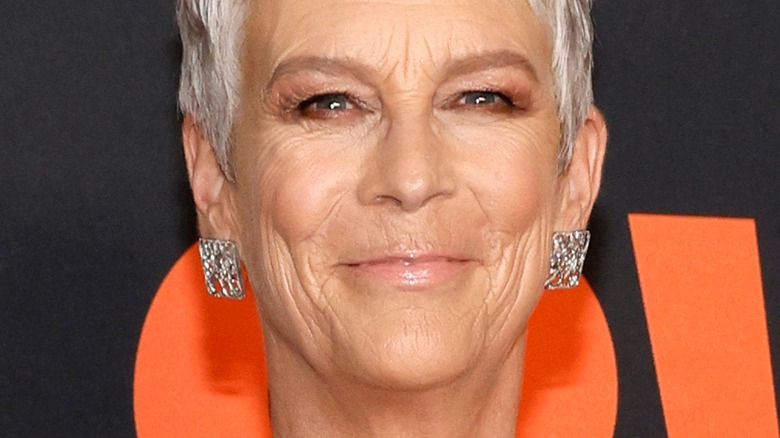 Ovidiu Hrubaru/Shutterstock
Director David Gordon Green pondered the conclusion of his "Halloween" trilogy for four years, according to Entertainment Weekly. However, after the grand ending "Halloween Kills" left audiences with — killing off Laurie Strode's daughter, Karen (Judy Greer) — Gordon and Danny McBride were concerned about being too operatic again. "We were trying to do a little bit more of a modest, intimate ending," Gordon explained in the same interview with EW. "'Kills' was big and expansive and super noisy and aggressive, almost like an action movie at points, and I wanted this to return to the simple dramatic roots."
The script for "Halloween Ends" went through several changes, and there were many endings that never made it to the final cut. "Some were really bleak, and some were less bleak," Gordon said (via EW).
One of the most disturbing even included the potential death of "Halloween" icon Laurie Strode (Jamie Lee Curtis). "There was a version where Laurie didn't make it," Green said in an interview with Yahoo! Entertainment, as the director explained Curtis' character almost succumbs to the Shape's evil in one of the film's alternate endings. But did you know there was just one ending epic enough to bring the entirety of Haddonfield together to bid a final farewell to Michael Myers (James Jude Courtney)?
Green shot the procession just months before the film's release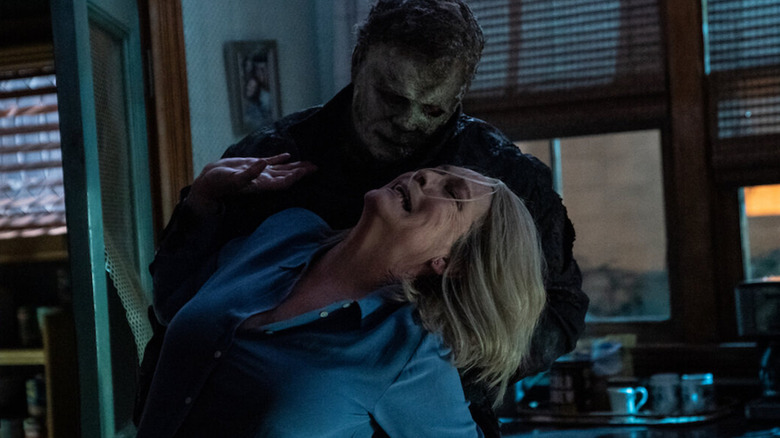 Universal Pictures | Blumhouse | Miramax
After David Gordon Green viewed the original ending for "Halloween Ends," the director felt it wasn't quite dynamic enough. The filmmaker and his team of writers (Danny McBride, Paul Brad Logan, and Chris Bernier) burned the midnight oil to create a more epic way to send off the last "Halloween" installment under Green's direction. In the end, the massive procession scene from the movie was penned and shot, which gave a grand feel to the film's third act. "The actual ending of the movie we came up with this summer, like two months ago," Green admitted in an interview with Entertainment Weekly.
No spoilers here, but Michael and Laurie obviously clash, and the community of Haddonfield rallies behind the Scream Queen. Curtis herself even chimed in with her own thoughts on the ending fans will witness on screen. "There's a drop of hope that maybe, maybe, Laurie Strode will have a minute in her life that's at peace," Curtis said in her interview with Collider.
Green feels the final version of "Halloween End's" climax will give audiences a sense of hope and leave them optimistic after seeing the finished product. While "Halloween Ends" isn't scoring well with critics and audiences, according to Rotten Tomatoes, Green is confident this was Curtis' swan song in the franchise. He feels sure that "Halloween" fans have seen Jamie Lee Curtis take up the mantle of Laurie Strode for the last time (via EW).